Need help with admission?

Lomonosov Moscow State University (MSU) is the oldest classical university in Russia, founded over 260 years ago. A large research and educational center ranks first in the ranking of Russian universities[1]. The main university building on the Sparrow Hills is an iconic landmark of Moscow.
International students
4,883
The history of the university

The opening of the first university in Russia was possible thanks to the active work of an outstanding scientist-academician Mikhail Lomonosov (1711-1765), who repeatedly raised the question of the need for training scientific personnel. On January 25, 1755, Empress Elizaveta Petrovna signed a decree establishing the university.
The initial fundamental training of students took place at the Faculty of Philosophy. For further specialization, it was possible to continue studying at the same faculty or switch to medical or legal. Students and teachers were admitted to Moscow University, regardless of social status. Some lectures became open to public attendance. In 1756, the first public library was opened.
In 1804, the charter of the university was adopted, thanks to which the autonomy of the university was significantly expanded. From that point onward, the rector and deans were elected. Students studied at the university for 3 years in 4 areas of science (moral and political, physical and mathematical, medical, verbal).
During the war of 1812, university buildings were severely damaged by fires. By the joint efforts of teachers and students, in September 1813, classes were resumed at the university, and by the 30s of the 19th century the number of students had reached 500 people.
After the abolition of serfdom, in connection with the development of industry, agriculture and trade, the importance of university education has grown. Since 1863, the number of academic disciplines and teachers has expanded, more time has been devoted to practical exercises and seminars.
As a result of the 1917 revolution, two significant changes took place at the university: the tuition fees were canceled, but about half of the teachers and students left the university for political reasons. Despite the difficulties, by the beginning of World War II, the university had defended its first dissertations, the number of students grew to 5000, more than 30 teachers became members of the Academy of Sciences. In January 1940, the university was named after M.V. Lomonosov.
Moscow University spent the war years in evacuation. In 1953, Moscow State University opened its doors in a new complex on the Sparrow Hills. The significantly increased budget gave an impetus to the opening of specialized laboratories and research centers, and allowed to improve the facilities. The university has opened faculties of psychology, oriental studies, computational mathematics. By 2000 the number of students has grown to 31000, and the number of faculties has reached 34. Thanks to close cooperation with foreign partners, Moscow State University has become an international scientific and educational center.
The structure of the university
Moscow State University has 40 faculties where bachelor's, master's and graduate students are trained in 95 specialties. The university includes 15 research centers, 13 institutes and 6 branches. AESC MSU boarding school opened under the wing of MSU, in which students gain in-depth knowledge in the fields of physics, mathematics, chemistry, biology and computer science. The structure of Moscow State University also includes:
Branches of Moscow State University
Bachelor's and specialist programs
Program / specialization
Duration of study
Cost per year
Seats, international
Mathematics
6 years
4,271

USD

6
Mechanics
6 years
4,271

USD

4
Applied Mathematics and Computer Science
4 years
4,282

USD

16
Fundamental Computer Science and Information Technology
4 years
4,282

USD

18
Astronomy
6 years
4,739

USD

5
Fundamental and Applied Physics
4 years
4,750

USD

20
Chemistry
4 years
4,750

USD

10
Fundamental and Applied Chemistry
6 years
4,739

USD

/ 4,818

USD

3+5
Biology
4 years
4,750

USD

5
Ecology and Natural Management
4 years
4,750

USD

5+5
Soil Science
4 years
4,750

USD

5
Geology
4 years
4,750

USD

15
Geography
4 years
4,750

USD

5
Hydrometeorology
4 years
4,750

USD

5
Cartography and Geoinformatics
4 years
4,750

USD

5
Tourism
4 years
4,282

USD

5
Chemistry, Physics and Materials Mechanics
4 years
-
5
Medicine
7 years
5,323

USD

30
Pharmacy
6 years
4,739

USD

5
History
4 years
4,282

USD

10
History of International Relations
4 years
4,282

USD

5
History of Arts
4 years
4,282

USD

5
Philology
4 years
4,282

USD

15
Fundamental and Applied Linguistics
4 years
4,282

USD

10
Advertising and PR
4 years
4,282

USD

6
Theology
4 years
4,282

USD

6
Philosophy
4 years
4,282

USD

7
Economics
4 years
5,104

USD

/ 4,480

USD

17+5+10
Management
4 years
5,313

USD

/ 4,282

USD

/ 4,396

USD

/ 5,938

USD

50+5+15+15+10
Law
4 years
4,740

USD

/ 4,480

USD

40+5
Journalism
4 years
4,680

USD

70
Media and Communication
4 years
4,680

USD

5
Clinical Psychology
6 years
4,271

USD

8
Psychology of Service Activities
6 years
4,271

USD

8
Asian and African Studies
4 years
4,583

USD

25
Sociology
4 years
4,292

USD

38+5
Public Policy and Social Sciences
4 years
4,292

USD

15
Linguistics
4 years
4,375

USD

/ 4,479

USD

80+45
Practice and Theory of Translation
4 / 6 years
4,375

USD

/ 4,073

USD

5+5
Russian Regional Studies
4 years
4,375

USD

5
Cultural Studies
4 years
4,375

USD

6
Foreign Regional Studies
4 years
4,375

USD

5
Bioengineering and Bioinformatics
6 years
4,739

USD

5
Applied Mathematics and Physics
4 years
4,818

USD

5
Television
4 years
4,282

USD

5
Human Relations
4 years
4,282

USD

/ 4,396

USD

5+5
Political Science
4 years
4,282

USD

/ 4,396

USD

7+5
Political Management and Public Relations
4 years
4,282

USD

5
Conflictology
4 years
4,282

USD

5
Management in Culture / Sports Management / Museum and Gallery Management
4 years
4,282

USD

15
Production
4 years
-
10
Fine Arts
4 years
4,583

USD

30
State and Municipal Administration
4 years
4,396

USD

5
International Relations
4 years
4,282

USD

30
Global Economy and Management / Global Political Processes and Diplomacy / International Humanitarian Cooperation / Global Power Industry and International Business
4 years
4,282

USD

25
Innovation Studies
4 years
4,906

USD

20
Biotechnology
4 years
4,541

USD

5
Scholarships and grants at Moscow State University

Students and post-graduate students of the university have the opportunity to receive material support from state funding programs. Actual information on grants and scholarships for scientific achievements of young scientists is published on the website of Moscow State University. The maximum grant size reaches 62,501 USD.

International students of full-time programs can receive state scholarships under certain conditions.

Title
Challengers
Requirements
Amount per month
Government scholarship (or state academic)
Students within a state-funded international quota
Going through a selection process[2]
26

USD

+ free tuition + dormitory accommodation
State academic scholarship
Students studying under a special countries' agreement
Good academic performance
26

USD


30

USD


33

USD

Higher state academic scholarship
Students studying under an agreement or within a quota
Significant academic, research, social, cultural or sports achievements
Declared each semester
The advantages of studying at MSU
Prestige of the University. Moscow State University takes 1st place in the ranking of the 100 best universities in Russia[1]. In 2019, the university entered the top 50 world universities in 5 disciplines: linguistics, physics and astronomy, modern languages, mathematics and computer science[3]. MSU diploma is highly rated among Russian employers. In 2018, the university led the ranking of demand for graduates[4].
Strong teaching staff. Leading scientific experts of the country teach at the university, including academics, members of RAS and RAE[5], more than a thousand professors[6].
The international cooperation. Moscow State University collaborates with educational institutions in Europe, America, Asia and Africa. The university provides an opportunity for students and graduate students to undergo training and internships abroad in partner universities.
Large selection of training programs. In total, there are more than 300 programs of bachelor's, specialist, and master's studies at Moscow State University, some of which are unique. For example, in 2017, the only Faculty of Space Research in Russia was opened. In addition, MSU students have the opportunity to attend interdisciplinary courses (for example, bioinformatics, the fundamentals of nanotechnology), and inter-faculty courses (business planning, legal support for startups, literature in the media space, etc).
Fundamental education. The country's leading university provides an opportunity to receive a classical education, engage in fundamental or applied sciences, and develop an academic career. The structure of the university includes more than 30 scientific centers and institutes.
Convenient location and developed infrastructure. The buildings of Moscow State University are located in the central regions of Moscow, close to metro stations. The educational center has its own Science Park, Botanical Garden, Science Library, publishing and printing house.
Need help with admission?

Requirements for admission
International students can apply for admission by quota or by paying for the tuition. Applicants must contact the foreign department of the faculty where they plan to study and fill out an application form. After this, it is necessary to submit the following list of documents to the Moscow admission committee in person:
Application for admission (the form is set separately for each faculty and study program, you can select and download the corresponding document on the website of the unified admissions committee of Moscow State University);
Certificate of education with a transcript (the full list of subjects and grades) that passed the legalization procedure in the country of issue;
Translation of education certificate with a transcript, notarized in Russian Federation;
Negative AIDS test result issued no later than 3 months before arrival in the Russian Federation;
Passport, visa and migration card;
6 photos 3*4.
Entrance tests for foreign applicants are held in the form of face-to-face interviews in priority subjects. The list of programs with corresponding subjects can be found on the official website. For admission to state-funded seats under the quota, applicants must pass the entrance examinations on the same terms as citizens. The competitive selection period is from June 15 to July 10 or to July 20. Please check with the MSU website for the acute dates.
Russian preparatory programs for international students
As all Bachelor's and most Master's programs of the University are taught in Russian, the MSU Institute of the Russian Language and Culture offers a range of special preparatory programs for international students:
In addition, there is a short-term winter school for all foreign citizens over 16 years old.
International cooperation
Moscow State University has more than 700 partnership agreements with universities from 64 countries[7]. Academic mobility programs are one of the priority areas. Annually the University accepts about 10000 foreign and graduate students for training and internships. Students and teachers of Moscow State University participate in academic exchange under the European Union Erasmus + program. The goal of this joint project is to support cooperation in the field of education and vocational training. Students get the opportunity to study or take part in internships at one of the partner universities in Europe, MSU teachers can undergo advanced training or engage in teaching activities.
Moscow State University initiative helped to create the Eurasian Association of Universities, that is the large organization, which includes about 140 educational institutions of the CIS region[8].
Double degree programs
These programs can be attended by students of Moscow State University who have entered bachelor's/specialty or master's degrees. The term of bachelor's study is 4 years, the first 2 of which are spent at Moscow State University, the next 2 years at a partner university. A joint master's program involves studying the first year at Moscow State University, and the second at a selected foreign university. Information on the availability of double degree programs, their cost and the conditions of admission can be found at the international departments of MSU faculties.
International internships
Annually about 500 MSU students are sent to take part in internships at foreign partner universities. The training lasts for 1 or 2 semesters. To enroll in the program, students must submit an application and pass an interview with the commission in Russian and a foreign language (in which they study at the chosen university). The commission determines the winner(s) of the competition and decides on sending the student to an internship.
Education at a foreign university takes place at the expense of the host country. The student assumes all other expenses (flight, visa, accommodation, meals, insurance, etc.).
Students can take part in the competition for bachelor's/specialty programs of the 3rd, 4th year of full-time education and students of the 4th, 5th year of the evening department. Master's students can apply after the 1st year.
Selection stages:
Submit an application for participation to the department of foreign relations of the faculty;
Pass interviews;
Register documents for a foreign university;
Official registration of an internship at a partner university;
Make an individual curriculum (mandatory for students in master's programs).
Students who have been trained for 1 semester must pass the MSU examinations upon return and continue their studies. If the exchange program has lasted a whole year, the student is not transferred to the next course, but continues to study with a junior course. After returning, students must provide the faculty with a document on the successful completion of the program and an internship report.
Enter a university abroad

Student life
Student council. A self-government body in which a team of leaders with the support of the university administration decides on educational, domestic and cultural issues. For example, the organization of bicycle parking, the introduction of unified payment cards for services on campus, the approval of the calendar of cultural and sports events at Moscow State University.
Creative groups. On the basis of the university there are dance, theater and vocal studios. The Academic Choir of Moscow State University is the oldest folk choir in Russia, in which students, graduates and university teachers participate. Lectures, creative meetings and presentations of new books are held in the classroom of the Literary Studio "Ray". Dance mastery is taught at Grazia-MSU and Saraswati.
Sports organizations. On the Klyazma reservoir there is a Yacht Club, which hosts the classes of the MSU sailing club. To participate it is not necessary to have the experience of a yachtsman. Club coaches will teach the tricks of navigation, provide a yacht and prepare for the competition. For students and graduate students classes are free. MSU students can choose another sports area: the university has at least 40 clubs.
Tatyana's Day. January 25 is a special day in the life of Moscow State University. Every year, on the founding day of the university, festive events are held, the main of which is a concert organized by members of student groups[9].
Infrastructure of the University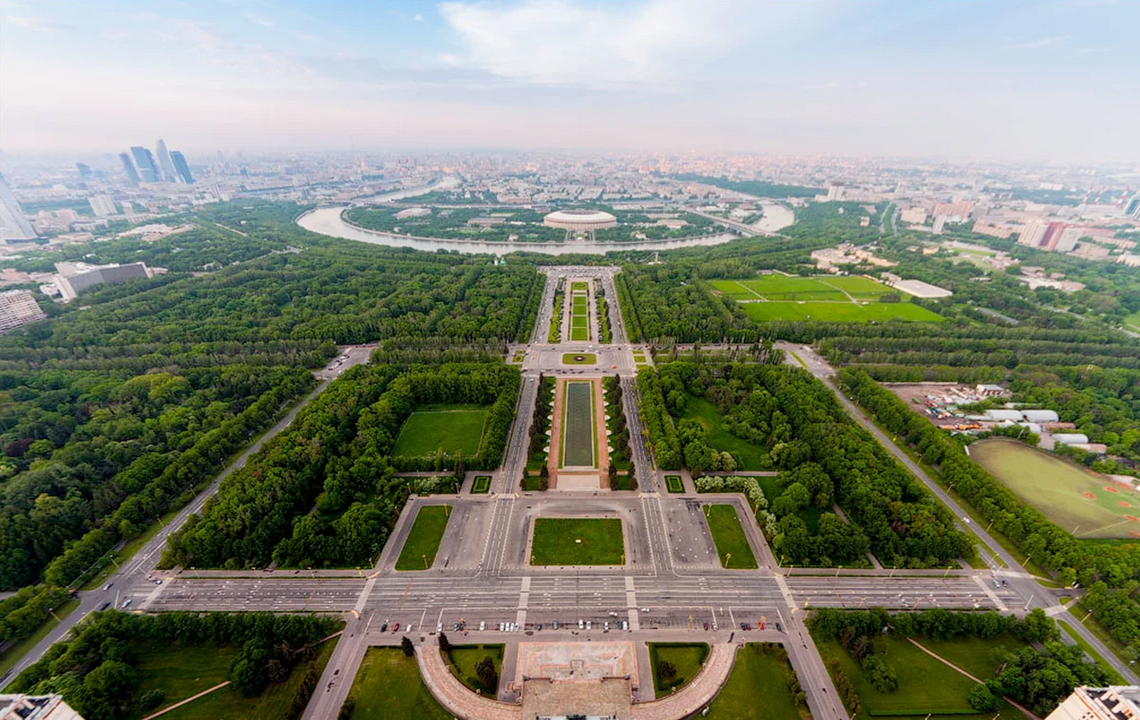 The main building of Moscow State University is one of the most recognizable sights of Moscow. It is located in a picturesque place on the Sparrow Hills, which offers a panoramic view of the city. The observation deck is located on the 32nd floor of a 240 meter building, built in the 1950s. University faculties are located in the central regions of Moscow. In total, the university has about 600 buildings at its disposal.
Moscow State University library is the oldest public library in Russia and one of the largest: the collection contains more than 10 million items. 50 departments of the scientific library are located in 17 buildings of the university[10].
Dormitories Moscow State University has 7 campuses at its disposal. The infrastructure of the complexes includes apartments for teachers, block-type dormitories, shops, recreation areas and gyms. All towns have Internet access and medical units. The cost of living in rooms for 2-3 people is 1 USD/month for state-funded and international students, 1 USD/month – for those studying at the preparatory programs. Fee-paying students pay between 7 USD and 148 USD per month depending on the dorm and living conditions[11]. It takes from 15 minutes to half an hour to get to the university.
Interesting facts about Moscow State University
Among the graduates of Moscow State University there are 11 Nobel Prize winners and 6 Fields Medal winners[12][13].
On the main building of Moscow State University there is the largest watch in Moscow: the diameter of their dial is 9 meters.
The university has a unique Zoological Museum with a rich collection and the oldest Herbarium of Russia.
On the territory of the university there is the Botanical Garden, founded on the basis of the Moscow Pharmaceutical Garden in 1706.
Need help with admission?

Famous graduates
Aleksandr Herzen (1812–1879) – an outstanding Russian teacher, philosopher, and publicist. Publisher of the revolutionary weekly newspaper The Bell.
Nikolai Sklifosovsky (1836–1904) – Emeritus Professor of Medicine, military field surgeon. Author of scientific papers on abdominal surgery. Introduced antiseptic practices during surgical operations.
Ernst Neizvestniy (1925–2016) – Soviet and American sculptor, author of the famous sculpture The Tree of Life and the sketch of the country's main television award – TEFI.
Lyudmila Alekseeva (1927–2018) is a Russian public figure, one of the founders of the Helsinki Group, Russia's oldest human rights organization.
Mikhail Gorbachev (1931) – the first and only President of the USSR, winner of the Nobel Peace Prize.
Elvira Nabiullina (1963) – Chairman of the Central Bank of the Russian Federation, statesman and politician.
Student Reviews
Pros. Positive reviews often mention good fundamental training in the natural sciences, the relevance of graduates after graduation, and the convenient location of university buildings and campuses.
Cons. Students note that the curriculum of courses is rarely updated, as a result, students receive outdated knowledge. At a university, lectures are often rescheduled or canceled without warning. In almost all reviews, poor conditions appear in buildings (with the exception of the main building) and dormitories, for example, lack of repair, cockroaches, broken glass.
Studying abroad with UniPage
Want to study at a foreign university but don't know where to start? We can help!
Our specialists will find a university, arrange your documents, fill out the applications, and stay in touch until you receive an offer.