Admission to a US university is a complicated process. You will need to have a high GPA, good TOEFL results, an excellent motivation letter, and convincing recommendations. But studying at a university is not the only way to get an education in America. In this article, we will cover the options, requirements, and procedures related to admission in the United States. Not only to universities but also to Pathway programs and community colleges.
You can read about the education system in the United States or the specificities of its higher education in more detail in our separate articles on these topics.
Tuition fees
Type of education
Age
Duration
Min. cost per year
Avg. cost per year
University preparation
16+
1 year
15,000

USD

30,000

USD

Two-year college
16+
2 years
7,000

USD

15,000

USD

Undergraduate
17+
4 years
18,000

USD

30,000

USD

Master's
20+
2 years
18,000

USD

25,000

USD

MBA
20+
2 years
20,000

USD

45,000

USD

Medical school
20+
4 years
25,000

USD

40,000

USD

Law school
20+
1-4 years
22,000

USD

45,000

USD

PhD
20 +
4-6 years
18,000

USD

25,000

USD
Additional costs

Language exam
260

USD

Application fee
50-100

USD

Assessment of the certificate/diploma
160

USD

Registration in the foreign students' system (SEVIS I-901 fee)
200

USD

Student visa F-1
360

USD

Study materials
800-1,200

USD

Accommodation and meals
6,000-14,000

USD

/year
Medical insurance
1,000-1,500

USD

/year
Public transport
900-1,300

USD

/year
Options for admission to the US universities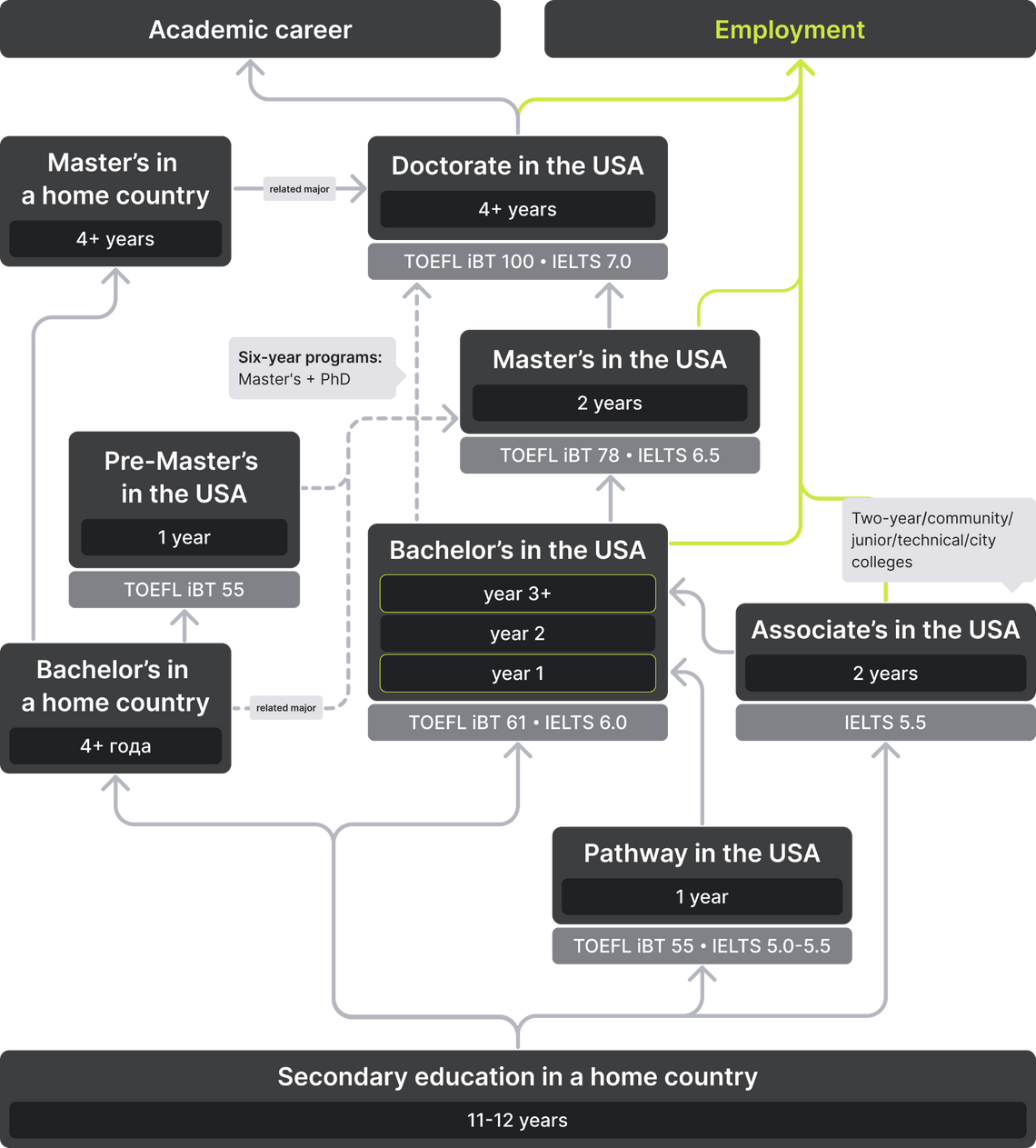 How to choose a university
Choosing a university is the most important stage before admission. It will decide how many points in the various exams you will need, what documents to prepare, when the acceptance of applications ends, and so on. When choosing an American university, consider three main criteria:
Your specialty. The USA consistently becomes the leader of the world education rankings year after year. Five of the top-10 positions in the QS Ranking 2021 are occupied by American universities. But not all that glitters is gold. The overall rating does not guarantee that all disciplines are taught at the university with the same quality. Therefore, it is worth looking up their academic field-specific positions. For example, the leader in the field of game design in America is not MIT, as one might think, but Carnegie Mellon University. You can find the ranking of the university in your target specialty on the websites of QS, Niche, US News, and College Board.
Your budget. The average price for a Bachelor's degree program in the United States is 30,000

USD

/year. In addition to studying, you'll need to pay for accommodation. Depending on the city, this will come up to another 6,000-14,000

USD

/year. There is no free education in the country, but some universities provide financial support to students. For example, need-based scholarships from the Ivy League can cover up to 100% of tuition. Still, you don't have to rely only on them. In America, there are universities that cost 20,000

USD

/year, and at a community college, you can study for 15,000

USD

/year. Read about these admission options in the following sections.
Exam scores. You'll need to take TOEFL, SAT, and other standardized tests to enter an American university. How do you know how many points will be enough? Look not at the minimum threshold but at the enrolled students' results from last year. For example, for some programs at Harvard, the minimum requirement is 90 TOEFL iBT points (out of 120)[1]. But this figure only means that your application will be accepted for consideration. For palpable admission chances, it is preferable to have a score of at least 100.
Additionally, you should also take into account the availability of scholarships, Pathway programs, the location of the university, its campus, the climate in the state, and so on. Prioritize all of these criteria by personal preference. Let's say you don't care what specialty you study in, the main thing is to live in Los Angeles. Then look for a university in this particular city, and think about choosing a profession later. Or it is critical for you to spend as little money as possible. Then choose universities with good scholarships or go to a community college.
As you can see, in order to find your ideal university, you need to keep in mind all the options, objectively evaluate them and understand which one suits you best. The UniPage agency helps students with university admission to all countries in the world, including the United States. We develop an individual strategy for each applicant. Our experts select universities based on your interests, strengths, academic performance, financial capabilities, and personal wishes. We always work on several options at once: one or two universities of your dreams, plus several universities, where you will have the best chances to get admitted.
UniPage experts oversee the entire process: from selecting programs according to your criteria to submitting an application and receiving an invitation from the university.
Best US universities
Need help with admission?

Requirements for admission in the USA
For admission to any university in the USA you will need:
Recognition and evaluation of a diploma
In order for a certificate of education to be valid in the United States, it must be legalized. It usually means attaching an apostille.
There is no single official organization in the USA that deals with the recognition of foreign diplomas[2]. Most universities independently evaluate educational documents upon application. Others ask for certificates issued by certified independent evaluation services. They also evaluate the diplomas for immigration and employment purposes.
In the United States, you can use the services of one of the member organizations of these associations:
Association of International Credential Evaluators (AICE);
National Association of Credential Evaluation Services (NACES).
Educational institutions in the United States, although they take into account the expert opinion of these organizations, still reserve the right to make the final decision on the recognition of qualifications.
The most prevalent one of such services in the United States is World Education Services (WES).
WES credential evaluation

WES service evaluation sample

To use the WES services, you need to fill out an application on the website and receive a WES reference number, then send all your documents with the assigned number by mail. The cost depends on the level of education, the package of services, and the number of documents (100-205 USD[3]). The evaluation takes no more than 7 working days from the date of receipt of the documents and payment of the service fee.

Approximate list of required documents[4] after secondary school:

certificate and transcript of grades;
an extract of grades for years 8-11 (if the studies are not completed yet);
notarized translations of documents into English.

After university:

diploma and diploma attachment (academic transcript);
notarized translations of documents into English.

Note!

Education documents, including attachments, must have an apostille attached.
After the evaluation, the originals of educational documents will be returned, notarized copies with translations will not.
If, after school, the applicant has studied for a year or more at a higher educational institution, the school certificate must be replaced with a transcript of grades from the university.

Document requirements are country-specific. You can check them on the organization's website.
How to apply for a Bachelor's degree
It is best to start preparing for admission at least one and a half or two years before the beginning of studies. If a university requires SAT scores, schedule the exam ahead of time so you don't miss university deadlines. There are three application deadlines:
Early admission: September 15 — November 31. The results are known by mid-December. Early submission of documents increases the chances of admission due to the small number of applicants. In addition, the student will have more time to obtain a visa and search for scholarships. Each university has its own early admission system. There are three options in total:

Early action means that a student can apply to several universities.
Single choice early action — the applicant sends an application to only one university. But then, during the regular admission, they can apply to other universities, even if had already been accepted in Early admission.
Early decision universities limit the candidate to one application. And if a student is accepted, they can no longer participate in other competitions.

| Admission system | Applications to other universities during Early admission | Applications to other universities during Regular admission |
| --- | --- | --- |
| Early action | + | + |
| Single choice early action | - | + |
| Early decision | - | - |
Regular admission: December 1 — February 28. The decision is made in the spring. Most applications are submitted during this period, therefore the competition is the highest.
Rolling admission: autumn — summer. Documents are accepted almost all year round as seats become available due to students dropping out. A good option for those who missed previous deadlines. But the chances of getting funding will be less. Most of the scholarships and grants are typically awarded at earlier stages.
The application can be submitted online through university websites or through the Common App portal. It unites over 900 educational institutions. The convenience of this service is that all documents need to be uploaded only once and then are sent immediately to all selected universities.
After approval of the application, the applicant is added to the SEVIS (Student and Exchange Visitor Information System) database. They will have to pay 200 USD for this (the SEVIS I-901 fee). Some universities allow you to apply for free.
Common App portal home page

Documents required
Certificate of complete secondary education;
transcript of grades (GPA 3.0 out of 4 and above);
All documents are submitted with a notarized translation.
How to apply for a Master's degree
An advantage of Master's programs in the US and their main difference from most European countries is that they welcome a change of specialty. Here you can enroll in a Master's degree program in Art History with a previous degree in physics. Therefore, if you suddenly want to radically change your profession, US universities will not object. The exceptions are medical, engineering, and some other natural science specialties, where comprehensive knowledge is a prerequisite. You will not be able to enroll in a medical program without a Bachelor's degree in the same field.
Submission of documents to a Master's degree program is done directly through the university's website. Preparation should start as early as possible — at least one year before admission. Be sure to check if you need to take standardized tests. For example, to medical school. It is advisable to submit an application six months before the start of your studies. Typically, applications are accepted from August to December / January. For more precise deadlines, check the website of the selected university.
Documents required:
All documents must have a notarized translation. Some universities also interview the candidates.
Note! In order for a foreign diploma to be recognized in the United States, you usually need to go through the legalization procedure. We wrote more about it above in the section on evaluation.
How to apply for an MBA Program

MBA is a Master's degree in business administration. The average cost of studying such a program at an American school is 20,000-90,000 USD/year. As a rule, the requirements for admission to MBA programs are slightly higher than those in other specialties. The applicant will need:

Bachelor's degree (GPA 3.5 out of 4);
GMAT — 600-770;
work experience of 3 years or more;
CV;

The most prestigious MBA programs in the USA:

All of them are included in the top-10 of business schools in the world[5].
How to apply for a PhD program
An interesting feature of doctoral programs in the USA is that even bachelors can enter them. In America, there are many Master + Doctorate programs, in which students study for six years total. In the first 2-3 years they earn a Master's degree, and then they continue their studies to get a PhD.
In contrast to the Master's, one has to enroll in a doctoral program in their specialty. This is not a level of training where you can suddenly change your academic direction. It is assumed that you have studied your subject area for several years and are ready to finally contribute to its further development.
Applications are sent specifically to the faculty where the student wants to write their research paper. Successful candidates may be invited for interviews. The rolling admission system is a rarity in doctoral studies because seats almost never become available mid-term. The most common application deadline is December / January.
Documents required
Bachelor's or Master's degree in a related specialty;
grades transcript (GPA 3.0+ out of 4);
research proposal;
CV (resume);
work experience or research.
All documents are submitted with a notarized translation.
Pathway admission
Pathways are preparatory programs. They improve the students' language mastery, give knowledge and skills for further study in the undergraduate (Undergraduate pathway) or Master's (Pre-Master's) programs. As part of the program, the student is learning English (English as a second language course — ESL) and specialty disciplines.
Such courses are conducted either by universities themselves and by language schools that have agreements with universities. Most of them offer conditional acceptance. This means that after the successful completion of the program, the student is automatically enrolled in the 1st or even 2nd year of undergraduate studies in partner universities — without entrance exams.
The Pathway programs take from 4 to 12 months, depending on the existing mastery of English and knowledge of the specialty subjects. If the applicant does not meet the minimum requirements (TOEFL iBT 55 / IELTS 5.0-5.5), they can choose an intensive English program.
A preparatory program is not mandatory for university admission. But for many, it is an opportunity to adapt to the new academic environment, try their hand in various fields of study, and consciously choose their future major. Remember that the Pathway tuition fees are almost the same as at a university — 15,000 USD. Therefore, studying with it will make education overall more expensive. For those who only want to improve their language, language courses in the USA are more suitable.
How to apply for a community college
Community colleges offer two-year programs. Upon graduation, the student receives an associate degree. After community college, you can get a job or transfer to the Junior year of a university. In theory, this extends to even the Ivy League, but in reality, prestigious universities only accept a small percentage of college students. Getting there requires being the best in class and completing the SAT with high scores[6].
The transfer is a good option for those who want to save money and make it easier for themselves. Admission requirements in a community college are lower than in a university.
The candidate will need the following documents:
Certificate of complete secondary education;
grade transcript (GPA 2.5/4 or higher);
No recommendations, interviews, or SAT results are usually needed. All documents are submitted with a notarized translation.
The application is filled out on the college website. Standard deadlines are November for the spring semester and July for the fall semester.
Note! Don't try to pick the cheapest community college just to get admitted. This could raise questions from the consulate. Let's say an applicant graduates from a good secondary school in their home country, has a high GPA, and many academic achievements, but applies to a cheap, mediocre community college. For visa officers, such situations look like an attempt to immigrate to the United States under the disguise of studying. Even if this is your hidden goal, first convince the officer that you need to go to America solely in pursuit of education.
Enter a university abroad

Scholarships in the USA
Although America is considered the most expensive country to study in, many students there receive financial aid in the form of scholarships or grants. There are two types of scholarships: merit-based, for talented and academically outstanding students, and need-based — for those who do not have enough money to pay for tuition.
There is a problem with need-based scholarships. Most universities are more likely to accept an applicant who can fully pay for their studies, all other things being equal. But there are five need-blind universities: Harvard, Amherst, Yale, Princeton, and MIT. They accept everyone who passes the competition, regardless of whether a person needs additional funding or not. And if necessary, they provide it in full.
Government programs are mainly aimed at US citizens, but there are exceptions. For example, The Fulbright Program. This scholarship allows students from all over the world to study for free in the USA in Master's and PhD programs for one to three years[7]. The scholarship also covers housing, food, and study materials.
USA student visa
Foreign students who go to study in the United States are issued an F-1 visa. The main condition is to enroll in one of the country's certified educational institutions — SEVP-certified schools. The approval can be delayed for various reasons, so it is better to submit documents at least six months before the start of the classes. After registering in the SEVIS database and paying the SEVIS I-901 government fee (200 USD), the university will send the student an I-20 form. It is required for a visa application and interviews.
A visa is not a guarantee of access to the United States. The final decision is made by the customs officers at the airport after you show your passport, visa, and I-20 form.
Studying abroad with UniPage
Want to study at a foreign university but don't know where to start? We can help!
Our specialists will find a university, arrange your documents, fill out the applications, and stay in touch until you receive an offer.