Entering a British university right after 11th grade is close to impossible. First, you will have to complete one of the preparatory programs, pass the IELTS language exam, and write a motivation letter. In this article, you will learn about the admission requirements, tuition fees, and scholarship opportunities at UK universities.
We have addressed the educational system of Great Britain and the peculiarities of higher education in separate articles.
Tuition Fees
Program
Age
Duration
Min. cost of training
Avg. tuition fees
Foundation
16+
1 year
9,672

USD

/year
16,926

USD

/year
Bachelor's degree
17+
3 years
12,090

USD

/year
29,016

USD

/year
Medical school
17+
5-6 years
26,598

USD

/year
37,479

USD

/year
Master's degree
20+
1 year
12,090

USD

/year
20,553

USD

/year
Doctorate degree
21+
3 years
18,135

USD

/year
24,180

USD

/year
Additional expenses

Expenses
Average cost
Exams
242

USD

Visas
421

USD

+23

USD

for the collection of biometric data
Test for tuberculosis
112

USD

Flights
133

USD

Rent
1,209

USD

/month
Insurance
181

USD

/year
Food
314

USD

/month
Public transportation
103

USD

/month
Options for admission to the UK universities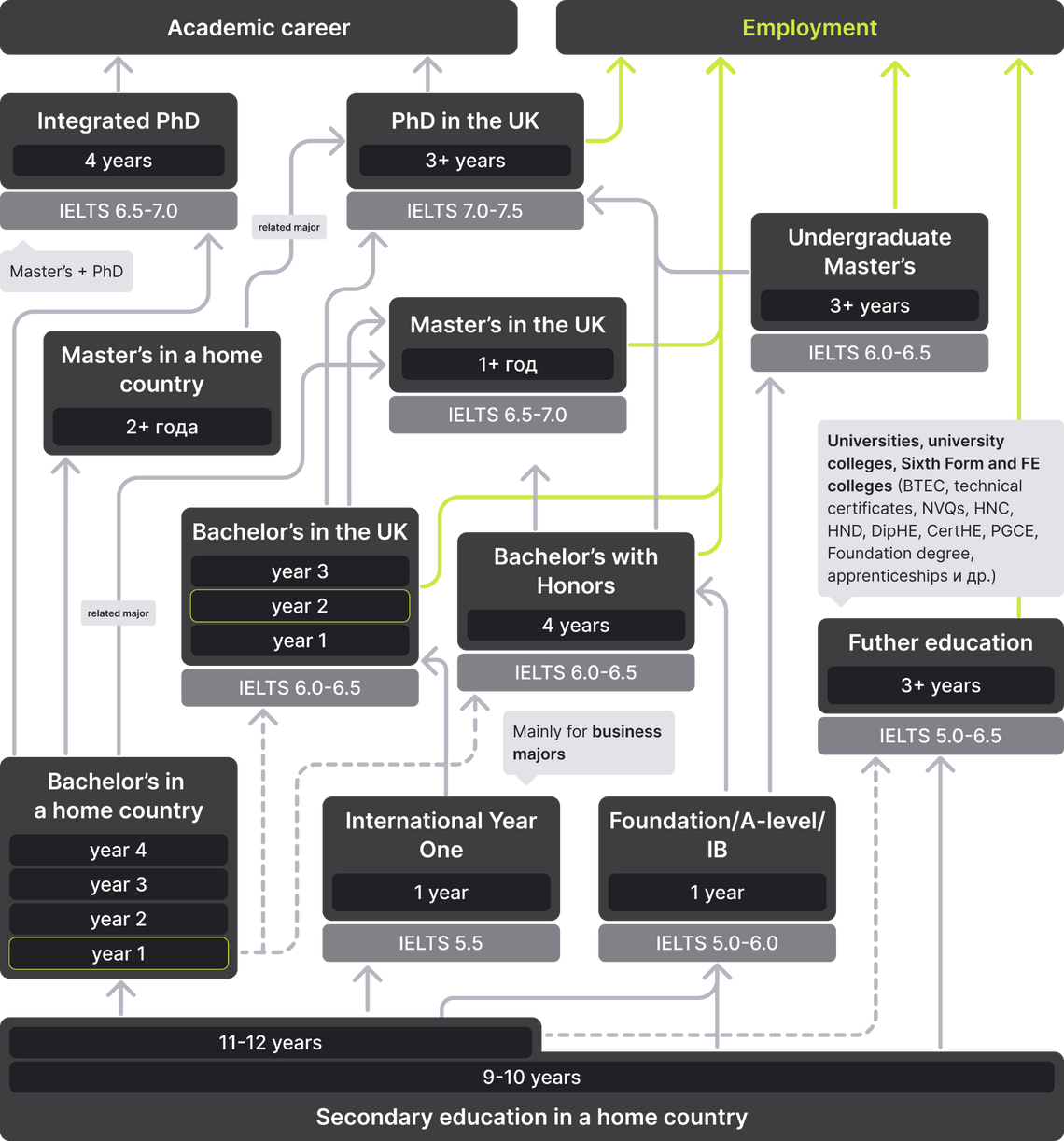 How to choose a university
When planning to study abroad, you first need to decide on a specialty. For this challenging task, we have written a separate article. You can then start choosing a university. Below we have described the main criteria to refer to.
Positions in ratings
Rating agencies analyze universities according to various indicators, drawing up lists of the best. The most famous international ratings are QS, THE, and ARWU. But Britain also has its own platforms — The Complete University Guide, The Guardian, ukuni.net, and the Good University Guide.
Note
It is important to focus not on general ratings, but on
ratings in the specialty
for which you are going to apply. After all, not all subjects in a university are taught equally well. For example, the medical field is leading at
The University of Dundee
, while the famous
Oxford
and
Cambridge
universities take only 4th and 6th places respectively.
Cost
First, you should decide on your budget, and then see which options are right for you. On average, education in Britain costs 19,344 USD per year, but prices can go up to 42,315 USD at prestigious universities. It is worth considering the cost of living, which is highly dependent on the city. The highest costs are in London. To apply for a student visa to study in the capital, you need to have at least 14,515 USD in your bank account. This is enough to cover the annual costs of housing and food. For other cities, the requirement is lower — 11,131 USD.
Requirements
Level of English. This is usually B2-C1. The exact requirements are indicated on the university website. For most universities, suitable IELTS scores are 6.0-7.0.
Average score. If you are applying for a bachelor's degree, the university will take into account the points from A-Level or IB programs. Of course, this is done on a case-by-case basis and depends on the program. Prestigious universities often require grades no lower than AAA. For admission to a master's program, you will need to provide a grade point average from your bachelor's studies.
Other criteria
Academic plan. Take your time with decision-making until you are familiar with the curriculum. One and the same specialty in different universities can be taught in various ways. For example, there are business programs almost everywhere, but in one university the emphasis will be on management, while another could focus on marketing.
Internships. It is also important to understand what career prospects await you after graduation. See who your chosen university is partnering with and whether it offers internships. This is especially important for master's programs. However, bachelor's programs also offer the option for internship programs, known as a Sandwich Year. After the second year of your studies, you will spend an additional year working in your specialty. With this experience, the chances of finding a job after graduation will be higher. You can search for Sandwich Year programs directly on university websites or on general platforms such as the Complete University Guide.
Location. The location of a university also matters. Not only does the cost depend on this, but so does the lifestyle. Think about what suits you best: a noisy and large city or a quiet and calm province.
Read more about UK universities in a separate article.
Admission Assistance
Choosing a university is a complex and time-consuming process: you will have to study several dozen universities before you find the one. In order to not get overwhelmed, create a table in Excel, where you will enter all the necessary information about costs, ratings, and other criteria.
You can save time and effort by contacting UniPage. We help students apply to universities all over the world, including Britain. Our specialists draw up an individual strategy for each applicant. They will analyze your strengths and weaknesses, interests, financial capabilities, academic experience, and based on this, select the options that suit you best.
UniPage experts supervise the entire admission process: from the selection of programs according to your profile to submitting an application and receiving an acceptance letter.
Get a free consultation
Need help with admission?

List of the best universities in the UK
Requirements for studying in the UK
Because secondary education in Britain lasts 13 years, it is impossible to enter a university immediately after 11th grade.
Complete one of the preparatory programs. In this case, upon admission to the university, points for final exams in specialized subjects will be taken into consideration.
Study for one year at a university in your home country and then go to the UK. Here, the admissions committee will take into account your GPA for the first year at university. Grades should be satisfactory not only in specialized subjects, but in others as well. As supporting documents, you will need a certificate from the university and a transcript with grades.
Documents for bachelor's and preparatory programs are reviewed through the specialized UCAS service, and directly through the websites of universities for master's programs. In this case, the student has the right to choose up to five programs in one or several universities in the country. Requirements for admission depend on the type and level of the program, citizenship, the current level of education of the applicant, and the internal policy of a particular university.
What documents do you need?
Certificate of English proficiency. TOEFL, IELTS, CAE or PTE Academic are all suitable. For university studies, the minimum language level is B2. In the case of IELTS, this is 6.0 points. However, for prestigious universities, for example the Imperial College London, the threshold will be higher — from 7.0 points.
Motivation letter. Do not confuse this letter with a resume! Here, you tell your story: why you chose this particular specialty and what you want to achieve in life. When submitting through UCAS, you write a motivation letter not for a specific university, but for a specific field. For example, if you are applying to three different universities to study genetics, you need to write one letter to all of the universities.
Recommendations. These are usually written by teachers of the relevant subjects. The history department is unlikely to appreciate a letter from a chemistry professor.
Resume. In it, you need to list the places of study, internships, knowledge of languages, and describe your achievements and skills. You can add a few words about hobbies and interests.
Additional entrance tasks. These depend on the university. Most often they entail interviews, but exams or auditions for creative specialties are also common. Additional tests are mainly required by prestigious universities or scholarship programs.
Legalization and recognition of a diploma
In the UK, universities independently evaluate educational documents. Legalization (consular or apostille) and a special recognition procedure are usually not required.
However, the employer or institution sometimes asks for proof of qualifications. For this, the UK has the National Academic Recognition Information Center for the United Kingdom (NARIC) — an organization that issues a document on the comparability of a student's qualifications with the British system (Statement of Comparability). You can send documents for consideration by mail or online using the UK NARIC User Portal by attaching scans. The cost of the service is 72 USD. For 115 USD, UK NARIC will process documents without the need to provide translations. The processing time is from 10 to 15 days.
Documents for obtaining the Statement of Comparability

An explanation of the purpose for obtaining the Statement of Comparability (must be attached when submitting an online application or sent by mail along with the rest of the package of documents)
Color copy or scan of the diploma
Color copy or scan of the academic transcript (diploma supplements)
Color copies or scans of diploma and transcript translations
Registration fee payment
Important
The UK NARIC does not accept original documents and is not responsible for their return.
The Statement of Comparability may include the assessment of several qualifications (education documents). The cost of the service does not increase.
Translations must be done by a qualified translator, stamped and authenticated with the original document].
Preparatory programs in the UK
Before entering a bachelor's program, applicants may need to pass one of the following training programs:
For admission to the Foundation programme and International Year One, you will need a certificate of complete secondary education (11 years), and for IB and A-Level 9th-10th grades will be enough.
Foundation programme
Program duration
Cost
9-12 months
12,090

USD

per year
The Foundation programme is a one-year course in which a foreign student improves his English language skills and develops his knowledge in specialized disciplines. This type of program is offered by many universities. Training begins in September (ends in June) or January (ends in August). Successful completion of the Foundation programme guarantees admission to the university in which the preparation took place. In some cases, they even give a discount on tuition.
Foundation programmes are suitable for those who are still in 11th grade. If you know exactly which university you would like to study at, then apply for a preparatory program within it. If you have not yet chosen a specific university, apply to the Foundation programme at a college. This will give you six months to think about and decide on the university. Be sure to check the list of universities that the college works with, for it can be quite limited.
Requirements for admission:
Age from 16.5 years
School certificate of complete secondary education
IELTS from 5.0
average GPA from 4.0 out of 5.0
Some prestigious universities ask for supporting documents: a motivation letter, recommendations from teachers, and a resume. Applicants may also be asked to pass exams and be interviewed. For example, admission to the Foundation programme at University College London requires a test in mathematics and logic.
Foundation programmes are usually presented in several fields:
Business programs are suitable for those who are going to enter specialties related to business, management, economics, and finance.
Engineering programs prepare students for admission to engineering fields.
Law programs are intended for future sociologists, lawyers, and political scientists.
Life Sciences are suitable for those interested in biology, physics, chemistry, and medicine.
Art and Humanities will be for future philosophers, historians, culturologists, and other specialists in the field of the humanities.
The main disadvantage of Foundation programmes is that they are not recognized by prestigious British universities such as Oxford, Cambridge, London School of Economics and Imperial College London. Therefore, if you want to study at any of these universities, choose another option.
A-levels
Program duration
Cost
2 years

In regular schools — 12,090-15,717

USD

per year
In boarding schools — up to 42,315

USD

per year
A-Level education is a comprehensive British high school program for university applicants. In this program, students study 2-4 specialized disciplines of their choice. At the end of each course, they pass exams, which are further considered by the universities of England, Wales, and Northern Ireland as entrance examinations. Moreover, the A-Level diploma is suitable for admission to other countries.
Unlike the Foundation programme, A-levels can be taken in countries other than Britain.
Requirements for admission:
Age from 15.5 to 18 years old
Completion of 10th grade
IELTS 5.5-6.0
The admissions committee does not necessarily consider the average score of the transcript. To determine the level of an applicant, schools conduct entrance exams and interviews.
International Baccalaureate (IB) Program
Duration of the program
Cost
2 years
12,090-15,717

USD

per year
The history of the IB program began in Switzerland. International Baccalaureate exists in many countries and is recognized by universities around the world. Within two years, students are invited to master one subject from six areas of knowledge: English language and literature, foreign languages, humanities, natural sciences, mathematics, and art (it can be replaced with any other specialized subject). Moreover, each student must take three advanced courses. You should choose those disciplines that are related to your future direction of study. Grades in advanced subjects and the average grade of the IB diploma are the main things that the admissions committee of a British university will look at. As part of the program, students also develop a creative project and write an extended research essay.
Requirements for admission:
Age from 15.5 to 18 years old
Certificate of incomplete secondary general education (9 grades)
IELTS 5.5-6.0
Schools often conduct additional tests to assess your general level of knowledge. This could be a small entrance test or a written exam.
International Year One
Duration of the program
Cost
1 year
12,090-15,717

USD

per year
This program is designed for future students of business and management. You can enter this program, like the Foundation programme, in specialized colleges. Students spend one year in these colleges and after graduation immediately enter the second year of the partner university. During International Year One, students study 3-4 subjects of their choice. It is imperative that they be related to or even repeat the disciplines of the first year in the specialty at the university. The disadvantage of International Year One is that there are a small number of such programs, and the choice of universities is very limited. For example, London South Bank University, BirkBeck, and Coventry University.
Requirements for admission:
Age from 17 years old
Certificate of complete secondary education
IELTS from 5.5 points
Applications for the program are accepted all year round.
Enter a university abroad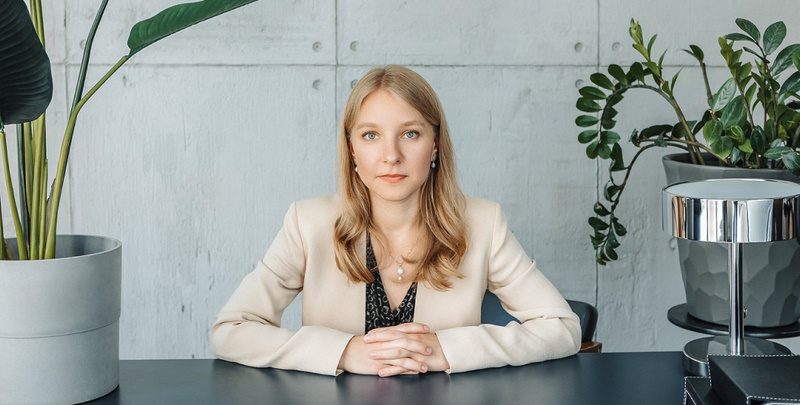 How to apply for a bachelor's degree
Application to UCAS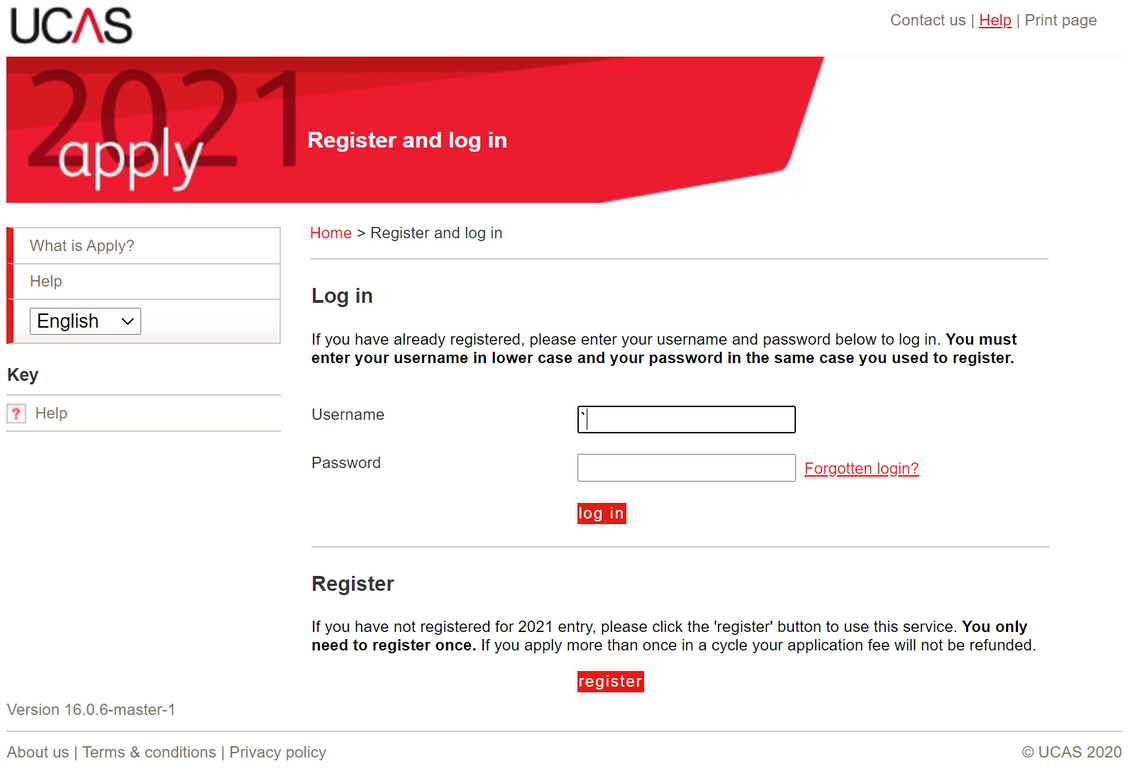 Documents for a bachelor's degree at most UK universities are submitted through a special platform called UCAS. You register on the site, fill out a form, and choose programs. The application includes personal information, educational documents, work experience and a personal statement (motivation letter). You also need to pay a 24 USD fee for one application and 30 USD for several. You can select up to five programs at a time.
One of the most important points that is taken into account for admission is the marks for the final A-Level or IB exams. These are converted into UCAS Tariff Points. Each university sets its own requirements for the passing score. At Oxford, for example, the passing score is 144-168. To get that many points, you need to pass all exams with excellent marks. And at the University of Aberystwyth, the minimum threshold is 96-120. These are "B" and "C" marks on the exams.
If you apply after your first year of university in your home country, they will look at your GPA and a transcript of grades from the university.
You can fill out the UCAS application even before the end of a preparatory program or the first year of university. In such a case, current and projected estimates are indicated. Without them, the application will not be completed. When you receive the results of the final exams, they will need to be sent to the university.
Important
UCAS
is not just an application platform — it is also a very useful resource. On it, you can find information about the programs you are interested in, the admission process, a budget plan, and even housing.
Application deadlines
Application deadlines vary by institution and program, so it is best to check them ahead of time:
October 15th — Oxford, Cambridge, as well as most medical, veterinary, and dental programs.
January 26th — almost all other programs. Foreigners can apply later, but it is better not to delay this process in order to receive an invitation and visa on time.
June 30th is the final deadline for international students.
The response times of universities also vary — from several weeks to several months. If you have passed the competition, you will be sent an acceptance letter. It can be of two types:
Unconditional — this means that you are definitely accepted, and can start collecting documents for the visa
Conditional — you will be accepted only if you pass the final exams or language test with the required score
If you did not have time to submit documents before the final deadline or did not receive an affirmative answer from a university, you still have the opportunity to apply. Some universities do not enroll students in the main enrollment wave, and therefore continue to accept applications for vacant spots after June 30. This is called Clearing. Information about the universities that have spots left at the Clearing stage is posted by the UCAS platform.
Documents for admission
Document showing completion of a preparatory program or the first year of university
IELTS score of 6.0 or an equivalent certificate
Motivation letter — maximum 500 words
Payment of UCAS fees
How to apply for a master's degree
There are two ways to enroll at a British university for a master's degree:
Most universities accept applications directly. This means that you can apply directly on the website of the university. There you will find all the necessary requirements.
Some universities cooperate with the UCAS Postgraduate system. This is a single platform for admission to master's programs. Please note that the number of programs on UCAS Postgraduate is limited, and your desired university may not be on the list.
There are also Undergraduate Master's programs in Britain — this is a master's program combined with a bachelor's program. You can enroll in such programs immediately after completing a preparatory program. Such programs last 4 years, and at the end graduates receive a master's degree.
Application deadlines
For master's programs, universities themselves set the deadlines for admission, so you need to check them on their official websites. At most universities, the submission of documents closes only when the spots of the program are filled. However, deadlines can be strict for popular universities. Here are some examples from famous British universities:
Documents for admission
Bachelor's degree in a related field with a transcript. The minimum average GPA is a 4 out of 5 (60% in the British system)
IELTS score of 6.5 or an equivalent certificate
Motivation letter — under 4000 symbols. You can use the UCAS personal statement tool when writing
2-3 recommendation letters from professors or employers
Research plan
Proof of work experience — mainly for business and management programs
Interview — not at every university
How to apply for a doctorate degree
For PhD programs in Great Britain, you must apply directly on the website of a university.
One of the main requirements is a master's degree in a related field with an average score of at least 4 out of 5 (60%). However, some programs accept students with a Bachelor's with Honors. This is a bachelor's level that is common at British universities. Education in such programs lasts 4 years, regular bachelor's programs last for 3 years.
Moreover, British universities offer Integrated PhD programs — doctoral studies combined with a master's degree. Studying for an Integrated PhD also takes 4 years, and you can enter this program immediately after a bachelor's degree.
Application deadlines
Each university sets its own deadlines for document submission for PhD. Applications are usually accepted throughout the academic year, from October to the summer. However, early submission increases the chances of enrollment. You can check the admission deadlines on the website of the selected program.
Documents for admission
Bachelor's or master's degree in a related field with a transcript. The minimum average GPA is a 4 out of 5 (60% in the British system)
IELTS score of 7.0 or an equivalent certificate
Research plan — requirements are set by the university
2-3 recommendation letters from professors or employers
Interview — not at every university
Need help with admission?

Scholarships in the UK
Scholarships can cover a part of or even the full cost of your studies in the UK. However, most scholarships are available only to students pursuing bachelor's and doctorate programs. For bachelor's programs, the competition is much higher, and thus receiving a scholarship is more difficult.
You can find information about scholarships on the websites of universities in the Funding and Scholarships sections. University scholarships are big — at Cambridge, for example, tuition is fully covered for the recipient and, on top of that, the university pays out an additional 21,158 USD per year. More often than not, a scholarship amount does not exceed 10-30% of the program cost.
There are also government grants. The most famous one is Chevening. This scholarship pays for graduate studies, food, housing, airfare, and study materials. To receive this grant, not only is high academic performance important, but also academic achievements (for example, publications) and work experience.
Student visas to the UK
Those wishing to study in the UK should apply for a student visa no earlier than 3 months before the start of their studies. However, this can only be done with an official invitation from the university — Confirmation of Acceptance for Studies (CAS). The application processing time is approximately 3 weeks.
British visas are issued on the basis of a points system. A student must score 40 points by providing two documents:
The student must confirm that he can pay not only for tuition, but also for accommodation in the UK: 14,515 USD for 9 months in London and 11,131 USD in any other city.
Additional requirements

The list of documents for a visa may include:

Proof of identity (passport)
Diploma or certificate of secondary education
SELT, GESE, IELTS, or ISE certificate
Certificate of absence of tuberculosis, issued by an accredited medical center[1]
Consent of the parent/guardian for the departure of the child and a certificate confirming kinship/guardianship
ATAS certificate

Additionally, as part of the application, the student must:

Pay for medical insurance for the entire period of study — 568

USD

/year
Submit biometric data — 23

USD

Pass an interview at the visa center

Within 10 days upon arrival in the UK, the student must pick up a biometric residence permit prepared for him — Biometric Residence Permit (BRP). This document proves a person's right to stay, study, and work in the country, and can serve as an identity card.
Studying abroad with UniPage
Want to study at a foreign university but don't know where to start? We can help!
Our specialists will find a university, arrange your documents, fill out the applications, and stay in touch until you receive an offer.