Every year millions of university entrants have to take entrance exams to go on to higher education. Many universities and colleges have refused to hold entrance examinations and begun to accept results of standardized tests evaluating certain skills: the knowledge of English or any other foreign language, of mathematics and the ability to think logically. Below you can find the selection of the most popular international exams, which results are accepted by universities and colleges all over the world.
Comparison of English language exams
Exam
IELTS
TOEFL
Cambridge
BEC
PTE Academic
TOEIC
Popularity
57,6%
27,4%
4,7%
5,6%
2,7%
2%
Cost
245–430

USD

180–260

USD

130–300

USD

60

USD

200–250

USD

130

USD

Duration
225 min.
270 min.
70–235 min.
140–180 min.
170 min.
230
Parts
4
4
3–4
3–4
3
4
Frequency
48 per year
>50 per year
~ 1 per month
~ 6 per year
~ 1 per month
~ 1 per month
Results
13 days
13 days
2–9 weeks
5–9 weeks
5 days
3–4 weeks
Validity
2 years
2 years
Unlimited
Unlimited
Unlimited
2 years
Locations
140 states
165 states
130 states
130 states
50 states
150 states
Level
A0–C2
A1–C2
A1–C2
A2–С2
A1–C2
A1–C1
Admission
Yes
Yes
Yes

FCE, CAE, CPE

No
Yes
MBA

Several business schools accepts the results

Immigration
Australia
Australia

Экзамен CAE

No
No
Job placement
No
No
Yes

FCE, CAE, CPE

Yes
Yes
Yes
Min.–Max. scores
0–9
0–120
100–230
120–210
10–90
10–990
0–400

Different scores for each part of test

Type
Academic
General Training
Internet-based
Paper-delivered
Paper-based
Computer-based
Paper-based
Computer-based
Computer-based
Paper-based
Organizer
CELA

All organizers are from the UK

ETS

USA

CELA

UK

CELA

UK

Pearson PLC

UK

ETS

USA

Established
1980
1964
1913

Certificate of Proficiency in English was introduced by Cambridge University

1993
2009
1979
Details
IELTS
TOEFL
Cambridge
BEC
PTE
TOEIC
The English language international exams
IELTS is a worldwide-recognized international testing system designed to confirm the level of proficiency in English, it is widespread in the UK, Canada, Australia and New Zealand. Applicants for 2 hours and 45 minutes must go through the appropriate sections: Listening, Speaking, Reading and Writing (Letter), which differ depending on what type of the test the candidate passes:
Academic — for candidates who plan to study in English-speaking schools, and
General Training — this test option is appropriate for all other cases.
The test can be taken in 140 countries at more than 500 certified centers. Test results are represented on a scale from 0 to 9 points and are valid for two years. IELTS results are recognized in more than 6,000 universities, government and professional organizations worldwide.
Details about
TOEFL is a standardized test on the knowledge of the English language, which is widely used in the U.S. and Canada, it is designed for non-native English speakers. Test results are recognized in more than 6,000 institutions of higher education, as well as business structures, research centers in over 100 countries, making TOEFL the most widespread testing for confirmation of English language skills.
The maximum possible score is 120 points. It includes the sum of scores of sections where the reading skills (Reading) are tested, as well as listening comprehension (Listening), writing skills (Writing) and the ability to conduct a conversation in English (Speaking). The test formerly came in two versions: paper version (PBT — paper based test) and online version (iBT — internet based test). Today iBT version has become the main one (98 percent of the test takers) and the new one TOEFL Paper-delivered Test remains only in countries where iBT is not available. TOEFL PBT scores will be valid until their expiration date (two years after exam).
Details about exam
Cambridge ESOLis a group of in-depth exams for learners of all ages and levels whose first language is not English. Cambridge exams differ about the level of difficulty and the main purpose. There are general Cambridge exams, tests for schoolchildren and young adults, tests defining the level of Business English and tests for teachers of English.
Unlike IELTS and TOEFL exams, where a participant always receives a certificate with his or her scores, an applicant for Cambridge exams should know his or her level of the English language beforehand and only after that apply for this exam. All Cambridge ESOL exams contain four sections: Reading, Writing, Listening and Speaking. More complicated tests have an additional section Use of English. It is worth mentioning that Cambridge exam certificates do not expire.
BEC exam — Cambridge English: Business Certificate also belongs to Cambridge exams group and is aimed at evaluating the level of Business English. There are three levels of BEC certificates:
Cambridge English: Business Preliminary (BEC Preliminary) CEFR Level B1
Cambridge English: Business Vantage (BEC Vantage) CEFR Level B2
Cambridge English: Business Higher (BEC Higher) CEFR Level C1
Exam details
PTE is a group of international exams dedicated to assessing the English language usage of non-native English speakers of different ages, with various aims and levels. PTE tests results are recognized and accepted by universities, colleges and international companies in many countries around the world. There are the following types of PTE tests: PTE General (is suitable for those who need a certificate to live and work abroad), PTE Academic (a good option for foreign universities entrants), PTE Young Learners (is developed for children aged between 8 and 15; an exam certificate gives an opportunity to enter a school or college where subjects are taught in English). One of the main advantages of PTE exams is that these certificates do not expire, so participants don't have to update and confirm their results constantly.
Exam details
TOEIC is a standardized exam evaluating knowledge of the English language for participants who want to get a place at an international company where English is spoken. The tests evaluate participants' abilities and skills to phrase their thoughts correctly in written and spoken form in English, to carry out negotiations and make presentations.
The test consists of two parts: Listening&Reading (120 minutes) и Speaking&Writing (80 minutes). It is possible to take both sections separately. Often applicants take only Listening&Reading section as it is enough to work in an international company. TOEIC test task topics are connected with business, working process and relationships between colleges.
Exam details
Academic subjects international exams
SAT — Scholastic Assessment Test is a test evaluating knowledge of a university entrant, its results being accepted by universities and colleges in the USA.
The exam lasts 3 hours and 45 minutes and consists of 3 sections: mathematics, writing and text analysis, which are divided into several subparts as well. A participant can receive from 200 to 800 points for each part.
Section Critical reading consists of 67 questions, concerning grammatical sentence structure and vocabulary: participants are given short quotations from scientific articles devoted both to natural sciences and humanities supplied with questions. A test-taker is given 70 minutes to complete this task.
Section Mathematics consists of test tasks of multiple choice type. It is given 70 minutes to complete this section. In order to pass this section a participant should have knowledge of statistics, algebra, geometry and skills in graphs, tables, charts, dates and schemes analysis.
In section Writing it is necessary to write a short essay and to answer some test questions. There are 49 tasks in this sections and a test-taker is given 60 minutes to complete them.
Exam details
GMAT is an international exam in English, which allows to assess the mathematical and analytical abilities of the candidates for further study at business schools in the field of management, economics, business and finance.
GMAT results are valid for 5 years and are recognized in 1,500 schools around the world — that is almost all business schools and the majority of American universities. The test can be taken at certified centers worldwide. The cost of the exam is US 250 USD. Details are on the official website.
Exam details
GRE is a standardized test that is an admissions requirement for most master's, doctoral or other postgraduate courses in U.S. universities, as well as in Canada and Australia. GRE test results are taken by the admission departments of thousands of universities and business schools. Testing is conducted on a computer or on paper, and lasts 3 hours and 45 minutes with the maximum possible score is 340 (170 on Math and 170 on English).
There are two types of exams:
General Test — in addition to the high school curriculum in Mathematics, it includes verification of knowledge of the English language, where great attention is paid to the student's vocabulary;
Specialized test (Subject) — conducted to assess the level of knowledge in a particular area of study: Physics, Chemistry, Mathematics, Biology, Psychology, and the coverage of the material is comparable to the third or fourth year of university.
Exam details
International exams in other foreign languages
The full list of foreign language international exams
| Language | Testings confirming foreign language knowledge |
| --- | --- |
| English | IELTS; TOEFL; TOEIC; Cambridge English Language Assessment; CaMLA English Placement Test; EFSET; ECCE; ECPE; MELAB; Michigan English Test; MTELP Series; PTE; Trinity College London ESOL; Young Learners Tests of English; STEP Eiken; TrackTest; College English Test; General English Proficiency Test; Public English Test System |
| German | Deutsches Sprachdiplom Stufe I and II; Test Deutsch als Fremdsprache (TestDaf); NTD |
| French | Test d'evaluation du francais; Test de francais international; Test de connaissance du francais; Diplome d'etudes en langue francaise (DELF); Diplome approfondi de langue francaise (DALF); TNF |
| Spanish | Diplomas de Espanol como Lengua Extranjera (DELE); Certificado de Espanol : Lengua y Uso (CELU) |
| Chinese | Hanyu Shuiping Kaoshi (HSK); Test of Chinese as a Foreign Language; Test of Proficiency in Putonghua |
| Korean | Test of Proficiency in Korean; Korean Language Proficiency Test |
| Dutch | Certificaat Nederlands als Vreemde Taal (CNaVT); Staatsexamen Nederlands als tweede taal (NT2) |
| Italian | CELI; CILS; PLIDA |
| Polish | Certificate Examinations in Polish as a Foreign Language |
| Portuguese | Certificado de Proficiencia em Lingua Portuguesa para Estrangeiros (CELPE-Bras); Centro de Avaliacao de Portugues Lingua Estrangeira (CAPLE) |
| Russian | Test of Russian as a Foreign Language (TORFL); |
| Japanese | JLPT; J-Test; Kanji kentei; Business Japanese Proficiency Test; Japanese Language Proficiency Test (NNS) |
| Various | The European Language Certificates (TELC) |
Levels of the English language and exams comparison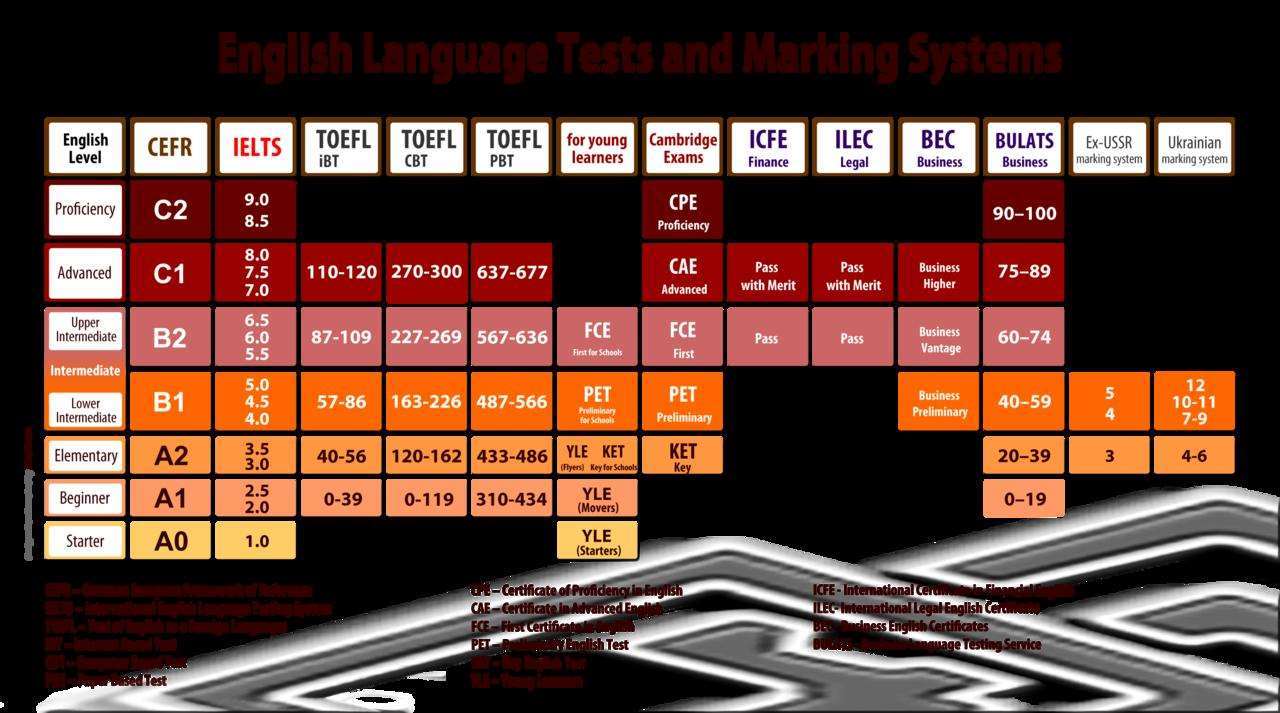 language courses — Similar articles
courses search
IELTS/TOEFL is accepted by countries
Europe
Northern Europe
Central Europe
Asia