TOEFL — Test Of English as a Foreign Language — is designed specifically to test the knowledge of applicants studying English as a foreign language. TOEFL results are required for admission to many universities, including institutions in non-English speaking countries. Currently, only the online version of the exam (TOEFL iBT) is available in most countries.
Materials for TOEFL preparation
| Site | Description |
| --- | --- |
| Toeflblog | Blog with useful TOEFL prep materials and video tutorials. |
| Stuff | Website offering timed mini-tests. After passing a test, you can review the correct answers and explanations for them. |
| Testpreppractice | Resource containing free practice tests for TOEFL and other language exams. |
| Engvid | Website providing video lessons to help improve pronunciation and expand vocabulary. |
| Eslpod | Resource offering numerous audio materials for working out listening and speaking sections. |
TOEFL test structure
| Section | Time | Exercises | Max. score |
| --- | --- | --- | --- |
| Reading | 54-72 min | 30–40 | 30 |
| Listening | 41–57 min | 28–39 | 30 |
| Break | 10 min | — | — |
| Speaking | 17 min | 4 | 30 |
| Writing | 50 min | 2 | 30 |
| Total | 172-206 min | 64–85 | 120 |
Learn more about TOEFL exam content

Reading. The applicant reads 3-4 texts. As a rule, excerpts on popular science topics are given. After reading, it is necessary to answer a series of questions (10 for each passage) related to the content of the text, its main idea, as well as the understanding of individual words and expressions.
Listening. The applicant listens to 2-3 dialogues and 4-6 lectures. Each audio recording is accompanied by 5-6 questions. This part of the test takes between 41 and 57 minutes. There will be a ten-minute break after the section is completed.
Speaking. In the first task, the applicant needs to answer a posed question. In the next three, he listens to an audio recording or reads a text, and only then answers several questions. The examinee has 17 minutes. All responses are recorded on audio.
Writing. Within 50 minutes, the applicant must write two essays of varying complexity. First, he needs to read or listen to a short text and write his thoughts on it. The second task is an essay based on personal experiences.
How much does it cost to take the TOEFL?
Service
Price[1]
Registration for TOEFL iBT
260

USD

Late registration fee (3 days before the exam)
40

USD

Duplicate test results
20

USD

Reschedule to another date
60

USD

Refund (in case of no-show)
20

USD
The registration fee covers grading and delivery of the results to 4 universities. You can find out detailed information about fees and exam dates on the official TOEFL website.
Need help with exams?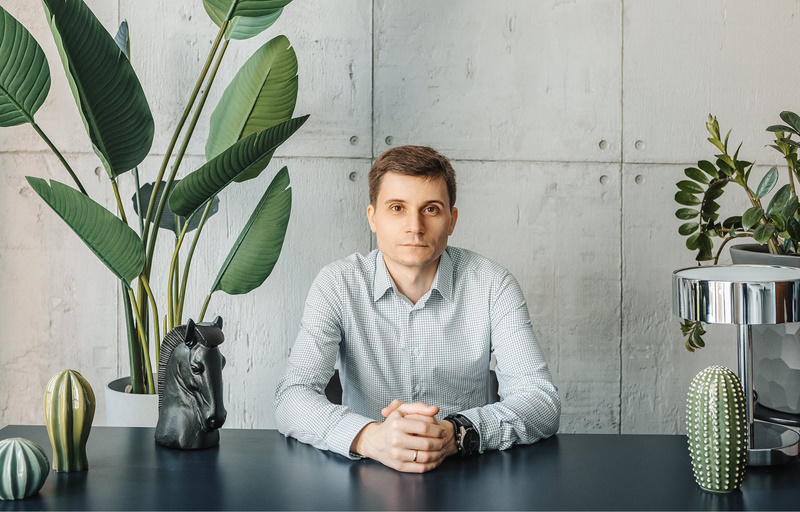 How do I register for the TOEFL?
Go to the official website and register. Users receive access to a personal account.
Find information about test centers, their addresses, and phone numbers. Then, choose a suitable certification center and look at the calendar with the dates of upcoming exams.
Register and pay for the exam using one of the proposed methods.
The number of available spots for the exam is limited. It is advised to register a few months before the test, allowing more time for test preparation. Before signing up for the exam, it is necessary to clarify the deadlines for university applications (seeing as they are not accepted without TOEFL results). It takes about a month to receive and send TOEFL results, so it is better to choose a delivery date that leaves enough time for document preparation.
Is it difficult to pass the TOEFL exam?
TOEFL is not an easy exam, but it is of course possible to pass with a high score. The main factor is preparation. Much depends on the goals of the applicant and the passing score for university admission. The certification center does not seek to fail anyone. In the Speaking section, for example, pronunciation is leniently assessed. Examiners understand that English is not the native language of the examinee. Instead, the logical coherence of statements is much more important. Even with a couple of grammatical errors, you can get an excellent grade for the Speaking section. Mistakes made in the Reading section can be compensated by the Listening section, during which fairly simple questions are asked (without specific dates, names, or numbers).
Sample TOEFL certificate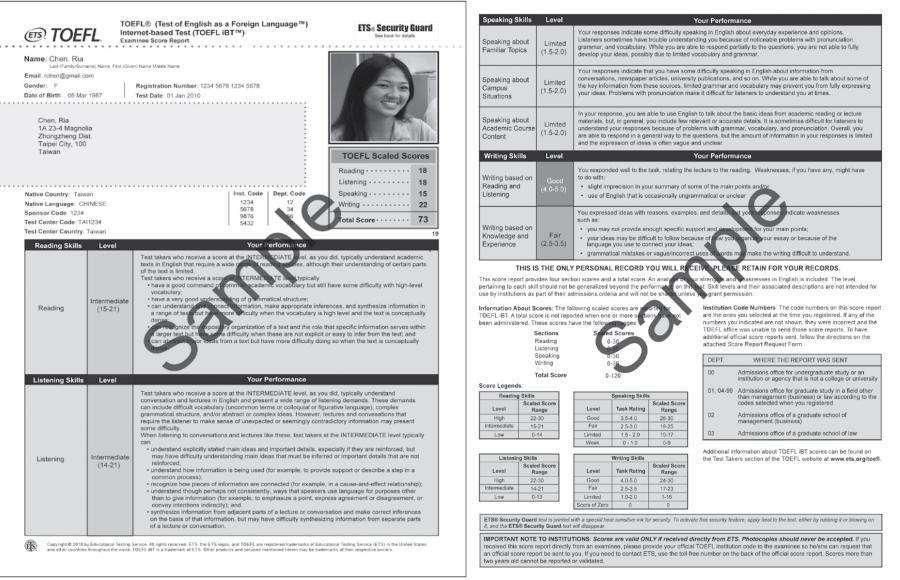 Get a tutor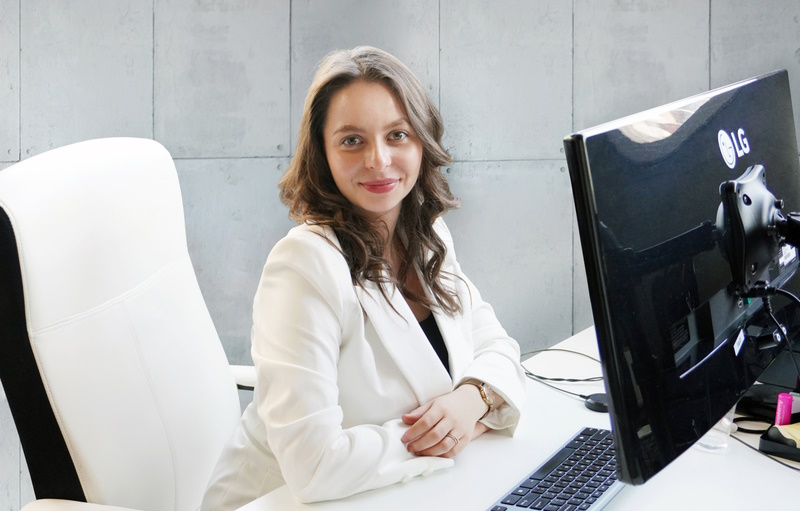 How do I prepare for the TOEFL?
Learn the structure of the exam
Preparing for the TOEFL should begin with the study of its appearance. It is not anywhere close to tests that are conducted in schools. Even people with excellent English will have a hard time getting the right score if they do not understand the format of the exam. To successfully pass the TOEFL, you need to familiarize yourself with its structure and assignments from previous years. Not a single moment of the test should come as a surprise to the applicant.
Take a trial test
This is a great opportunity to gain familiarity with the exam format and understand what parts you need to work on. There are a lot of free options on the Internet, but there is one small problem: you can only evaluate your knowledge of the Listening and Reading sections. It will not be possible to check Speaking and Writing according to all of the rules. The only thing you can do is look at the available sample answers and compare them with your own. As with any test, you need to practice in order to pass the TOEFL. The more exercises you can solve, the more likely you are to not get lost in the exam. You can take trial tests on the official TOEFL website.
Use proper study materials
Test takers are not short on self-study materials: there are plenty of dedicated guides and books available at bookstores. Many of them are freely available on the Internet. The main point is not to get lost in the variety and only use official materials, as they contain advice from the creators of the test.
Prepare for a 4-hour marathon
TOEFL iBT is 3.5 hours long, and the average person gets tired and loses focus after only 2 hours of intensive training. In order not to be blown away, you need to train yourself. Calmly answering questions from a textbook is one thing, but in reality everything will be completely different. Not everyone can work productively for 3 hours. Therefore, you should set aside one day and take the test from start to finish, with a timer and a break, just like in a real exam. Such an experiment will help evaluate your behavior in a stressful situation and will be an excellent endurance workout before the upcoming exam.
Read academic texts
For unprepared applicants, even with good English, academic texts can be an unpleasant surprise. Knowledge of basic grammar structures and American slang will help in real life, but it will not be enough to successfully pass the TOEFL. To understand academic English, you need to read scientific literature. On the Internet, you can find a huge amount of educational information. We recommend Scientific American, Science News, Popular Science, Popular Mechanics, and The Economist. As a rule, the texts in these editions are a little more difficult than they are on the exam, but this will help the applicant better prepare for the test.
Learn to perceive academic texts by ear
To successfully pass the Listening section, you need to listen to as many scientific texts as possible. Interesting and informative lectures can be found on TED. Their videos are not too long (only 10-15 minutes each), and the speakers are bright and memorable. There are collected lectures on a variety of topics: from nuclear physics and sociology to the latest developments in the field of IT. It is better to listen to texts that are personally interesting to the applicant, making learning a more joyful experience.
If the TED talks turn out to be too short, and you want to get to know the chosen topic better, you can look at the official channels of the world's leading universities. Yale, MIT, and other equally famous universities offer to learn more about scientific developments.
It should be noted that these are not the only sources of useful information. Today, online educational platforms are more popular than ever. Probably the most famous online platform is Coursera, which presents lectures from the best universities in the world. Watching science shows and documentaries on the BBC and Discovery channels will also help you expand your vocabulary.
Do not get hung up on difficult questions in the Reading section
The average test taker only has 60 minutes to read the text and answer questions. Not all of them are equal in complexity. The answers to some are obvious, while others will require extra brain power. The most unpleasant moment of testing is a difficult question that the applicant cannot answer. Only one minute is allotted for reflection. If, during this time, you cannot find the answer, you need to move on to the next task. With the Listening section, the situation is different: there will be no opportunity to return to previous tasks, so it is worth answering right away.
Do not be afraid to guess answers
It is not forbidden to guess the answers on the TOEFL exam. It happens that even after re-reading the question, the correct answer remains a mystery. In this case, deliberately incorrect options should be discarded. If there are two of them, then the probability of guessing the correct answer increases from 25% to 50%.
Take notes
Each text or audio recording consists of 200-700 words. Therefore, you should not rely only on your memory — it is important to make notes on paper. You do not need to write everything down — it is worth noting only keywords that will help you remember the sequence of events in the text. It is best to record the introduction and conclusion, along with the main examples and arguments.
Learn the key phrases for the Writing and Speaking sections
It is no secret that panic can overtake an applicant during the exam. This happens especially often during the Speaking section: the timer ticks, time inexorably rushes forward, words get jumbled up, and pauses between sentences become longer. To overcome the anxiety and confidently answer the exam, you should build your answers according to one scheme: an introduction, 1-2 main thoughts, a couple of examples, and a conclusion.
It is impossible to predict what the exact question will be, but it is still worth learning a couple of standard phrases for each task. It is advisable to use introductory words and constructions. Examples of such phrases can be found on the Internet, or you can come up with them yourself. We recommend using the same set of blanks when writing an essay.
Be able to paraphrase
The members of the commission, who check written and oral answers, pay attention not only to the presentation of a thought sequence, but also to the applicant's ability to paraphrase — expressing thoughts without using the words or constructions that were used in the question. If the examinee used an interesting idiom or phrasal verb, this is a huge plus. To learn how to quickly paraphrase, you need to have a large vocabulary.
Sleep
Preparing for an exam involves more than just studying. To successfully pass the TOEFL, you need to be healthy and rested. On the night before testing, you should get a good night's sleep and have a hearty breakfast in the morning.
Minimum TOEFL Scores in the US
Comparison of TOEFL with other exams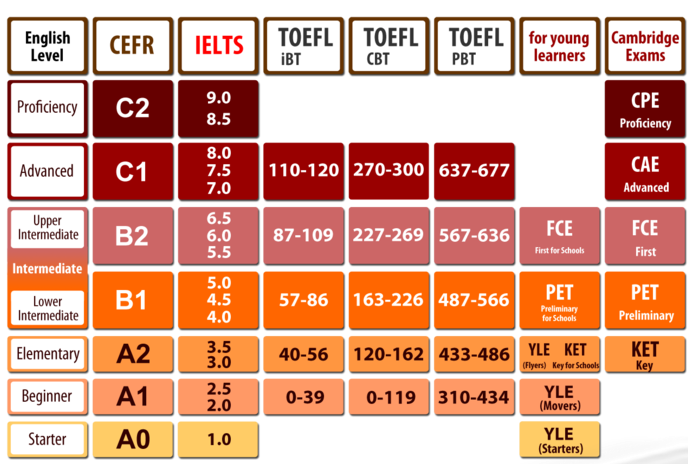 Exam preparation with UniPage
Exams are the main criterion for selecting students at most universities around the world.
UniPage specialists will help to find an experienced tutor who will prepare you for successful passing of international exams.