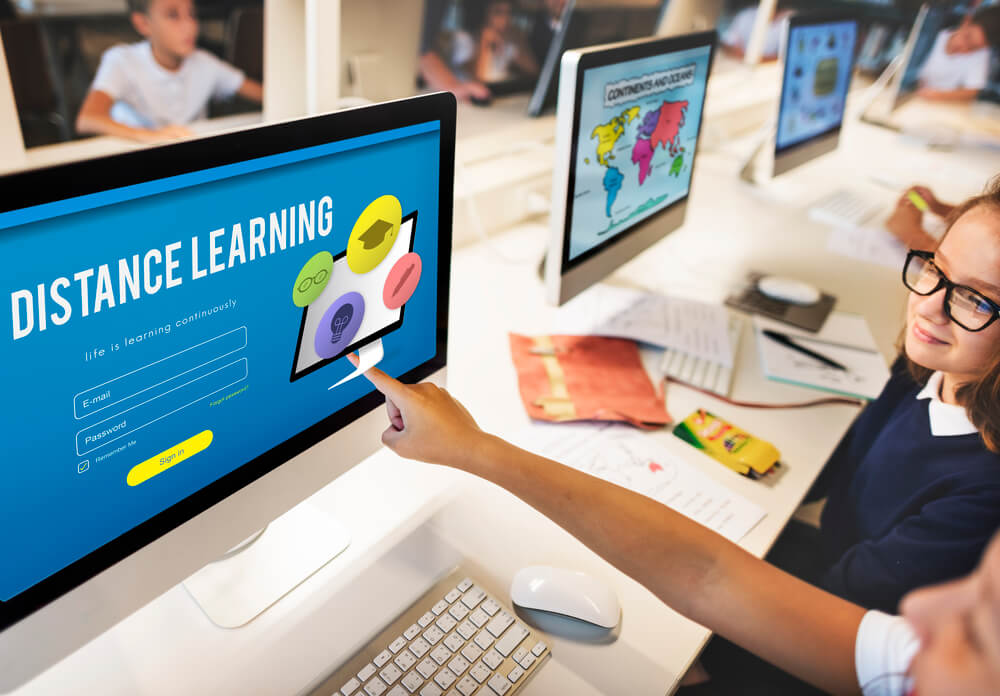 In light of the recent COVID-19 pandemic, online education has had a significant surge in popularity. And it's not just online English schools or fitness courses, but also full-fledged higher education programs. Some experts predict that soon all universities will move to our tablets and laptops. Of course, if surgeons and nuclear physicists get their qualifications while sitting at home, a disaster will surely happen. However, there are a number of professions that can now be mastered remotely without any quality loss.
Freedom in time and location. Who didn't dream of completing tasks, getting comfortable in his room or at a cozy cafe? Or maybe you wished that you could listen to lectures at your convenience, not being restricted by the established schedules. Dreams have come true. In fact, you can now graduate from top universities or just learn the new skills without leaving your home while being anywhere in the world, which opens up additional opportunities for those who can't attend full-time studies for some reason, for example, students with young children or ones living in remote locations.
Combining work and studies. Students of online universities can easily combine full-time work with getting their education without a fear of being expelled for missing classes. As a rule, an individual schedule is built by each student, which allows them to learn at their own pace and without interruption from their work or other activities.
Saving money. If we talk about higher education, studying bachelor's or master's programs online is much cheaper than similar full-time programs. For example, at Harvard, to get a bachelor's degree online, you need 58,880

USD

, a master's program — 35,000

USD

, while regular programs cost about 198,000

USD

and 95,000

USD

, respectively

full cost for the whole duration of studies is compared

. In addition, the student exempts himself from the costs associated with a visa (for foreign universities), the search for housing, and the arrangement of life in another city or country.
Availability of digital training materials. The online format assumes that all the necessary manuals, textbooks, and libraries are not just at hand, but literally fit in one's pocket. Universities offer their students access to all resources, regardless of whether the student is on campus or thousands of miles away. In this case, it is enough to have only a phone or a laptop with Internet access.
New forms of interaction. Traditionally, online learning is associated with video conferencing via Skype or Zoom, which today does not surprise anyone. But online education keeps evolving, and depending on the circumstances, new formats of classes and knowledge control are implemented. For example, today the proctoring system is already widely used to pass exams, and students can practice using computer simulators.
Professional mentorship. In some areas (for example, when teaching art), the practice of online mentorships is widespread, in which the student has the opportunity to individually consult with a teacher in free form without any specific training program. Such mentoring courses do not end with a diploma, but offer valuable experience and rapid growth of skills through communication with a professional who can be anywhere in the world.
Motivation and self-discipline. When studying online, students have to learn most of the material on their own. Sometimes, if the training involves a relatively free schedule and lack of constant control from the outside, this can be a real challenge. In order to successfully finish a course, a student needs high motivation, willpower, and time management skills.
Lack of real communication. There is an opinion that distance learning is an excellent option for couch potatoes and introverts, but it is not at all suitable for active and sociable people. Of course, when studying online the amount of personal communication with teachers and classmates is much less. However, whenever possible this disadvantage is compensated by video conferencing, group online projects, and other forms of interaction.
Lack of practice. Online education also cannot provide traditional practical classes. And if for philologists or lawyers this will not be a significant loss, then for doctors or, for example, design engineers, this might be a real issue. In some cases, virtual simulators or a series of offline classes at the university can be used, but it is obvious that there are a number of professions that cannot be mastered remotely under any circumstances.
Technical equipment. It seems that in the 21st century, everyone has a gadget with unlimited internet access and skill of using a PC somewhat confidently. But alas, in almost every country there are remote areas that are actually cut off from digital space. "This does not concern me," a student living in a major city will think. However, here a factor of technical equipment can play a role. For example, organization of video surveillance for exams might cause a lot of issues. Not to mention the usual network failures that happen regardless of the location.
Low quality of education. When combined together, all of these shortcomings may result in education that is of lesser quality. But this is not always because of the online format. Indeed, in any learning process, whether it is remote or full-time, 90% of success depends on the effort of the student. It is only necessary to learn how to use all available opportunities, whether it is online communication with a Harvard teacher or access to the electronic library of a regional university.
Guidance in the admission process
Our staff will walk you through the entire admission process: from choosing a university and preparing documents to enrollment and obtaining a visa. We are always in touch and ready to answer any questions. UniPage experts will always objectively assess your situation and suggest the most suitable university options.