Moscow State Institute of International Relations – MGIMO – University under the Ministry of Foreign Affairs of the Russian Federation, which trains future diplomats and specialists in the field of international relations. MGIMO is among the five best universities in the country[0] and is in the top 100 world universities in the field of "Politics and International Relations"[1].
In 1944, the international faculty of Moscow State University separated to become independent. Thus began the story of the largest university of international relations in Russia.
Already 2 years after its foundation, the institute began to accept students from other countries for training. Initially, applicants could choose the international, economic, legal faculties or the oriental branchsince 1954 after merging with the Moscow Institute of Oriental studies.
Gradually, MGIMO expanded the number of faculties and areas of training. To the economic faculty, the departments of foreign trade and external economic activity were added, the faculties of international relations, journalism, international business, business administration, and political science were opened.
In 1994, at the initiative of the Government of the Russian Federation, the university began training specialists in the field of state and municipal administration. The same year, MGIMO was given the status of a state university[2].
Since 2000, MGIMO has begun training for the development of international energy cooperation. The leading oil, gas and energy companies of the country came up with such an initiative.
In 2013, the university received international accreditation of all training programs at 3 levels of education, becoming the first university in Russia to implement such a project[3].
MGIMO structure
The university has 10 faculties (schools), 3 institutes, School of Business and International Proficiency, and a military department. In addition, more than 10 scientific and educational units and centers operate here[4].
In 2016, the first MGIMO branch in Odintsovo was opened, which provides training for undergraduate, graduate, secondary vocational (MGIMO college) and secondary general education (lyceum named after A.M. Gorchakov). There are 4 faculties in the Odintsovo branch:
International Law;
Governance and Politics;
Financial Economy;
Linguistics and Intercultural Communication.
Cost of training
The complete list of bachelor's and master's programs is available on the official website. Here is the overview of Russian-taught undergraduate programs with a number of seats and tuition fees.
Program
Cost per year
Seats, state-funded
Seats, paid
State and Municipal Governance

programs — Economic Policy, Federal and Regional Governance, Digitalization in State Administration

8,202

USD

5
50
International Economic Relations
9,105

USD

60
100
International Politics
8,913

USD

10
37
International Relations
8,941

USD

46
30
Diplomacy and Policy of Foreign States
9,925

USD

89
20
Global Trade and Commerce
8,202

USD

8
45
Public Relations and International Energy Cooperation
8,913

USD

5
16
World Economy and International Energy Cooperation
9,487

USD

5
23
Public Relations
8,421

USD

13
40
International Law
8,421

USD

76
60
International Journalism
8,667

USD

29
30
Sociology of Mass Communications
7,464

USD

10
35
Political Studies

programs — Political Conflictology, Theory of Politics, Technology of Public Policy

8,202

USD

20
50
International Relations and Energy Diplomacy
9,542

USD

10
25
International Law and Legal Support of International Energy Cooperation
9,159

USD

11
28
International Economic and Environmental issues
8,175

USD

20
15
Global Politics
8,913

USD

-
37
International Business and International Energy Cooperation
9,105

USD

-
21
International Management
9,105

USD

-
65
International and Comparative Law

jointly with the Centre International Lomonosov (CIL), Geneva

7,847

USD

-
25
The number of seats available at Odintsovo Branch of MGIMO University can be found here.
Advantages of studying at MGIMO
Disadvantages of studying in MGIMO
Admission to MGIMO
Acceptance of applications and documents from foreign undergraduate applicants is held from mid-June to early July. Documents for admission must be printed, signed and personally submitted to the International Office:
Application addressed to the rector for signing up to the entrance exams;
Application form with personal data and photo;
Passport or other ID (original, copy and notarized translation)

information page

;
A document of prior education with a transcript indicating the subjects and grades obtained (originals, copies and notarized translations);
Application for nostrification

validation of foreign education in Russian Federation

;
Medical documents: a certificate indicating chronic illnesses (form 086-U); negative HIV test; results of RW and hepatitis B examinations; a medical report on vaccinations with dates; photofluorography;
A copy of the migration card and visa

if it was required when entering a country

;
8 passport-like photos

3 х 4 mm, matte, greyscale

.
After submitting the documents, the applicant must pass the entrance tests in the Russian language (written exam and interview) and a foreign language (written test in English, French or German). In case of successful completion of the tests, it is necessary to pay for training and sign a contract with the university. Those who have not coped with the Russian test are offered to complete a one-year preparatory course. There are also intensive two-week courses in Russian and English available prior to taking entrance examinations.
| Stage | Dates |
| --- | --- |
| Application submission | June 15 – July 1 |
| Entrance examinations | July 2 – July 8 |
| Signing agreements | July 10 |
*Check the dates on the official website.
To apply to MGIMO Master's Programs a student must register and fill in an application form on the official website. Please note that registration in English is available for a limited number of programs that are taught fully or partially in English. For applying to Russian-taught programs refer to the Russian registration page.
Further procedure suggests taking two entrance examinations: a foreign language and a major subject[17]. The selection process is unified for both domestic and international students.
The following documents are subject to in-person submission:
A legalized document of prior education (bachelor's, master's, specialist) with a transcript (original, copy and notarized translation);
A passport or other ID (original and copy of the main pages);
4 passport-like photos

3,5 х 4,5 сm, matte, greyscale

;
Proof of language proficiency

for some programs, check the website

.
Stage
Dates

Online application submission
March 1

for English-taught and dual degree programs

/ May 1

for Russian-taught programs

– July 20

Submission of documents to the admission committee in person
June 17 – July 20

Entrance examinations
July 23 – July 27

Enrollment
August
*Check the dates on the official website.
Preparatory programs for foreign citizens
International activities
To date, MGIMO has signed more than 140 cooperation agreements with foreign universities, institutes, research centers from 44 countries[18]. The university's partners are the London School of Economics and Political Science, the Free University of Berlin, the Paris Institute of Political Science, and universities in the USA, Japan, China, Germany and other countries. Cooperation is conducted in several areas:
Student and teacher exchange programs, internships;
Organization of international conferences, round tables;
Implementation of joint training programs, including double degree programs;
Participation in scientific and educational international associations.
MGIMO is recruiting students for double-degree programs, most of which are master's.
Double degree master's programs
Direction
Program
Partner university
Cost per year
International relations
Corporate Governance and Global Network Diplomacy
HEC Paris, France
32,634

USD

Political Science
Political Consulting and International Relations
University of Pisa, Italy
1,187

USD

First year of studies at a partner University

8,307

USD

Second year of studies at MGIMO

Management
Management & International Marketing
Henley Business School, United Kingdom
9,733

USD

First year of studies at MGIMO

27,532

USD

Second year of studies at a partner University

State and municipal government
Digital Public Governance
Sapienza University of Rome, Italy
1,187

USD

First year of studies at a partner University

8,307

USD

Second year of studies at MGIMO

Management
Sustainable Development and Energy
University of St Andrews, UK
27,532

USD

Second year of studies at a partner University

9,567

USD

Second year of studies at MGIMO
Look through the full list of dual degree programs in Russian and in English.
Double bachelor programs
Direction
Program
Partner University
Cost per year
International relations
Politics and International Relations
University of Reading, United Kingdom
14,240

USD

Years 1 and 2 at MGIMO

20,093

USD

Years 3 and 4 at Reading University

Economics
International Finance and investment management
University of Reading, United Kingdom
15,071

USD

Years 1 and 2 at MGIMO

20,093

USD

Years 3 and 4 at Reading University

International Relations
Global policy
Marbella International University Center, Spain
22,429

USD

Years 1, 2 and 3 at MIU

11,274

USD

Year 4 at MGIMO
Business education at MGIMO
Additional professional education programs are implemented by the MGIMO School of Business and International Competencies, which is accredited by the Association of MBAs. The training is held under several programs, including Executive MBA, MBA, Pre-MBA and internships in foreign partner schools.
International internships
While studying at MGIMO, students can contact the International Management Department and apply for internships at one of the foreign universities with which MGIMO has an agreement. The costs associated with paperwork, moving, accommodations and meals are paid by the student.
Duration of internship abroad, as a rule, does not exceed 1 semester. In some cases, an extension of up to 2 semesters is possible. The internship can be in the framework of agreements with partner universities or initiated by the student (independently finds a place of study and draws up all the necessary documents). To participate in the competition you must have:
A total academic rating of at least 80%

by the results of the last semester

;
A language rating of at least 75%

for both foreign languages taken

;
Lack of academic debt;
Positive recommendations from the dean's office for the previous period of study;
Written recommendation from the language department, confirming the opportunity to study at a partner university;
Compliance of the MGIMO study program with the chosen specialization abroad;
The ability to pay for all expenses that include visa application, sending the documents, medical insurance, accommodation, transportation, etc.
The process of participation in the competition:
Submit the documents (application addressed to the rector, academic certificate, letter of motivation

examples and forms can be obtained at the International department

);
Register an internship application;
Pass a competitive selection at MGIMO;
Send a request to a partner university regarding their ability to accept you;
Receive the confirmation of participation.
All documents are submitted to the International department of MGIMO until September 15 for internship in the spring semester, until February 15 – in the autumn semester. By agreement with the dean's office, the internship can be counted as a student bachelor's practice.
Student life
About 20 organizations exist within the student community of MGIMO. The largest by far is the Student Union. The organization unites more than a thousand university students who participate in the work of one or several independent departments (design, press service, cultural events organization, etc.). Each year, members of the student union prepare dozens of events:
MGIMO Summer School in Sochi;
MGIMO Welcome day;
MGIMO Music awards;
Festival of foreign cuisine;
KVN Cup

humour competition

;
New Year's Eve of MGIMO students;
Quests in Moscow;
Legal, student and parliamentary clubs.
Moscow Model UN is an annual scientific conference that takes place in the form of a role-playing game and brings together more than 500 delegates. For several days, university and high school students try on the role of official representatives of the UN member countries and international organizations to discuss issues on the committee's agenda. The goal of the participants of the five-day event is to abstract from the personal point of view (to uphold the official position of the represented country) and adopt a resolution on the agenda of the committee.
When – mid-April;
Venue – MGIMO building of the Russian Foreign Ministry;
Registration fee – 7

USD

for citizens of the Russian Federation, 30

USD

for citizens of the CIS countries, 50

USD

for other foreign participants;
To participate, you need to fill out the registration form, write an abstract on the agenda and pass an interview via Skype.
Infrastructure of MGIMO University
Campus. MGIMO is often called a "lying skyscraper" or a "city ​​in a city". Five buildings, a library and a sports center are connected by crossings, providing the ability to move throughout the territory without going outside. In the corridors there are navigation plates that help to orient to those who first got to the university. The buildings contain everything you need: cafes, canteens, library rooms, a bookstore, gyms and a swimming pool. There is free Wi-Fi throughout the campus. Students can spend their free time in rooms equipped with computers and headphones for self-study. There are 4 dormitories owned by MGIMO. International students tend to live in the one which is on campus – Dorm #2 "Vernadsky". The cost of living is about 5 USD per night in a double room (for one person). Library named after I. G. Tyulin. The fund of scientific publications includes more than 740 thousand books in 55 foreign languages, including the fund of rare and valuable books, which collected domestic and foreign documents from the 13th century. MGIMO students gain access to the reading rooms and the electronic catalog.
Interesting facts about MGIMO
In 2010, MGIMO was listed in the Guinness Book of Records as a university with the largest number of state foreign languages ​​taught (53 languages)[19].
The MGIMO Television competition "Umnici i Umniki" received the TEFI Prize as the best educational program[20].
The largest cafe of the Institute of International Relations occupies 3 stories. At all food outlets, you can make an order using a special app, being anywhere on the campus.
In 2011, the movement MGIMO Goes Green was founded, which organizes the Ecological Case Cup, where students present environmental management projects. Every year, the club holds the MGIMO Green Week (lectures, film screenings and forums on environmental topics).
Famous alumni
Lavrov Sergey Viktorovich – Russian statesman, Minister of Foreign Affairs of the Russian Federation (since 2004), permanent member of the Russian Security Council.
Medinsky Vladimir Rostislavovich – Russian statesman and politician, former Minister of Culture of the Russian Federation (2012 – 2020).
Bokova Irina – Bulgarian public and political figure, diplomat. Director-General of UNESCO from 2009 to 2017.
Titov Boris Yurievich – Russian politician, entrepreneur. The Presidential Commissioner for Entrepreneurs' Rights (since 2012).
Sobchak Ksenia Anatolyevna – Russian politician, television and radio host, journalist, public figure, film actress. Co-Chairman of the Party of Changes political party (since 2018).
Aliyev Ilham Heydar oglu – Azerbaijani politician and statesman, President of Azerbaijan (since 2003).
Sklyar Alexander Feliksovich – musician, songwriter, radio host. Creator and leader of the Va-Bank group. Honored Artist of the Russian Federation.
Student reviews
Pros. The prospect of occupying high political and governmental positions, the opportunity to undergo international internships (students with high ratings participate in programs several times). Convenient location of educational buildings, which allows you not to waste time moving during the school day. Meetings with interesting speakers, practice at the Ministry of Foreign Affairs, the Ministry of Economic Development and the UN system. Busy student life (festivals, clubs, summer schools).
Cons. The training load (six days with attendance control) does not provide the opportunity to simultaneously gain work experience even in senior years, so many graduates note a lack of real practice at the end of their studies. "Lottery" with the 2nd language, in which personal preferences are virtually not taken into account. Poor conditions in dormitories (frequent shutdown of hot water, cockroaches, lack of cosmetic repairs).
Photos of MGIMO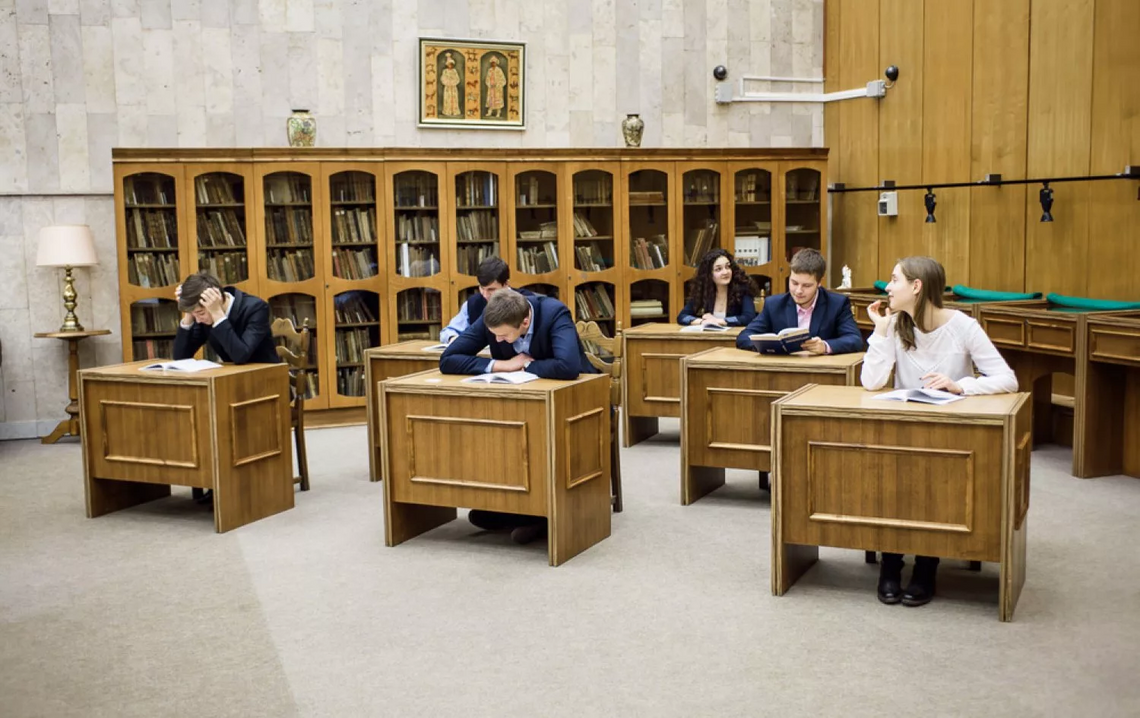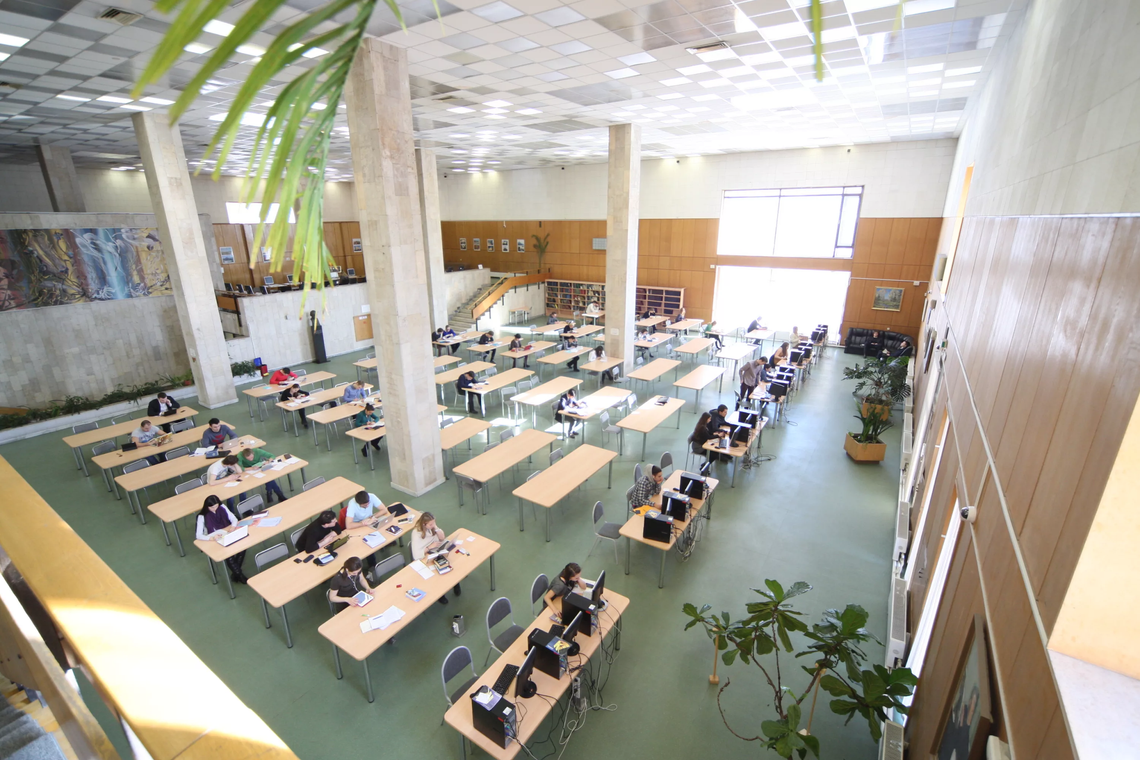 Last updated: