According to the law, secondary education in Belgium is compulsory. After finishing elementary school at the age of 12, children go to high school, where they study for the next 6 years.
In total, there are five areas of secondary education in Belgium:
General schools (Algemeen Secundair Onderwijs; ASO; Enseignement Secondaire général) offer a wide range of subjects, providing as complete secondary education as possible, for further entering the university.
Technical schools (Technisch Secundair Onderwijs; TSO; Enseignement Secondaire technique) offer education in the same areas as general ones (languages, history, natural sciences, mathematics, geography), but not at the same level. They emphasize the practical and technical application of the knowledge gained. Graduates can take an additional year of study to be able to find a job or enter a higher education institution to continue their studies.
Vocational schools (Beroepssecundair Onderwijs; BSO; Enseignement Secondaire professionnel) offer special education that trains for professions such as a carpenter, bricklayer, jeweler or auto mechanic. A professional school diploma does not give graduates the opportunity to go to university.
Art schools (Kunstsecundair onderwijs; KSO; Enseignement Secondaire artistique), depending on the chosen direction, can provide both practical and theoretical training. Graduates can continue their studies at conservatories, academies or higher art schools.
Special schools (Buitengewoon Secundair Onderwijs; BuSO; Enseignement Secondaire spécial) are designed for students with disabilities.
The secondary school curriculum consists of three cycles:
The first cycle (years 1 and 2) provides general education with a standard basic set of subjects. In addition, students can choose optional subjects (for example, Latin or additional mathematics).
The second cycle (years 3 and 4) gives students the opportunity to determine the number of hours that they want to devote to a particular subject (two or four hours a week).
The third cycle (years 5 and 6) allows students to choose a specialized schedule with a suitable set of subjects (for example, natural sciences or languages).
Education in Belgium has one of the most interesting systems in Europe. This is due to the division of Belgium into three regions, each of which has its own language, its own culture and its own model of higher education institutions. Despite the apparent complexity of the system, Belgian universities offer a decent education that meets all European standards, which attracts a large number of students from all over the world.
The quality of education. Despite its small size, Belgium is not inferior to large European countries when it comes to the quality of education. The international PISA program rated Belgian students' academic performance higher than the European average and placed Belgium in 19th place in the ranking of countries with the highest level of education[0], and Belgium ranks 21st in the UN Education Index.
Low cost of training. Belgium ranks 6th in the top 10 countries in Europe with the cheapest education according to THE (Times Higher Education) rating[1]. Despite the additional payment system for foreign students, the total cost of education in the state Belgian university is unlikely to exceed 4,746

USD

per year. And it is much cheaper than studying in the neighboring Netherlands and Great Britain.
"Heart of Europe". Belgium is not only home to a large number of world universities but also to the HQs of international companies and organizations. The headquarters of NATO, the EFTA and the EU meeting room are all located in the capital of Belgium — Brussels, which gives Belgian students a unique chance to get an internship in one of these organizations.
Cultural and national diversity. Universities of Belgium provide unique opportunities for the exchange of cultures. This is due not only to the existence of three national communities in the country, but also to a rather high level of immigration. Foreigners who live in Belgium permanently make up almost a quarter of its population. In addition, students from all over the world are attracted by low tuition fees and the participation of Belgian universities in international exchange programs.
Student life. Brussels is ranked 43rd in the top 50 student cities in the world according to QS[2]. Many Belgian universities have special units to assist students during their studies: housing and social services, legal counseling departments, employment centers, medical centers, centers for the disabled, departments for foreign students and some others.
Quality of life. According to the OECD rating[3], the quality of life in Belgium (6.9 points) is higher than the average throughout Europe (6.5 points). And the capital of Belgium — Brussels — takes 28th place in the Mercer rating[4] on the quality of life in various cities. The rating consisted of many parameters, including indicators such as health care, public transport, education, and the economic environment.
Lack of a centralized education system. The state plays a very small role in managing the education system. Almost all decisions are made by the academic council and the community, that is in charge of universities. Because of this, the cost of education, grading system, admission requirements and additional tests, the structure of educational institutions — all this may vary between universities in different regions.
The high cost of living. Belgium is in the top 20 countries with the most expensive accommodation. On average, renting a one-room apartment in Brussels costs about 949

USD

per month[5].
Excessive bureaucracy. Many foreign students who came to study in Belgium often complain about a large amount of red tape and the excessive love of the Belgians to fill out paperwork[6] which at times make Belgium a bureaucratic nightmare.
Cost and structure of education in Belgium
Program.
Min. age
Duration
Min. cost
Avg. cost
Min. language proficiency
Exams
Summer Camp
7+
1–8 weeks
783

USD

/week

Food and accommodations included

1,780

USD

/week

Food and accommodations included

Elementary (A1)
-
Language School
9+
1-12 weeks
119

USD

/week
475

USD

/week
Elementary (A1)
-
Elementary school
6
6 years
Free (State school)
11,864

USD

(Private)
Intermediate (B1)
-
Secondary school
12
6 years
Free (State school)
11,864

USD

(Private)
Intermediate (B1)
-
Foundation
18+
1 year
1,532

USD

3,559

USD

Upper-Intermediate (B2)
IELTS/TOEFL
College
18+
3-5 years
276

USD

/year
593

USD

/year
Upper-Intermediate (B2)
CNaVT/IELTS/FLE
Bachelor's
18+
3 years
534

USD

/year
3,443

USD

/year
Upper-Intermediate (B2)
CNaVT/IELTS/FLE
MBA
21+
1-2 years
35,593

USD

41,763

USD

Advanced (C1)
CNaVT/IELTS/FLE
Master's
21+
1-2 years
831

USD

/year
5,033

USD

/year
Advanced (C1)
CNaVT/IELTS/FLE
Doctoral
22+
4-6 years
547

USD

/year
3,559

USD

/year
Advanced (C1)
CNaVT/IELTS/FLE
The minimum costs indicated above apply to EU nationals, but the system is quite diverse. In Flanders, they usually pay fixed tuition fees which are determined by the number of credits taken. That is on average 922.36 USD per year. The universities of the French community charge only registration fees of no more than 992 USD/year. Those can be even lower for first-cycle programs at hautes écoles and art colleges. Finally, in the German-speaking community students are expected to pay up to 439 USD for study and 119 USD for the registration fee per year
Students from non-EU countries who wish to study in Belgium must make an additional payment[7]. At colleges in the Walloon Region, the additional cost is 1,177 USD for professional programs and 1,764 USD for academic programs in the first cycle and 2,354 USD for the second-cycle programs. For university programs, the amount should not exceed 4,953 USD excluding paying registration fees. At the universities of Flanders, the fees for international students are set by each institution separately. The only exception to this rule is the educational institution of the German-speaking community, where there are only first-cycle programs, for which non-EU nationals pay as much as the Belgians themselves (about 534 USD in total).
Special emphasis should be put on PhD (third-cycle programs) tuition fees. Thus, there are two tuition fees of 547 USD in Flemish universities: the first is paid at the very beginning of the program (the enrollment fee), while the second is deferred until graduation (the defense fee). For the French community it is usual to charge a single registration fee of 991 USD in the first year (minerval) and then 59 USD/year for the rest period of study. The fees are usually much higher for international students from non-EU countries.
Expenses
Average cost

Exams

Language serteficate: IELTS/TOEFL, DELF/DALF, CNaVT

145

USD

Registration fee + ID card
12

USD

+ 184

USD

Flight
93

USD

Rent
712

USD

/month

Meals
569

USD

/month

Insurance
95

USD

/year

Learning materials
712

USD
Languages of instruction in Belgium
Belgium is a melting pot of various cultures and nationalities. Rare country can boast not one or two, but three state languages.
The inhabitants of Flanders (with the administrative center in Brussels) speak mainly Dutch;
The inhabitants of Wallonia (with the administrative center in Namur) — French;
Part of the Eastern Cantons (with the administrative center in Eupen) — German.
On the territory of Belgium, each student, depending on the purpose of the visit, can choose:
Language courses at the university. Depending on the starting language proficiency level, they can last the whole academic year or just one semester[8]. The average cost is about 237

USD

per stage[9].
Preparatory language courses from private companies. They last an academic year and, depending on the chosen program, may have more hours than preparatory courses at universities. The average cost is about 1,186

USD

per year.
Short-term language courses. Such courses are more suitable for applicants who are interested in special education. The average cost depends on the number of hours in the program and is about 12

USD

per hour.
Education in English
Big universities offer a large number of programs in English, most of which are related to master's / doctoral programs. Almost all undergraduate programs[10] are taught in one of three national languages. The undergraduate programs offered in English relate mainly to the humanities (theology, philosophy) and business areas.
Higher education system in Belgium
| Organization | Degree | Cycle | Duration | Total credits |
| --- | --- | --- | --- | --- |
| College | Professional Bachelor's | First | 3 | 180 |
| College | Academic Bachelor's | First | 3 | 180 |
| College | Master's | Second | 1-2 | 60-120 |
| University | Academic Bachelor's | First | 3 | 180-240 |
| University | Master's | Second | 1-2 | 60- 120 |
| University | Doctoral / PhD | Third | 4-6 | 240-360 |
Flemish community divides higher education institutions into universities (universiteiten) and colleges (hogescholen)[11].
The French community also distinguishes universities (universités), while the colleges are subdivided into general (Hautes écoles) and specialized art schools, which are allowed to conduct their own entrance examinations (Écoles supérieures des Arts)[12].
The German-speaking community owns only one educational institution (Autonome Hochschule in der Deutschsprachigen Gemeinschaft), which offers specialized first-cycle programs in the field of health and education[13].
The options for admission to universities in Belgium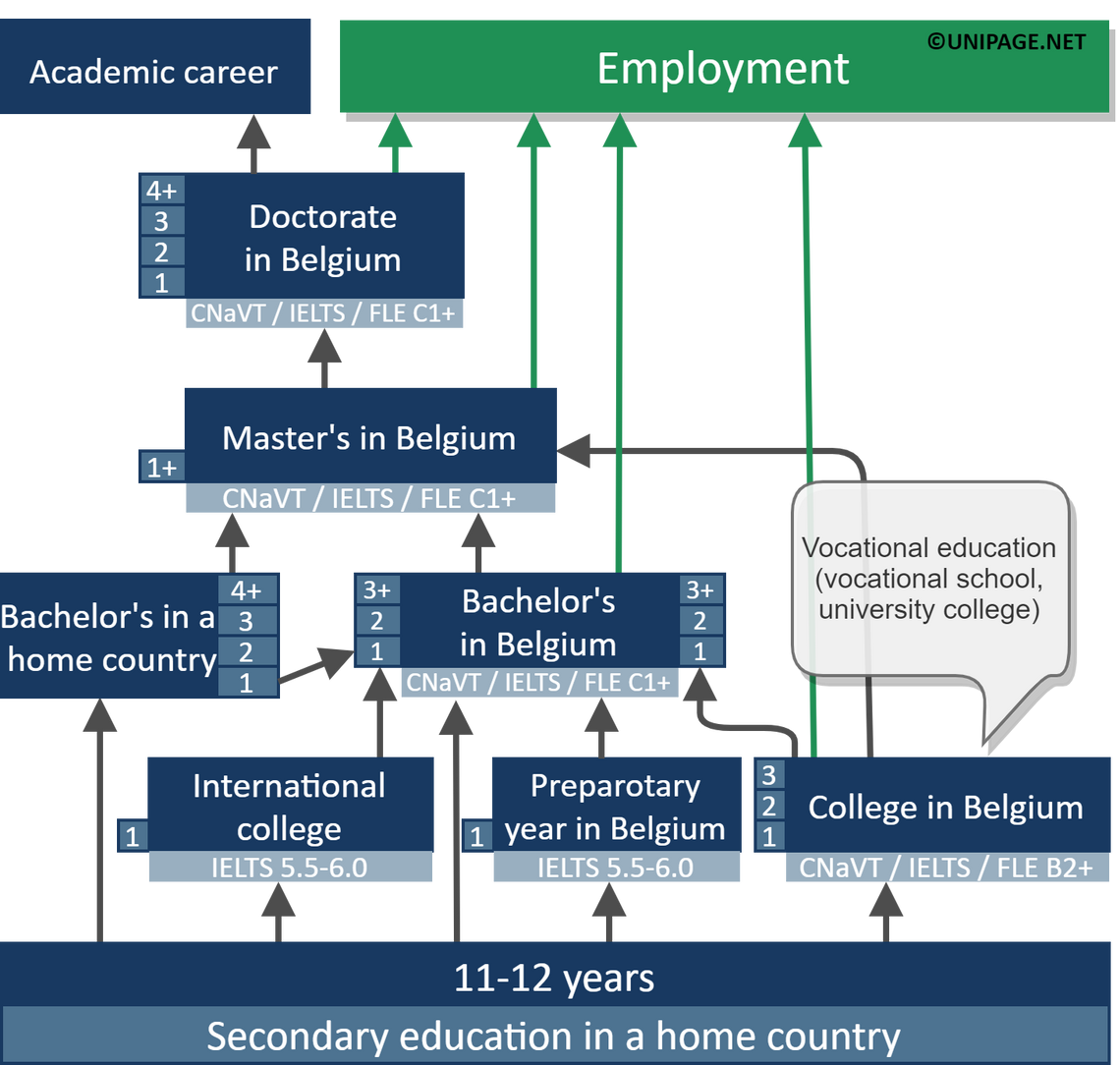 Admission and requirements at universities in Belgium
Confirmation of a diploma
Flemish and German universities do not require special confirmation of a diploma (in addition to a notarized translation) of previous education, but when you enter a French undergraduate program, most likely, you will need to provide it. This document is called Équivalence, and to receive it you need to send a package of documents to a special committee, Équivalence service, which is engaged in the confirmation of diplomas in Brussels.
A certificate/diploma of previous education and a transcript with grades;
Birth certificate;
Motivation letter or application form;
Certificate of admission or invitation to a university of Belgium;
Confirmation of payment of the administrative fee (178-237

USD

);
A certificate of education and a birth certificate must also have a notarized translation and be certified in a Brussels tribunal.
Documents for admission to Belgian universities
A diploma/certificate and transcript with grades with notarized translation;
Language certificate;
Certificate of payment of an administrative fee;
Passport information page (or ID card for EU members);
Motivation letter (A4 page).
All documents are provided in pdf format during online registration on the university website.
Language exam for Belgian universities
The language exam that you must pass depends on the language in which you will be studying. Accordingly, the results of the following tests may be required:
Undergraduate programs require a level of B2 +, graduate — C1 +.
Foundation — Preparatory courses in Belgian universities
Belgian universities offer international students one-year training programs (preparatory year), during which students can take full advantage of the student status of the university. The main purpose of the courses is to help applicants who do not meet the language requirements of the university. Most universities offer a wide range of programs for different levels of language proficiency.
Copy of the passport;
Copy of a diploma of the previous education and a transcript with grades (with a notarized translation into English, French, Dutch or German);
Results TOEFL 66 + / 120 or IELTS 5.0 + / 9.0;
Certificate of admission to a Belgian university.
Some Belgian universities also organize interviews with prospective students to assess motivation and level of language proficiency. After successfully passing the exams, a student receives a diploma of proficiency in the studied language at B2 or C1 level (depending on the program).
To obtain a student visa, in parallel with applying for preparatory courses, non-EU students must undergo a full-fledged procedure for enrolling in universities for undergraduate or graduate programs, otherwise, a long-term student visa (type D) is not issued for the purpose of learning a language.
University College — Vocational training
Colleges in Belgium (university colleges) are considered to be public institutions of higher education. Their main difference from universities is that colleges have a more specialized and applied focus, without engaging in research activities. Colleges also have bachelor's (professional and academic) and master's programs, but the degrees obtained after completing these programs are not equivalent to university ones. Most colleges offer IT, business, healthcare, and art-related programs.
Bachelor's in Belgium — Undergraduate
On average, undergraduate programs take 3 years (180-240 credits) but may vary by region. All programs are divided into professional (professional bachelor) and academic (academic bachelor). A professional degree is issued only by colleges and it opens access to employment. An academic degree is issued by colleges and universities and gives you the opportunity to enter the relevant master's course. In addition, in some Flemish universities, there are "bridging programs" that last one year and allow students to enter the master's program after graduating from college. Some educational institutions also offer undergraduate special programs (advanced bachelor, banaba, bachelier de spécialisation), which last one year and allow you to improve professional qualifications.
Universities conduct mandatory entrance tests for admission to undergraduate programs in the following areas: medicine/dentistry, art, engineering (only in French universities), management.
Since 2006, in all French-speaking universities in Belgium that provide training in the fields of veterinary medicine, dentistry, and medicine, in addition to entrance examinations, special quotas have been introduced restricting the admission of foreign students. The number of allocated seats can be no more than 30% of the total. Choosing one of these areas, a foreign student can apply only to one Belgian university. Further, the applicant must personally appear at the selection committee with documents on specially allocated days (usually three days in late August). If the number of applications submitted exceeds the number of free places, students are admitted randomly[17]. In 2018, the student's chance of being admitted to one of these faculties was about 30% (14.5% at the University of Liège, 26.8% at the University of Louvain, 27.8% at the University of Namur and 39% at the Free University of Brussels)[18].
The learning process itself depends on the direction and the university. The academic undergraduate program consists of lectures and theoretical classes, for visiting which students receive credits. The professional bachelor's degree focuses more on practical skills and, in addition to lectures and theory, includes periods of internships in the workplace.
Depending on the university, the academic year can be divided into two or three semesters, at the end of each students take exams.
Master's in Belgium — Graduate / Postgraduate
Master's programs take 1-2 years (60-120 credits) depending on the region and specialty. After completion of the program, the student is awarded the title of master and given the opportunity for admission to doctoral studies. Some universities also offer special one-year programs for master's degree holders (advanced master, manama, masters de spécialisation). They are designed for working professionals and help them to update their knowledge, get new practical skills and improve professional qualifications.
The language of study is mainly Dutch or French, however recently the amount of programs taught in English increased dramatically. Apart from traditional lectures and seminars, writing a thesis is a major part of the studies. The number of credits gained from writing a thesis may vary from 20 to 50% of the overall amount depending on the university. Same as Bachelor's the academic year starts in September and ends in July and depending on the University is divided into two or three semesters. In the end of each semester students must pass examinations.
Doctoral Studies — Postgraduate in Belgium
Only universities offer Doctoral programs and grant a PhD degree upon completion. The duration of study may vary depending on the region and university — in Flemish region it's about 4 years (240 credits) and in Walloon from 4 to 6 years (240-360 credits). The main focus of doctoral studies is writing a thesis paper. It could also be written during college or art school under the condition of it being partnered with the university.
To enroll in a postgraduate program an applicant must contact the selected scientific advisor personally and present a plan of the research. After approval of research and funding by the study committee, a student is welcomed to start his doctoral studies. In addition to standard paperwork listed above a student might need a CV and a letter of recommendation. A student might also be asked to undergo an interview.
During doctoral studies, a student is considered to be a teaching assistant of a chosen scientific advisor. In Belgium this equates to an academic position in the university which has its benefits like salary and official employment in university, however, it comes with a responsibility to not only do study research but also perform teaching duties. At the end of the studies, a student must pass a public defense in front of a special committee after which he is granted a PhD that allows him to pursue a further academic or scientific career.
There are some differences between Flanders and Walloon communities:
Flemish region universities divide teachers into three types: Zelfstandig Academisch Personeel (Independent Academic Staff, ZAP), Assisterend Academisch Personeel (Assistant Academic Staff, AAP) and Bijzonder Academisch Personeel (Special Academic Staff, BAP). Professors and senior teachers with permanent positions at the university are considered independent. Assistants and special teachers are teachers in junior or temporary positions. Students during doctoral studies can take the position of junior teacher at their university (then they are considered assistants) or apply to the special Research Foundation of Flanders, which deals with the distribution of students who want to teach in educational institutions (then they are considered special teachers). Students are selected on the basis of a single written application, without an interview. For the ZAP, a fixed number of positions is allocated annually, which are given to experienced teachers with outstanding scientific work. An official requirement is at least three years of scientific experience after university, but normally teachers with more than six years of experience get such positions[19].
French region universities also choose faculty based on their academic and educational experience. There are five stages of an academic career: PhD candidate (doctoral studies), chargé de recherches (junior research specialist), chercheur qualifié (research specialist), Maître de recherches (senior research specialist), Directeur de recherches (chief research specialist). Requirements for positions differ, but are based on an assessment of academic and research experience, already published scientific papers and professional qualities[20].
Employment in the academic field in Belgium is a rather difficult task[21]. The number of graduates of Belgian doctoral studies is growing every year, and the number of jobs is practically unchanged. In this regard, many graduates have to look for other opportunities for professional implementation.
Scholarships and grants in Belgium
Universities of Belgium participate in the academic mobility programs ERASMUS+, ERASMUS MUNDUS, which provide the opportunity to become an exchange student at universities in Europe and other countries. Grants cover part of the cost of tuition, flight, and accommodation. Many Belgian universities offer their students various scholarships, but most of them relate to graduate and doctoral programs[22]. For example, Global Minds (PhD) allows students undergoing doctoral studies at another university to conduct half of their studies at a university in Belgium. And the program Master Mind not only reduces the cost of studying at a Belgian master's program, but also pays students up to 9,492 USD per year[23].
Student visa to Belgium
Citizens of EU/EEA countries and Switzerland do not need to obtain a student visa. Students from other countries are supposed to get a D-visa for staying in the country for more than three months. Visa fee is 237 USD or 350 (for PhD)[24]. Within 8 days upon arrival all students (including EU/EEA nationals) have to visit local authorities to obtain a residence permit.
Original passport;
Original visa application

2 copies

;
Original payment of administrative fees

+ 2 copies

;
Two photographs 35x45 mm in color;
Original proof of university admission

+ 2 copies

;
Certificate of financial solvency (certificate of scholarship or documents confirming the income of a person acting as a sponsor — a monthly income of more than 1,412

USD

, plus 178

USD

per month for each person under the sponsorship of a sponsor and 790

USD

per month for an incoming student);
Original and notarized translation

in English, French, Dutch or German

of a certificate or diploma of previous education;
A medical examination certificate from a consulate-approved medical center

no older then 6 months

;
Extract from the court register

no older then 6 months

;
Copy of a foreign passport;
Consent to the processing of personal information;
Preferred language statement.
The opportunity to work while studying
EU, EEA and Swiss nationals can work in Belgium during their studies without any limitations.
Those staying in Belgium under a D-visa are allowed to work if they spend no more than 20 hours a week on it and work does not interfere with their educational process. For that, a work permit C is required. An application must be submitted to the local office of the Department of Economic Migration. The permit is free and valid for up to one year (can be further renewed) or for the whole period of studies depending on the circumstances. However, no permit is required for work during holidays. Note that the employer has no right to pay less than the established minimum, which is 1,661 USD per month.
Many universities also provide an opportunity to obtain the status of a working student. It is issued if the work takes at least 80 hours per month, and allows students to set a more flexible schedule for studying and passing exams. Additionally, almost every university has an employment center to facilitate students' job search[25].
Immigration opportunities
In contrast to EU/EEA/Swiss students who do not meet any obstacles in searching for job and settling in European states, students from other countries are no longer entitled to stay in Belgium after graduation and the expiration of the visa. At present, Belgian law does not permit the extension of stay in the country for the purpose of job seeking. However, this is possible in France and the Netherlands: students with knowledge of the relevant languages after studying at Belgian universities can receive a special visa for job search after studying at Belgian universities (visa recherche d'emploi, zoekjaar hoogopgeleide).
But you can extend your visa before its expiration when applying for a job while studying. Obtaining permission for already working citizens is possible if they belong to one of the following categories:
Interns. Issue of a work permit is possible if the position is received in a state organization or in an organization (or its subsidiary) bound by international treaties (for example, NATO).
Entrepreneur. To register as an entrepreneur in Belgium, you must first get a professional card.
High skill labour. In Flanders, they are considered to be employees under 30 years of age and nurses with an income of 39,740

USD

per year (or 3,559

USD

per month) or employees over 30 years of age with an income of 49,674

USD

per year (or 2,847

USD

per month). In Brussels, the German-speaking region and Wallonia, employees have an income of 49,521

USD

(or 3,557

USD

per month).
Region
Category
Min. monthly income
Flanders
<30 years old and nurses
3,559

USD

Flanders
> 30 years
2,847

USD

Brussels, Wallonia, German-speaking region
all
3,557

USD
Employment prospects
The unemployment rate in Belgium is quite low. Of the entire adult population of Belgium aged 24 to 60, only 5.7% remain unoccupied, which is lower than the European average of 6.9%[26]. The main obstacle to employment may be the lack of knowledge of one of the state languages.
The initial salary level for graduates is from 2,966 USD to 5,932 USD per month.
In connection with joining the Bologna process, Belgian diplomas comply with the standard adopted in Europe. Also in Belgium there are the NARIC centers (National Academic Recognition and Information Centers), which can be contacted if necessary to confirm the diploma.
Last updated:
Belgium - General information
| | |
| --- | --- |
| Region | Western Europe |
| Capital | Brussels |
| Language | Dutch, French |
| Currency | Euro |
| Population | 11,099,554 |
Statistics - Universities
| | |
| --- | --- |
| Universities in top 100 | 2 |
| Universities in top 200 | 4 |
| Universities in top 500 | 7 |
| Universities in top 1000 | 7 |
| Universities in top 5000 | 18 |
Cost of living in Belgium
| Expenses - USD/Month | Min. | Med. |
| --- | --- | --- |
| Accommodation | 317 | 400 |
| Food | 227 | 466 |
| Transportation | 43 | 185 |
| Communications and utilities | 89 | 105 |
| Clothing | 30 | 112 |
| Sports and leisure | 21 | 88 |
| Total | 727 | 1,356 |
| Accommodation in Belgium | USD/Month |
| --- | --- |
| Shared room outside of centre | 320 |
| Shared room in city centre | 404 |
| 1 bedroom apartment outside of centre | 554 |
| 1 bedroom apartment in city centre | 681 |