The education system of the USA has the same model as many other countries. Students are required to attend school until the age of 16, in some states — 18. Most students receive K-12 education (from kindergarten to grade 12), but there is an optional Preschool stage, including the last preparatory year before school as well, called Pre-K:
| School-level | Grades | Age |
| --- | --- | --- |
| Preschool (pre-kindergarten) education | Pre-K | 4-5 |
| Primary (elementary) school | K-5/6 | 5-11/12 |
| Middle (junior high) school | 6/7-8 | 11/12-14 |
| Secondary (high) school | 9-12 | 14-18 |
Primary school includes studying basic subjects within the confines of one classroom with some additional classes, such as physical education, music, and art. Then, at the middle school level, students are given more freedom by being offered elective courses. However, unlike in the UK, schools in the United States remain comprehensive until the 12th grade, with the exception of vocational schools.
High school students are referred to differently each year, similarly to undergraduate students: freshmen (9), sophomores (10), juniors (11) and seniors (12). Admission to higher education institutions is only possible after completing all 12 years of study and receiving a high school diploma.
Most children go to public schools, and only 10% prefer fee-paying private schools. The latter include schools for gifted students, for children with disabilities and specialized schools (including those with religious affiliation). Elite private schools are highly selective and, unlike public schools, won't hesitate to expel unruly students.
It should be noted that, according to US law, foreign citizens may enter a public school only at the high school level and for a maximum period of 12 months, while paying the full cost of tuition[0]. There are no restrictions on attending private schools for foreigners[1].
Education in the USA is the most popular choice among those who go to study abroad. Today, there are more international students in the United States than in any other country. Over the past year, their number has exceeded one million, despite the lack of free education and the requirement of SAT or ACT. That is primarily due to the academic prestige and effectiveness of US universities. In addition, graduates of American universities often achieve brilliant results in business, science, and politics.
A variety of educational institutions. In the USA there are more than 4.5 thousand higher educational institutions[2], which offer a huge number of programs in different cities and states of the country. It is possible and even necessary to choose a university taking into account not only tuition fees but also personal preferences regarding the location and infrastructure of the university and the features of educational programs.
The flexibility of academic process. US higher educational institutions are partly regulated by state legislation, but to a large extent, colleges and universities are autonomous in academic matters and can hire teaching staff, conduct researches and even create new faculties. Such decentralization directly affects students. There is no standard curriculum in American universities, colleges, and high schools. Students are given the opportunity to independently decide on their courses. At times some odd combinations can be found, e.g. anthropology and mathematics, or physics and English literature. Of course, there are a number of core subjects, but students are free to choose the rest. Such a system helps to cope with the routine, encourages interdisciplinary research and gives students a sense of responsibility for their lives.
Equal opportunities. The USA is a democratic country that has been combating discrimination in various fields and at different levels for hundreds of years. That can also be noticed in education, which is based on equality. Educational institutions in America accept students regardless of nationality, race, gender, origin, social status, and age. International students have the same rights as US citizens. And the requirements are the same. Having overcome all the difficulties, foreign students are able to compete with local students both in the labor market and in scientific research. The foreign-born unemployment rate here is only 3.5%[3]. In comparison, the same indicator for America as a whole is 3.6%[4].
World recognition. The most prestigious institutions of higher education are located in the States. In total, 38 American universities are included in the world's top 150 universities, according to QS[5]. The USA is a recognized leader in the field of innovative education and home to numerous scientific discoveries and achievements. The American education system is considered the strongest in the world[6]. It is distinguished by an innovative approach to training, its practical orientation, and top of the line technical equipment.
Career prospects. America is the land of opportunity. It was here that such large companies as Apple, Chevron, Ford Motor, Facebook, Google, IBM, Microsoft, Procter & Gamble, Walmart, WarnerMedia appeared. Here are hundreds of innovative startups developing in California's Silicon Valley. Here are world-class financial districts of cities like New York, Boston, Chicago, and San Francisco. Finally, here is Hollywood, setting the global trends in the motion picture industry. All this opens up huge career opportunities for graduates of American universities.
Financial issue. Studying in the USA requires considerable funds from students. The average cost per year of undergraduate studies in the United States is 30,000

USD

. Tuition fees in the most prestigious universities may reach 60,000

USD

. Accommodation, meals and other associated expenses add up 15,000-18,000

USD

[7]. Talented students can receive scholarships or grants, but most of them can cover only a small part of expenses.
Competitive nature. Typically, the competitive spirit among students is a significant incentive for developing leadership and achieving high academic results. This is especially true for American universities. However, constant competition within the educational process takes a huge amount of willpower, energy, and in some cases health. Students spend sleepless nights reassuring themselves, that the result of their work will be a prestigious degree, as well as valuable experience and knowledge that are important for a future career.
Lack of social benefits. One of the drawbacks of the US education system for international students is their limited access to various kinds of social benefits. Those may include, for example, social security and healthcare. To access them, one will have to go through a time- and energy-consuming bureaucratic process.
Cost and structure of education in the USA
Type of study
Age
Duration
Min. cost
Avg. cost
Min. language level
Exams
Summer Camp
6-18
1-10 weeks
700

USD

/week
1,000

USD

/week
A1
-
Language courses
16+
1-16 weeks
350

USD

/week
650

USD

/week
A1
-
Secondary education
11-18
6-7 years
13,000

USD

/year
30,000

USD

/year
B1
-
Pathway / Pre-Master's
16+
1 year
15,000

USD

/year
30,000

USD

/year
B1
TOEFL iBT 55
Two-year college
16+
2 years
4,000

USD

/year
12,000

USD

/year
B1
TOEFL iBT 55
Bachelor's

also assciciate degree in four-year institutions

17+
4 years
18,000

USD

/year
30,000

USD

/year
B2
TOEFL iBT 61, SAT / ACT
Master's
20+
2 years
18,000

USD

/year
25,000

USD

/year
C1
TOEFL iBT 78, GRE / GMAT
Medical school
20+
4 years
25,000

USD

/year
40,000

USD

/year
C1
TOEFL iBT 78, MCAT
Law school
20+
1-4 years

2 years for LLM, 4 years for JD

22,000

USD

/year
45,000

USD

/year
С1
TOEFL iBT 100, LSAT
Doctorate
20+
4-6 years
18,000

USD

/year
25,000

USD

/year
C1
TOEFL iBT 78, GRE / GMAT
Expenses
Average cost

Language test
260

USD

Application fee
50-100

USD

Foreign credential evaluation
160

USD

SEVIS I-901 fee
350

USD

Student visa F-1
360

USD

Flight
380

USD

Study supplies
800-1,200

USD

Accommodation and meals
6,000-14,000

USD

/year

Health insurance
1,000-1,500

USD

/year

Public transport
900-1,300

USD

/year
Options for admission to American universities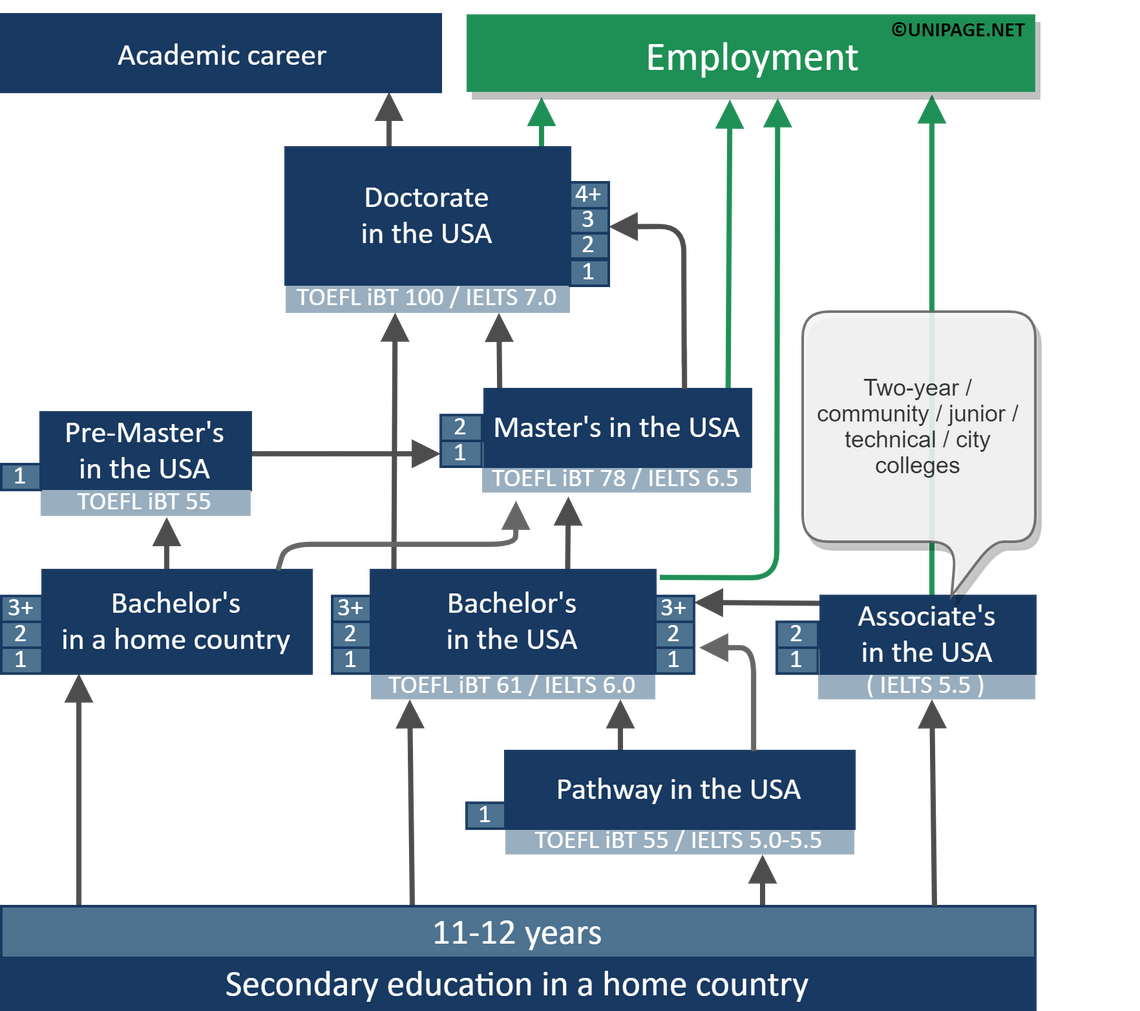 Admission and entry requirements at US universities
Most US universities do not require entrance exams (except for SAT / ACT and GRE / GMAT). Students apply online through university websites. There are normally three intakes per year, i.e. fall, spring, and summer. Students are to prepare at least one year before the expected start of training. In some cases, the whole process takes a few months. There are three admission plans at US universitiescheck details on the universities websites:
Early admission: September 15 — November 31. Selection is done by mid-December. Early submission of documents increases a student's chances due to the small number of applicants, and also gives more time for the related arrangements, such as obtaining a visa and finding financial aid. The application program may be of three types. Early action means applying to multiple universities. Early decision means that an applicant submits documents to one university under a binding agreement to attend this very university in case of selection. Single choice early action is also limited by one application, but a student can also try other options on a regular admission plan.
Regular admission: December 1 — February 28. Selection is done in spring. The regular period is characterized by the highest competition. It can be also used by students already accepted under a non-binding early action plan.
Rolling admission: Fall — Summer. Documents are accepted almost all year round as seats become available on the course. Rolling admission is a good option for those who have missed previous deadlines. However, not so many funding opportunities may be available at the time of applying, since most scholarships and grants have specific deadlines.
One of the requirements may be evaluation of academic credentials. An official report can be issued and then sent to the chosen institutions by special independent organisations, such as WES, EСE. It should be noted that for some of these organisations, including the most popular WES, documents must be verified by apostille. Others require only certified translations. The fee is 100-205 USD depending on the educational level and service package.
If accepted, an applicant is enrolled in the Student and Exchange Visitor Information System (SEVIS). Most students are required to pay an additional fee of 350 USD (the SEVIS I-901 fee). For some students it can be reduced to 35 USD, for others it may not be the case.
Pathways, Pre-Master's — Preparatory Programs in the USA
In America, preparatory programs are called Pathways, or Pathway programs. They are designed for foreign students who need to improve their language proficiency, as well as acquire knowledge and skills for further undergraduate (Undergraduate pathway) or graduate (Pre-Master's) studies. Within the program, students study English as a second language (ESL) and some courses for credits.
Pathway programs are provided by both universities and language schools that have agreements with universities. Most of them offer conditional acceptance. This means that in case of successful completion (with a sufficient language level and a high GPA), a student can be automatically enrolled in a partnering institution (first or even second year) without taking SAT or TOEFL.
Depending on the level of English proficiency, Pathways can last from 4 to 12 months. In case a student does not meet basic requirements (TOEFL iBT 55 / IELTS 5.0 — 5.5), he can choose an intensive English language program (1-2 semesters) with further transition to a Pathway (2 semesters).
Finishing a preparatory program is not compulsory for admission, but for many students, it is an opportunity to adjust to a new academic environment, try oneself in different courses and make an informed decision on one's major. If a student is sure that some differences between the education systems of his home country and the USA will not prevent him from succeeding in studies, but he still doubts his level of English, he can take language courses in the USA. They are much more effective here in the English-speaking country.
List of schools
College in the US — Vocational Education
Vocational education in the United States is provided by two-year colleges (community / junior / technical / city colleges). Upon completion, students are awarded certificates, diplomas and associate's degrees. The latter can be also earned in four-year colleges, but those mostly focus on bachelor's degrees.
Similarly to a bachelor's degree, an associate's degree may have the titles Associate of Arts (AA), Associate of Science (AS) and Associate of Applied Science (AAS), as well as AABAssociate of Applied Business, AATAssociate of Arts in Teaching or Associate of Applied Technology, ABAAssociate of Business Administration, AEAssociate of Electronics, AEngAssociate of Engineering, AITAssociate of Industrial Technology, ANAssociate of Nursing, AOSAssociate of Occupationl Studies, ATAssociate of Technology and other specialized varieties. The first year of study involves general subjects; the second year focuses on specific areas of discipline. The program is normally 60 credits.
The admission process in two-year colleges is much easier than in four-year educational institutions, as it is based on open admissions policy. Requirements are often limited to a high school diploma. In some cases, demonstrating one's ability to benefit from receiving education is enough.
The basic English proficiency is TOEFL iBT 55-61 / IELTS 5.5. However, in many colleges, it is subject to change. Students with a lower level can be enrolled as well. So, they will take language courses as part of their educational program. SAT results are generally not required when applying to community colleges.
After two years, graduates can already move on to employment, although most students prefer to continue their studies towards a bachelor's degree. Many community colleges have partnerships with four-year colleges and universities, where students can be automatically enrolled in the 3rd course, followed by a bachelor's degree. Such a transfer admission is becoming increasingly popular among both American and international students. Firstly, it saves a lot of money. Studying at a two-year college is many times cheaper. Secondly, it is characterized by better chances of admission. An applicant does not have to participate in a difficult competition to get to the 1st year of university.
Read more
Bachelor's in the USA — Undergraduate
Bachelor's degree in the USA can be obtained at four-year educational institutions — colleges and universities. Each year spent here has its own name: freshman, sophomore, junior and senior years. After two years of general education courses, a student focuses on his major. Upon completion, students can be awarded the common titles of Bachelor of Arts (BA) or Bachelor of Science (BS), as well as a number of specialized BFABachelor of Fine Arts, BSWBachelor of Social Work, BEngBachelor of Engineering, BSPABachelor of Science in Public Affairs, BSNBachelor of Science in Nursing, BPhilBachelor of Philosophy, BArchBachelor of Architecture, BDesBachelor of Design .
It should be noted that in the USA there are no Bachelor's degrees in Medicine or Law. These are advanced professional programs offered by graduate schools. However, a person will still have to take a set of courses before entering a medical school. At this point, they are usually referred to as pre-med.
Courses in American universities are based on seminars, with small groups of students discussing particular topics. However, there are also traditional lectures, especially for disciplines studied by many students (computer science, medicine, business). The content of the courses varies depending on the program: "liberal arts" programs usually include a large number of elective subjects, while specialized and technical courses are more structured and highly specialized.
Requirements for admission to undergraduate programs in the United States:
A certificate of secondary education (high school diploma or equivalent);
Minimum GPA equivalent to American 2.5/4.0;
The list of documents may include:
The latter is very significant for American universities. Students can use it to demonstrate their commitment to a particular college, explain their choice of program and thereby set themselves apart from the other candidates.
Four years is only an approximate period for which a student is to earn a certain number of credits (120-128). Depending on the number of courses taken, one may exceed the plan in three years or complete the program or "on-time" within six years.
Graduate school in the USA
While most countries refer to master's and doctoral studies as postgraduate programs, in the USA this term is almost never used. After receiving bachelor's, students can continue their education in graduate (grad) schools that are part of the universities. The term postgraduate in America is usually understood as someone who has completed a graduate program and plans to pursue an academic career.
Thus, American universities typically set up both colleges and schools. The latter grant master's degrees (MAMaster of Arts, MSMaster of Science, MSWMaster of Social Work, MFAMaster of Fine Arts), professional degrees (MBA?,, JDJuris Doctor (Doctor of Jurisprudence), MDDoctor of Medicine) and doctorates (PhDDoctor of Philosophy).There are also professional schools that offer advanced training for a particular profession. These include, for example, medical, law and business schools.
Master's in the US — Graduate
Master's degree in the United States is the first step of higher education within graduate schools. Unlike in the UK, there are no purely research master's programs in America. Instead, they are much more structured and involve taught courses and continuous assessment. For two years, students complete various tasks, take exams, write coursework essays, receive grades, later converted into GPAGrade Point Average.
Master's degrees in America are divided into two types:
Academic Master's are less specialized equivalents to taught Master's in other countries. Academic programs in the United States do not narrow the subject area but offer a comprehensive study of the discipline at an advanced level. Modules (courses) can be mandatory (core subjects and research methodology) and elective (following students' specific interests). At the final stage, students move on to a dissertation stage, which means conducting an independent study with the support of a supervisor.
Professional Master's provide vocational skills and technical training necessary for future professional careers. They are characterized by a strict syllabus with fewer electives. Professional graduate schools (business, medical, law, etc.) often have partnerships with employers, which affect the content of educational programs and increase their prestige. The result of training is a formal internship in a relevant company or organization.
The common requirements are the following:
A bachelor's degree in a relevant field;
Minimum GPA equivalent to American 3.0/4.0;
To apply, you will need a number of documents:
Interviews (in person or over Skype) can be introduced as an additional selection stage for successful applications.
Doctorate in the US — Graduate
Doctorate is the final stage of higher education in the US. Doctoral degrees, like Master's, are not based purely on research. Full-time programs last from 4 to 6 years on average and include:
The coursework stage (1-4 years). It covers a set of taught modules, including core classes and elective classes. A student's choice of the latter will usually depend on the knowledge and skills required for the future research project. Some PhD programs also include volunteering and professional placements, personal development activities, and foreign language courses. At the end of this stage, students are expected to pass a qualifying exam usually referred to as a comprehensive examination

sometimes field exam

.
The dissertation stage (2-4 years). The second part of the program begins with defining one's research topic and writing a dissertation prospectus — a kind of research proposal evaluated by the university. Each student is assigned several advisors (committee of supervisors) with similar scientific interests. One of them is usually considered to be a principal advisor / dissertation director. Some programs require administrative or teaching work and / or publication in scientific journals. The final test will be a presentation and oral defense of the dissertation.
Most graduate schools grant traditional PhDs. Some offer professional DBADoctor of Business Administration, EdDDoctor of Education, JDJuris Doctor (Doctor of Jurisprudence), MDDoctor of Medicine. American doctoral degrees in medicine and jurisprudence are quite specific and, as a rule, are not recognized in other countries. International students do not usually consider these degrees unless they plan to live and work in the United States after graduation.
A master's degree is not always a basic requirement for a PhD in the US. The reason is that master's and doctoral programs are often merged into one graduate program. In some cases, students are awarded a Master's degree at the end of the coursework stage. For those who already have one, universities can transfer credits and shorten the duration of PhD studies. A Grade Point Average (or its equivalent) from the previous levels of education may be also taken into account: a GPA of 3.0 or its equivalent is considered a good result.
The main requirements of the university may include:
A master's or bachelor's degree in a relevant field;
Minimum GPA equivalent to American 3.0/4.0

not a strict requirement

;
The university may request the following documents:
In some cases, a student will need a research proposal or its simplified version — a research statement. As a rule, students decide on their dissertation topic within the program, so at this stage, they are only supposed to indicate their scientific interests and possible research areas.
To begin with, some assistantships can be obtained by graduate students. Employees in the following positions receive either a salary or a fee waiver:
Graduate teaching assistant (TA) is engaged in teaching and mentoring undergraduate students on courses related to his subject area.
Research assistant helps faculty with the research, including collecting and processing data, dealing with experiments and equipment.
Administrative assistant is engaged in clerical and other administrative work at the faculty.
Fellow does not have any additional duties. The condition for receiving financial aid may be following certain standards in academic work or choosing particular research areas.
A traditional academic career involves the following steps after earning a doctorate:
Postdoctoral Researcher continues research from PhD level. A postdoc is a kind of intermediate position (2-3 years), allowing a student to gain the status of an independent researcher. It usually includes teaching hours. Similar ranks are Research Associate, Scientist or Fellow.
Assistant Professor is the first tenure track position at the university. In addition to teaching (2-4 courses per semester), it involves supervising students, membership in university committees and research activities (publishing books, monographs, scientific articles).
Associate Professor means that a person has a national reputation as a scholar and is involved in activities outside the university. Promotion to an associate professor usually occurs after 6 years in the previous position.
Professor is the highest academic rank awarded to a candidate based on the results of 5-7 years of Assistant Professorship. This is usually accompanied by significant achievements in science and teaching.
There are also a number of temporary academic positions:
Adjunct Professor is hired to teach one or more courses during one semester. An adjunct professor can simultaneously work at several educational institutions. Adjuncts are also those who engage in full-time professional practice and may teach from time to time (Clinical Professor, Professor of Practice).
Visiting Assistant Professor (VAP) is appointed for a period ranging from 1 semester to 3 years, often to replace an absent teacher or to invite a specialist in a particular field. VAP position is a good chance for entry-level academics to gain teaching experience and demonstrate their potential.
Lecturer / Instructor is a kind of freelance teaching position mainly in the humanities and foreign languages. Unlike Britain, the position of Lecturer / Instructor does not involve research activities and does not always require a PhD.
Scholarships and grants in the USA
Although America is considered one of the most expensive countries to study, most students here receive financial aid in the form of scholarships or grants. These are usually awarded to those who do not have sufficient funds to pay for training (need-based) and / or have significant academic achievements and talents (merit-based).
The most generous offers can be often found in the most prestigious universities. For example, the 5 largest US universities accept students (local and foreign) on a need-blind basis. This means that any promising candidate who has been selected at Harvard, Amherst, Yale, Princeton or MIT, can get some funding, regardless of the financial situation.
Government programs are mainly aimed at US citizens, with the exception of several options. The most famous of them — The Fulbright Program — provides an opportunity for graduate students from 160 countries to study in the USA for free for a year or more.
A large number of scholarships are also funded by universities, external foundations, and private organizations.
Student visa to the USA
International students may be eligible for the following US visa types:
B-1 — for short-term courses that do not lead to a degree / certificate;
J-1 — for participation in exchange programs;
F-1 — for full-time academic studies at schools, colleges or language courses (more than 18 hours per week);
M-1 — for technical and vocational studies.
To obtain a visa (M or F), a student must, first of all, be accepted by one of the US approved educational institutions — SEVP-certified schools. It should be noted that the process can be delayed for various reasons, so it is better to submit documents at least six months before the course starts. As soon as the student is enrolled in SEVIS system and has paid the SEVIS I-901 fee (200 USD), the university issues Form I-20or Form DS-2019 for J-1 visa which is necessary to apply and schedule an interview.
List of documents for a student visa to the United States:
Passport, valid for at least 6 months beyond the program duration;
Nonimmigrant Visa Application, Form DS-160 confirmation page;
Visa application fee receipt — 160

USD

;
Invitation from the school (Form I-20).
Additionally, a student may need:
Proof of academic qualifications (certificates, diplomas, degrees, transcripts);
Standardized test scores required by the school;
Evidence of having enough funds for tuition and living;
Evidence of intent to leave the United States upon graduation.
Please, check the complete list of requirements on the website of a particular US Embassy or Consulate[8].
A student visa can be issued up to 120 days before the date indicated on the Form I-20. It should be noted that obtaining a visa does not guarantee entry into the United States. Final permission is given by the customs official at the US port-o-entryno less than 30 days before the course starts (usually an airport) after showing a passport, visa and I-20 form.
Upon completion of the educational program, students with F or M visas must depart the country within 60 and 30 days (grace period), respectively. A student can apply for a student visa extension only at the US Consulate or Embassy in a home country.
Work while studying in the US
During their studies in the USA, F-1 students are allowed to work on the university campus, having previously obtained permission from a designated school official (DSO). Typically, foreigners can work up to 20 hours a week (part-time) during the academic semester and up to 40 hours (full-time) during holidays.
Work off-campus is available to F-1 visa holders only in special circumstances[9].
Some off-campus employment opportunities are still possible after the first year of study:
Optional Practical Training (OPT) for F-1 Students involves paid work related to a student's major. The duration of training is up to 12 months at each stage of education (for STEM-fields there is a 24-month extension). It can take place both within the course of study — pre-completion OPT (20 hours a week during the semester and full-time during holidays) and upon its completion — post-completion OPT (without any limit). An employment authorization from US Citizenship and Immigration Service (USCIS) is required.
Curricular Practical Training (CPT) for F-1 Students — training, work, internship, or another type of employment which is an integral part of the curriculum following university or college partnership agreements with employers. After completing CPT (a year or more), a student is no longer eligible for post-completion OPT.
Practical Training (PT) for M-1 Students. The only type of employment available to M-1 students is practical training after finishing their studies. The possible duration is calculated as follows: 1 month of PT for every 4 months of full-time study (up to a maximum of 6 months). US Citizenship and Immigration Authorization (USCIS) is required.
A prerequisite for any work is to obtain a Social Security number (SSN).
Graduate students can also take an assistantship position so that to receive a salary or a fee waiver while working at the university. But it should be noted that the recruitment process is highly competitive, and not everyone succeeds. Financial aid covers from 70% to 100% of tuition and accommodation costs. Depending on the university, the following positions may be available: Graduate teaching assistant, Research assistant, Administrative assistant, Research fellow.
Immigration opportunities
The most common ways to stay in the United States after completing your studies are to obtain an Employment Authorization Document (EAD) or switch to a temporary work visa H-1B. A student can apply for both in turn.
EAD is a work permit which allows one to work in the US for 1 yearthere are 2 additional years for STEM-degree holders after graduation within post-completion OPT. First of all, a student consults the designated school official (DSO) about the OPT position. They update the I-20 Form in SEVIS. After that, a student is to submit the other documents with USCIS. One can start applying for EAD 3 months before and 2 months after completing the program). The fee is 410 USD. At the same time, a student is only eligible if he:
Has a valid F-1 student visa;
Is applying for OPT prior to graduation;
Has a job offer related to the major;
Hasn't taken full-time CPT

Сurricular Practical Training

— annual workplace practice as part of the program.
The H-1B visa allows students to work in the USA in specialty occupations for 3 years with the right to extend it for up to 6 years. To obtain H-1B a graduate student must find a certified employer who will file the Petition for a Nonimmigrant Worker, Form I-129 with the United States Citizenship and Immigration Services (USCIS).
The application deadline is 6 months before F-1 visa expires or OPT comes to an end. The fee is 460 USD. The only requirement for a candidate is a bachelor's degree from an accredited American university or its international equivalent. Having OPT experience can increase one's chances of getting an H-1B.
While being an H-1B temporary worker, there is an opportunity to get a US green card (American permanent resident card), and then, after 3-5 years of continuous residence in the country, apply for US citizenship through naturalization.
Employment prospects
Education in the USA is closely connected to the economic situation in the country: educational institutions are supposed to meet the labor market demands. In addition, US universities and colleges are motivated to ensure that their graduates land jobs as soon as possible since employment statistics are an important indicator of their efficiency.
According to the Bureau of Labor Statistics, the unemployment rate among the population aged 25 and older is extremely low: 3.5% for those who hold an associate degree and 2.1% for those with a bachelor's degree and above[10]. Moreover, according to OECD statistics, the foreign-born unemployment rate does not exceed 3.5%, which is several times lower than in the EU — 15.2%[11]. This proves that foreigners who want to start a career in the United States have almost the same opportunities as the local population.
The most popular industries in the US today are aerospace, consumer goods, electronics, food processing, healthcare, and motor vehicles. Also, the media sector and IT entrepreneurship continue to actively develop. The US Bureau of Labor Statistics provides the following list of the most sought-after professions of the coming years: healthcare professionals, cooks, accountants, software developers, retail workers, customer service representatives, office clerks, market research analysts, and marketing specialists[12].
Submit a Request
Last updated:
United States - General information
| | |
| --- | --- |
| Region | North America |
| Capital | Washington, D.C. |
| Language | English, Spanish |
| Currency | US Dollar |
| Population | 317,579,000 |
| Students | 21,000,000 |
| Foreigner students | 3.5% |
Statistics - Universities
| | |
| --- | --- |
| Universities in top 100 | 37 |
| Universities in top 200 | 59 |
| Universities in top 500 | 109 |
| Universities in top 1000 | 195 |
| Universities in top 5000 | 1142 |
Cost of living in United States
| Expenses - USD/Month | Min. | Med. |
| --- | --- | --- |
| Accommodation | 396 | 531 |
| Food | 260 | 454 |
| Transportation | 60 | 166 |
| Communications and utilities | 99 | 113 |
| Clothing | 19 | 71 |
| Sports and leisure | 24 | 91 |
| Total | 859 | 1,425 |
| Accommodation in United States | USD/Month |
| --- | --- |
| Shared room outside of centre | 400 |
| Shared room in city centre | 536 |
| 1 bedroom apartment outside of centre | 730 |
| 1 bedroom apartment in city centre | 973 |