Secondary education in Finland consists of two stages: a year-long preparatory program before school and secondary education for children from 7 to 16 years old. Education in public institutions is free.
At the preparatory program, 6 year-olds learn letters and numbers, as well as Finnish or Swedish language, in case if it is not their native language.
Secondary education (peruskoulu) consists of nine classes. In addition to general schools, in Finland there are educational institutions specializing in certain areas:
Art;
Music;
Physical Education;
Languages.
There are also international schools and schools of special pedagogy (for example, Waldorf).
High school (grades 10 to 12) is optional and can be of two types: general and professional.
The curriculum of general high schools consists of the same subjects that are found in secondary schools, but the material is more in-depth. Upon completion, students must pass the final exams (ylioppilastutkinto), which qualify students for admission to universities.
Vocational secondary education lasts about three years. An important part of the training is an internship at Finnish companies. Graduates of such schools can enter universities, continue vocational training or seek employment.
Education in Finland is becoming more and more popular every year. High positions of Finnish universities in world rankings, interdisciplinary studies, and moderate tuition fees attract foreign students to this northern country.
Free education. According to the Act on Universities adopted in 2009, studying at state universities in Finnish or Swedish is absolutely free for both local and foreign students. Doctoral programs are usually also free, regardless of the course language.
The quality of education. Finland's education system is considered one of the best in the world. In a study by the international company OECD (Organization for Economic Cooperation and Development), Finnish university students demonstrated outstanding academic performance, bested only by the Japanese students[0].
English language programs. Unlike most European universities that offer mainly master's programs in English, universities in Finland offer a variety of programs in English at all stages of education.
Center for Innovation. According to the European innovation scoreboard rating, Finland ranks second among European countries in the number of innovations in education and labor[1]. The country presented high rates in the categories of "continuing education", "academic indicators" and "international scientific publications".
The selectivity of universities. Universities in Finland have the right to conduct their own entrance examinations for student selection. An alternative option at some institutions is the US SAT exams. Unusual for Europe selection criteria are complemented by their complexity: about two-thirds of applicants who apply for admission to a Finnish university are refused.
The Finnish language. In order to study for free at state universities, live in Finland and have a chance for employment, you need to know Finnish. For many foreigners, this becomes an insurmountable obstacle: the Finnish language has difficult grammar (eg. it has 16 cases) and a hard pronunciation. In addition, many students prefer to spend time studying the most common languages (English, French or German), while only 5 million people around the world speak Finnish.
Harsh climate. In winter, temperatures throughout Finland drop to -20°C (-4°F) or lower. The south of the country is covered with snow for 75 days a year, and the north for more than 200. In the summer, for about two months Finland stays in a perpetual state of daytime, the opposite is true during winter. In Finland, there is even the concept of "winter depression" (seasonal affective disorder).
High living costs. Finland ranks 23rd in the list of the most expensive countries to live in[2]. Depending on the student's city and lifestyle, household expenses (meals, transportation, rental housing) can range from 700 to 1,417

USD

per month.
Cost and structure of education in Finland
Program
Min. age
Duration
Min. cost
Avg. cost
Min. language level
Exams
Language courses
7+
1–12 weeks
886

USD

/week

including accommodation and meals

1,291

USD

/week

including accommodation and meals

A1
-
Secondary school
7
9-12 years
Free (State school)
11,808

USD

(Private)
B1
-
College
15+
3 years
Free

State institutions in Finnish or Swedish language

9,446

USD

/year

Private institutions or studying in English language

B1
IELTS/YKI
Bachelor's
17+
3-4 years
Free

State institutions in Finnish or Swedish language

11,808

USD

/year

Private institutions or studying in English language

B2
IELTS/YKI
MBA
22+
1-2 years
28,339

USD

/year
41,328

USD

/year
C1
IELTS/YKI
Master's
22+
2 years
Free

State institutions in Finnish or Swedish language

11,218

USD

/year

Private institutions or studying in English language

C1
IELTS/YKI
Doctoral
24+
3-4 years
Free
Free
C1
IELTS/YKI
EU/EEA/Swiss students can study in state universities for free regardless of the language of instruction.
Higher education in Finland is carried out in two types of educational institutions — universities (yliopisto), engaged in scientific research, and universities of applied sciences or polytechnic institutes (ammattikorkeakoulu, AMK) with a more practical focus. In addition, there are colleges (ammattiopisto), which also offer vocational training.
Expenses
Average cost

Exams

Language certificate: IELTS, TOEFL, YKI

165

USD

Registration fee
425

USD

Flight
154

USD

Rent
708

USD

/month

Meals
177

USD

/month

Insurance
47

USD

/month

Learning materials
71

USD
The options for admission to universities in Finland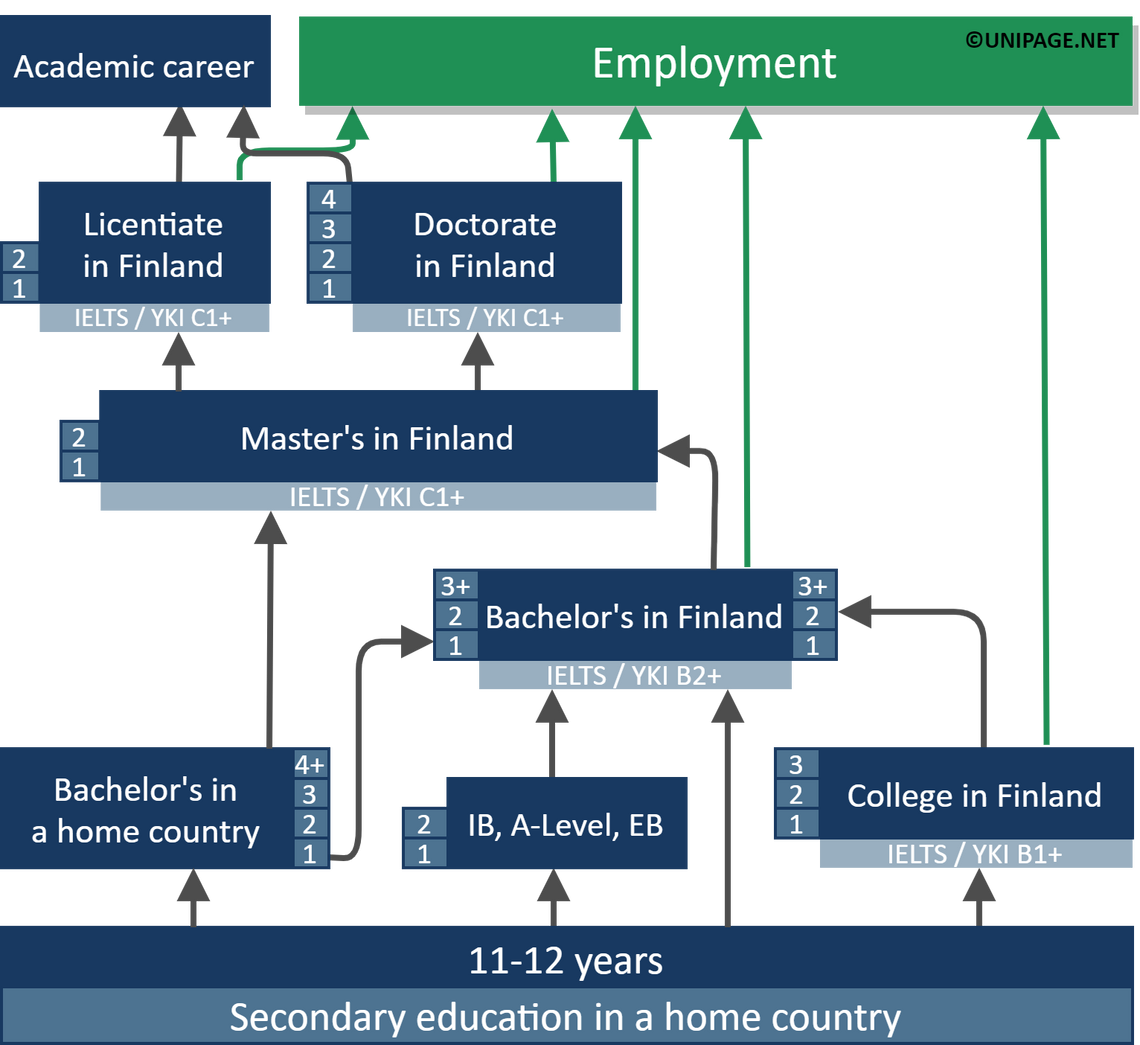 Foundation — Preparatory programs in Finland
There are no preparatory courses before entering a university in Finland. After the ninth grade, students can enroll in high school preparatory programs specifically designed for foreigners. Such courses include Finnish and English language studies, maths, science and social sciences, and student counseling. Some educational institutions allow you to combine the preparatory year with high school by transferring credits. The requirement for admission to such courses is knowledge of Finnish or Swedish at level A2, as well as the completion of nine grades of high school.
College — Vocational education in Finland
There are several ways to get professional qualifications: internships, work experience, and college education. Regardless of the path chosen, all students pass the final exam (näyttötutkinto).
Colleges (ammattiopisto) are considered to be a part of non-compulsory secondary education and are primarily designed for students who graduate from the ninth grade of a secondary school. Education here lasts three years, at least five months of which are devoted to internships and practice.
Finnish colleges offer training in seven main areas: humanities and pedagogy, sociology, business and management, art, technology and transport, natural resources and ecology, social, physical and mental health, as well as tourism, economics, and hotel business.
The curriculum consists of four main parts:
Specialized vocational training (135 credits);
General subjects (35 credits);
Electives (10 credits);
Additional subjects (depending on the program).
Graduates of such programs may seek employment or continue their studies at universities or technical schools. Some colleges also offer dual programs that allow you to simultaneously receive a bachelor's degree.
Bachelor's in Finland
Bachelor's (kandidaatin tutkinto) is the first stage of higher education in Finland. Such programs last for about 3 years at universities (180 credits), and from 3.5 to 4.5 years (210 — 270 credits) — at universities of applied sciences (ammattikorkeakoulututkinto). The programs of polytechnic schools are practice-oriented and are not equivalent to the programs of ordinary universities, which place greater emphasis on science. In this regard, graduates of such universities must complete special "bridge programs" for admission to the non-professional master's.
Application;
Copy of the passport;
Notarized translation (with an apostille) into English, Finnish or Swedish of a certificate of completed secondary education, and transcripts with grades. The transcript with grades for the last 3 years will be needed if the applicant has not graduated from school at the time of submitting documents;
English

IELTS, TOEFL, Cambridge Exams B2+

, Finnish or Swedish

YKI B2+

language certificate (depending on the language of instruction);
Resume / CV.
The entire admission process is supervised by the official website of the Ministry of Education of Finland, where you can find additional information on issues of interest, as well as fill out an application and upload documents.
Besides school diplomas, universities of Finland accept IB (International Baccalaureate) or EB (European Baccalaureate) diplomas and the results of A-Levels.
Finnish universities have the right to set admission requirements themselves: for example, the University of Helsinki and Aalto University use the American exams such as SAT as a selection criterion.
Entrance trials can also include additional tests and exams, interviews, or a portfolio review.
The curriculum includes theoretical and practical classes, work on independent projects, visits to workshops and seminars. Writing a scientific paper (thesis) is also very important. The first two years are usually occupied by the study of compulsory subjects, and the third (and fourth) year — by electives, studies at foreign partner universities, internships or work on the thesis. Many universities allow particularly diligent and well-performing students to shorten their studies by six months or a year.
Training programs can vary greatly depending on the university: each educational institution has the right to use its own teaching methods, textbooks and the sequence of presenting material.
Master's — Graduate / Postgraduate in Finland
Master's (maisterin tutkinto) in Finnish universities takes two years on average. To graduate a student needs to get 120 credits. Almost all universities in Finland offer master's programs in English.
At the universities of applied sciences, a master's (programylempi ammattikorkeakoulututkinto) lasts less than 1.5 years (60-90 credits), but for admission, you must have relevant work experience: at least two years after receiving a bachelor's degree. In some areas (art, music, dance, theater, etc.), work experience can be replaced by creative works and merits. Universities of applied sciences have a rather flexible schedule and allow students to combine study with work.
A prerequisite for admission is the compliance of bachelor's to the area of expertise of the selected master's program.
Some Finnish universities offer combined graduate and undergraduate programs, which last 5 years. In addition, specific programs (veterinary medicine, medical business) can take from 5 to 6.5 years.
Application;
Copy of the passport;
Notarized translation (with an apostille) of the bachelor's diploma with transcripts into English, Finnish or Swedish or a statement of grades (if the student has not completed his bachelor's degree at the time of submission of documents);
English

IELTS, TOEFL, Cambridge Exams B2+

, Finnish or Swedish

YKI B2+

language certificate (depending on the language of instruction);
Evidence of work experience in the relevant field

Additional information must be requested from University's admission board.

;
Resume / CV.
Please note that some universities require GMAT/GRE to apply for an MBA.
Doctoral studies — Postgraduate in Finland
Doctoral programs (tohtorin tutkinto) in Finland can only be offered by universities. Their duration is usually four years (240 credits). There are two options for doctoral studies:
National programs are related to research relevant to the country and have common directions in all state universities. Such programs are usually well funded by the government.
Doctoral research programs allow students to choose the topic of scientific work on their own. These programs are not much different from doctoral studies in other countries — a student should contact the supervisor and propose a topic for future research.
Application;
Passports
Notarized translation of the master's degree (with an apostille) into English, Finnish or Swedish;
Language certificate

IELTS, TOEFL, Cambridge Exams, YKI С1+

;
Documents confirming relevant work experience (minimum 2 years)

Additional information must be requested from University's admission board.

;
Research proposal;
Curriculum

Additional information must be requested from University's admission board.

;
Abstracts from previous scientific papers (if any);
Full name of the future supervisor;
Resume / CV.
The educational process consists of dissertation work, seminars, conferences, and theoretical studies. The final exam is divided into two parts: a review of a written dissertation and an oral debate.
In addition, many universities offer job opportunities for doctoral students. In this case, the duties of the teacher are added to the study and research responsibilities. The average student salary in this position is 2,007 USD per month.
Licentiate (lisensiaatintutkinto) is an alternative doctoral program available to master's graduates. It takes two years, during which students do research work, and also attend practical and theoretical classes. In general, the degree of a licentiate is rated lower than the degree of a doctor, but it can be a good option for students planning to pursue a more practical scientific career.
An academic career in Finland consists of five subsequent stages:
Post-doctoral studies (tutkijatohtori) is a continuation of the scientific activities of doctoral program graduates, which allows them to prepare for an academic career. Usually, this stage lasts from three to five years on the position of a junior research assistant.
Docent (dosentti). To obtain this title, an academician needs to have several scientific publications, as well as to demonstrate pedagogical skills and achievements. At the university, associate professors usually hold the posts of lecturers or senior researchers.
Assistant Professor (apulaisprofessori). This post appeared in Finland relatively recently. The contract for the position of assistant professor is usually concluded for a period of two to five years, depending on the employee's work experience. After the set time has elapsed, the university's scientific council evaluates the academician's work and research activities, after which it makes a decision on the extension of his contract for another term. At the end of the second contract, the assistant professor may be promoted to the next rank.
Associate professor (yliopistonlehtori) is an intermediate position between the position of assistant professor and the position of professor. The academician in this rank acts as deputy professor and does not lead the department.
Professor (professori). In order to occupy this position, candidates need to have scientific publications in international journals and merit in research and teaching activities. The main obstacle to professorship is the limited number of these positions in universities.
It is equally difficult to get an academic position for foreigners and residents. This is due, firstly, to the small number of proposals, especially for the initial position of a junior research assistant. Secondly, it is impossible to find out about vacant places from newspapers or employment sites, this information is kept strictly inside a university. More than 70% of any university employees are its graduates.
Junior researchers on average receive 2,007 USD per month, docents — 2,952 USD per month, assistant professors — 3,542 USD per month, and professors — 5,904 USD per month.
Scholarships and grants in Finland
Foreign students in Finland who have to pay tuition fees can receive financial assistance in the form of grants and scholarships. State scholarships apply to graduate and doctoral students, but undergraduate students can rely on funding from universities and private organizations. The conditions and amounts of financial assistance may vary: scholarships for undergraduate and graduate students are awarded on the basis of academic performance and academic achievements, doctoral students receive grants based on relevance and interim research results. The scholarships of some private organizations have additional conditions (for example, a scholarship for orphans from the company CustomEssayMeister or a scholarship for women in the business field from the University of Nexford) and are issued after the evaluation of motivation letters.
Student visa to Finland
EU/EEA citizens do not require any visas to study in Finland. However, they need to get a certificate of registration from the police upon arrival.
Students from all the rest countries should obtain either a student visa (for studies which take less than 90 days) or a residence permit (for degree courses. The latter is issued for one or two years and has to be renewed annually.
To apply for a visa, you will need the following documents:
Passport;
Passport photos;
Student visa application;
Proof of financial solvency (at least 661

USD

per month);
Health insurance;
Invitation from the university and confirmation of admission.
The electronic application fee is 413 USD (the processing time is 1-3 months), while the paper application will cost 531 USD (processing time is 4-5 months).
Working while studying in Finland
According to the laws of Finland, non-EU/EEA students have the opportunity to work for no more than 25 hours a week on average during academic terms and full-time during holidays. For EU/EEA nationals working time is not limited.
It is worth noting that students are unlikely to fund their education with part-time jobs — finding a job with a part-time schedule is quite difficult, and for employment, you need to speak Finnish.
Finland does not establish a minimum wage; each company decides this issue on its own. It is difficult to say what kind of salary a foreign student can receive since it depends on the sphere. For example, a store consultant earns about 12 USD/hour.
Immigration opportunities
Finnish university graduates from non-EU/EEA countries can apply for a special job seeker visa. Such a permit is issued only once, lasts a year and cannot be extended. After successful employment, foreigners have the opportunity to obtain a work permit and stay in Finland.
Finnish citizenship is available after residing in the country for five consecutive years.
Employment prospects
Finland. In this northern country, the unemployment rate is less than 9%. Among young professionals, 21% do not have a permanent job. Therefore, the graduate will meet with fairly high competition in the labor market. In addition, the need to learn Finnish and the bias towards foreigners don't help matters.
Europe. Finland is a member of the Bologna process, therefore its diploma is recognized in Europe. A Finnish diploma is an indicator of high competence and creative thinking; employers value this highly.
Last updated:
Finland - General information
| | |
| --- | --- |
| Region | Nordic Countries |
| Capital | Helsinki |
| Language | Finnish, Swedish |
| Currency | Euro |
| Population | 5,454,444 |
Statistics - Universities
| | |
| --- | --- |
| Universities in top 100 | 1 |
| Universities in top 200 | 1 |
| Universities in top 500 | 7 |
| Universities in top 1000 | 9 |
| Universities in top 5000 | 20 |
Cost of living in Finland
| Expenses - USD/Month | Min. | Med. |
| --- | --- | --- |
| Accommodation | 283 | 378 |
| Food | 221 | 442 |
| Transportation | 46 | 188 |
| Communications and utilities | 53 | 72 |
| Clothing | 28 | 104 |
| Sports and leisure | 31 | 121 |
| Total | 662 | 1,304 |
| Accommodation in Finland | USD/Month |
| --- | --- |
| Shared room outside of centre | 286 |
| Shared room in city centre | 381 |
| 1 bedroom apartment outside of centre | 504 |
| 1 bedroom apartment in city centre | 645 |