Universities in Ireland were subordinate to Great Britain until the middle of the 20th century, so their modern appearance was influenced by the best educational traditions of the United Kingdom. Now Irish universities have their own development trajectory: they are modern research centers that combine centuries of experience and bold innovations. The country's universities and colleges provide world-class English-language education to foreigners at an affordable price.
List and ranking of universities in Ireland
Information is exploratory. For accurate information, refer to the official website of the school.
Title
City
Bachelor
Master
1
Trinity College Dublin, The University of Dublin
Dublin
23,069

USD

19,609

USD

2
University College Dublin
Dublin
27,683

USD

20,762

USD

3
University College Cork
Cork
9,228

USD

17,302

USD

4
National University of Ireland, Galway
Galway
15,572

USD

14,995

USD

5
Dublin City University
Dublin
15,572

USD

16,725

USD

6
University of Limerick
Limerick
13,841

USD

16,148

USD

7
Maynooth University
Maynooth
14,995

USD

16,148

USD

8
Technological University Dublin
Dublin
12,111

USD

13,265

USD

9
Royal College of Surgeons in Ireland
Dublin
32,297

USD

13,265

USD

10
Waterford Institute of Technology
10,902

USD

11,700

USD
Advantages of universities in Ireland
Research activities. Irish universities offer students a large number of research programs at the master's and doctoral levels. The high quality is ensured by state funding of science and the influx of foreign scientists. Students have many scientific laboratories and centers with the most modern equipment at their disposal, and the opportunity to implement their developments in local fast-growing companies.
IT sector leaders. 3 Irish universities are included in the top 200 of the QS world ranking in Computer Science. And the country's main student city, Dublin, is already called the European Silicon Valley. There are affiliates of such information giants as Google, Facebook, LinkedIn, Zynga, and Twitter, which are ready to recruit talented young professionals. Students can also assert themselves at the annual Dublin Web Summit. This is one of the largest IT events in Europe.
Developed infrastructure. The campuses of large universities in Ireland resemble cities within cities. Here you can find everything you need for life: from cafes and shops to gyms and its own theaters. In addition, the territory of local universities is very green: the architecture of the buildings harmoniously fits into the natural landscape. Therefore, students can always enjoy the fresh air and a walk in the park in between classes.
Disadvantages of universities in Ireland
Admission difficulties when not going through a Foundation year. In general, many universities in Ireland have a fairly high percentage of admission of applicants, including foreign ones. However, obstacles may arise due to citizenship and previous education. Irish standards are much closer to the countries of the European Union. And although formally some non-EU/EEA certificate might meet all the criteria, the admissions committee may have doubts: whether the academic difference will get in the way of a student who has not completed the preparatory courses.
Expensive life. Dorms on university campuses usually offer excellent facilities but at a high price. A rented room in the city will be much cheaper, but the housing on offer is often in a deplorable state, and the demand far surpasses the supply. This is especially true of Dublin.
Admission requirements to universities in Ireland
Program
Age
Duration
Min. cost
Avg. cost
Exams
Preparation for university
17+
1-2 semesters
13,078

USD

/year
17,833

USD

/year
IELTS 5.0
Bachelor's degree
18+
4 years
Free

for EU/EEA and Swiss nationals

20,806

USD

/yearabout 40,423

USD

/year for medical specialties
IELTS 6.0
Master
20+
2 years
4,756

USD

for EU/EEA and Swiss nationals

21,995

USD

/year
IELTS 6.5
MBA
20+
2 years
9,511

USD

/year
22,589

USD

/year
IELTS 6.5
Doctorate
20+
3 years
4,756

USD

for EU/EEA and Swiss nationals

10,000

USD

/year
IELTS 6.5
To enter bachelor's studies in Ireland one will need a certificate of complete secondarу education (12-13 years). However, Irish universities also accept applications from citizens whose countries have an 11-year school system. In rare cases, documents can be submitted only after 1 year of university or passing the Foundation — it all depends on the individual requirements of each university.
In the certificate, it is not so much the average mark that is important as the marks in English and mathematics. In addition, an IELTS language certificate with a score of 6.0 or TOEFL iBT 90 is required.
Applicants from the EU can apply through the Central Application Office, citizens of other countries apply directly to the university of their choosing. It is recommended to start preparing for admission one year in advance. There are 2 deadlines for accepting applications: an early one at the beginning of February and a standard one at the end of June.
For bachelor's programs:
Completed application form on the university website;
Certificate of completed secondary education + transcript with grades;
International passport.
Additionally for master's and doctoral studies:
Bachelor's/Master's degree + transcript with grades;
CV;
Proof of required work experience;
Letters of recommendation (2-3);
Research proposal

for doctoral studies
All documents must have a notarized translation into English.
The complete lists of documents and requirements for them are given on the universities' websites.
Types of universities in Ireland
Universities are traditional European higher education institutions, working under the Bologna system. There are 8 of them in the country. In Ireland, the university can be "separate", like Dublin City University, or combine several universities and colleges, like the National University of Ireland. In the latter case, each institution is a completely autonomous university, and the central branch performs only administrative functions.
Institutions of the National University of Ireland (NUI)
Information is exploratory. For accurate information, refer to the official website of the school.
Institutes of Technology. Since its inception in the 1970s, Institutes of Technology have expanded their training programs significantly. Now, not only future highly specialized technical specialists like engineers or programmers study here, but also students of other applied specialties. Among them: business, linguistics, and music. In the world rankings, technological institutes are still far from university giants with centuries-old traditions, but this will come with time: Technological University Dublin has already entered the top 100 best young universities in the world. In the meantime, you can take advantage of the relatively low cost of training in 14 young progressive institutions.
Best Institutes of Technology in Ireland
Information is exploratory. For accurate information, refer to the official website of the school.
Title
Country
City
Bachelor
Master
633
8
Technological University Dublin
Ireland
Dublin
12,111

USD

13,265

USD

10
Waterford Institute of Technology
Ireland
10,902

USD

11,700

USD

11
Athlone Institute of Technology
Ireland
Athlone
10,000

USD

10,000

USD

12
Dundalk Institute of Technology
Ireland
Dundalk
11,534

USD

13,841

USD

14
Cork Institute of Technology
Ireland
Cork
11,823

USD

12,976

USD
Colleges in Ireland
Colleges are based on the English model and just like universities, are the third stage of education. Their diplomas are regarded in the same way as university degrees. In Ireland, colleges can be independent or part of a large university while maintaining their autonomy. The most famous and prestigious college in the country is Trinity College Dublin. Its diploma is highly regarded around the world. There are also 4 colleges of education, where you can get specialized teacher education at the bachelor's, master's, and Postgraduate Diploma levels. Finally, there are over 20 private colleges in Ireland with a variety of disciplines. Most often they specialize in one area. The most common colleges of business education are those where MBA programs are taught.
All of the above types of colleges accept foreign applicants. But in professional colleges, admission is available only to local school graduates.
Public and private universities in Ireland
Public universities include all universities, affiliated colleges, teacher training colleges, and institutes of technology. They are funded by the government, but also often receive large financial contributions from organizations and individuals. Among state educational institutions, there are many more universities with a rich history and a worldwide reputation, therefore, education in them is considered more prestigious, and the competition for admission is higher than in a private college. Irish, EU, and UK citizens can study at public universities for virtually no cost. This option is not available for applicants from other countries, but there is a chance to receive a government scholarship.
Private universities in Ireland are represented by various colleges and business schools. The most famous of them are Griffith College, Dublin Business School, and CCT College Dublin. Despite the lack of government funding, the cost of studying at these universities in most cases does not exceed the price of renowned universities and colleges. In the educational programs of private institutions, much attention is paid to building a career: students receive demanded practical skills and undergo internships in partner companies. All private colleges accept foreigners, and many offer their own scholarship programs.
Groups and association of educational institutions in Ireland
Free universities in Ireland
Free tuition at public universities in Ireland is available to local residents and EU and UK citizens. The rest of the applicants can count on financial support in the form of scholarships, grants, or tuition discounts. Typically, payments cover from 20 to 50% of the study costs. Scholarships are most often awarded according to one of the following criteria:
Academic performance;
Sports achievements;
Disability;
Refugee status.
Also, doctoral and master's students in research programs often have an opportunity to save on tuition fees. During their studies, they are provided with scientific grants. In return, students work part-time in the department or in the laboratory, helping teachers in their work.
Read more
Interesting facts about Irish universities
The theater on the territory of Dublin City University hosted a popular TV show The Voice of Ireland from 2012 to 2016.
Ireland is the European leader in the number of university graduates: in 2020, 27% of the country's population had a bachelor's degree.[0]
Trinity College Dublin is one of seven ancient universities of Britain and Ireland and the only one outside the UK. It was founded in 1592.
Photographs of Irish universities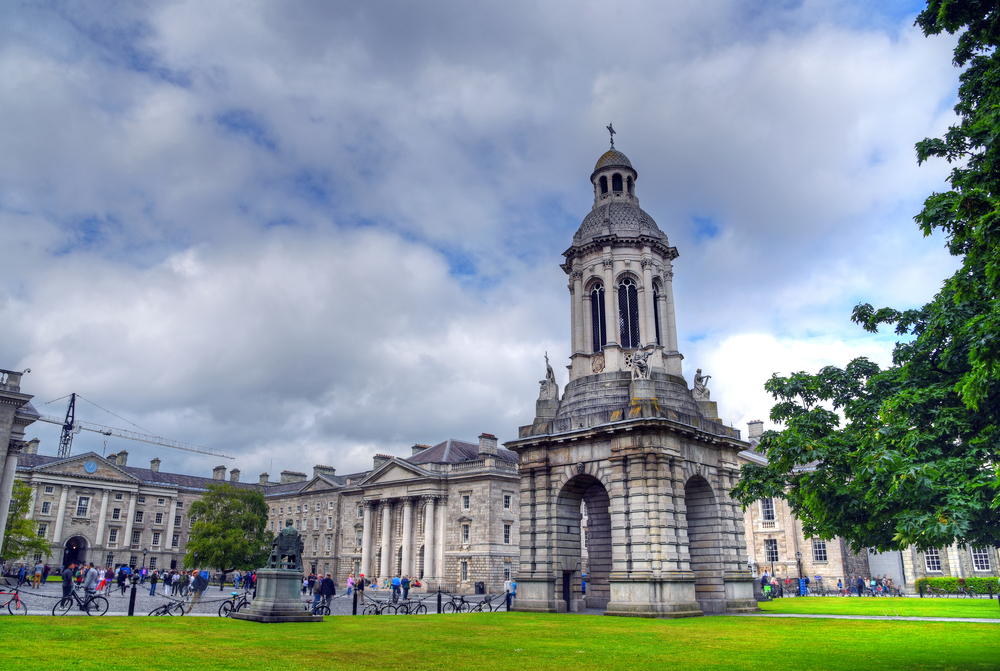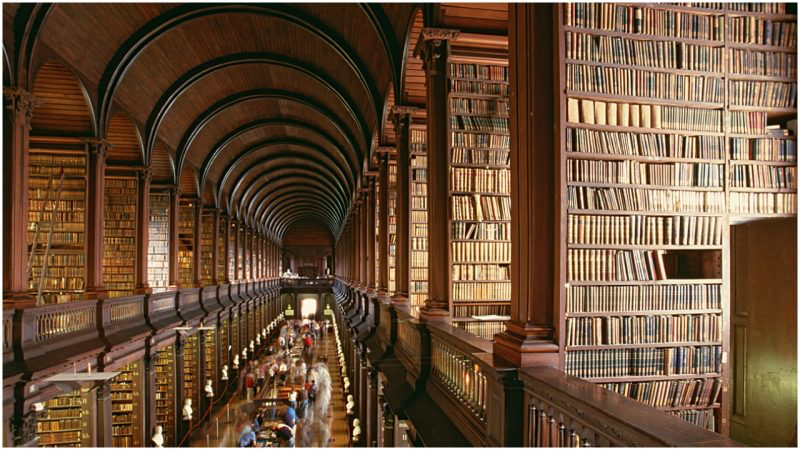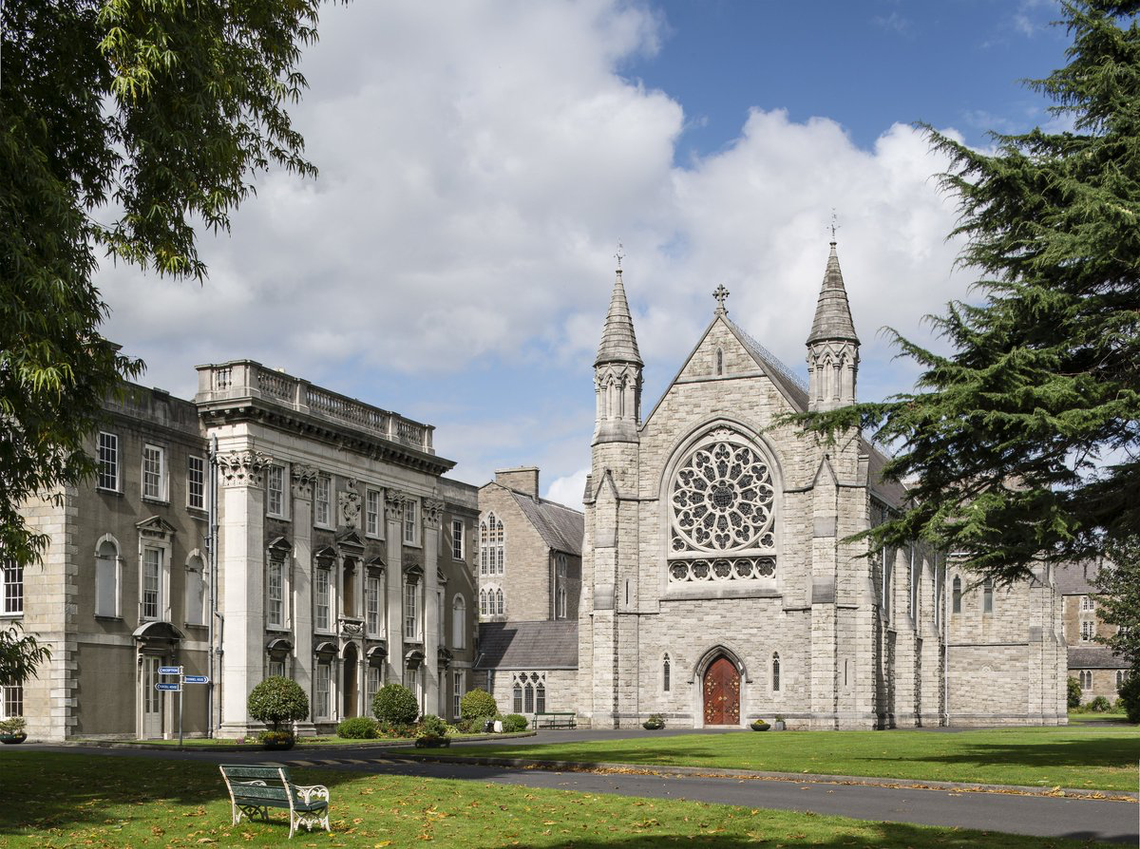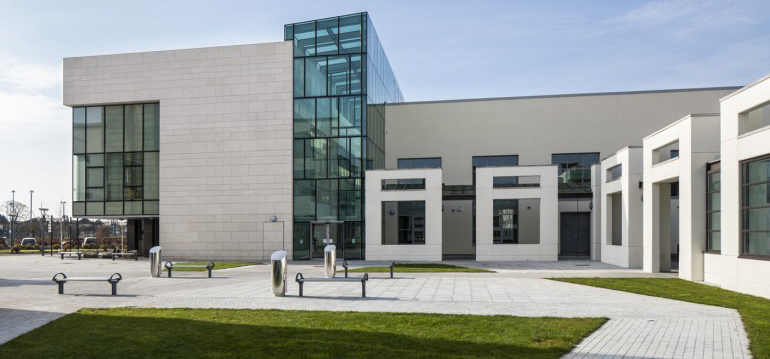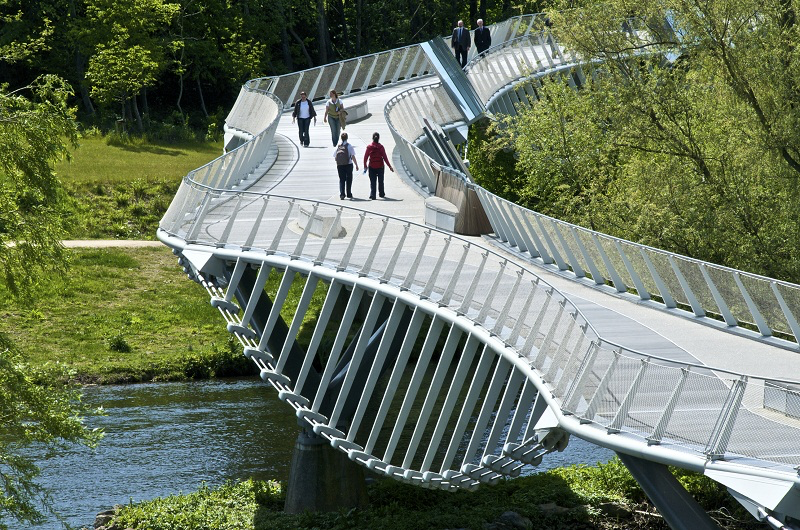 Last updated:
Ireland - General information
| | |
| --- | --- |
| Region | British Islands |
| Capital | Dublin |
| Language | Irish, English |
| Currency | Euro |
| Population | 6,399,115 |
| Students | 196,000 |
| Foreigner students | 17.9% |
Statistics - Universities
| | |
| --- | --- |
| Universities in top 200 | 1 |
| Universities in top 500 | 5 |
| Universities in top 1000 | 8 |
| Universities in top 5000 | 18 |
Cost of living in Ireland
| Expenses - USD/Month | Min. | Med. |
| --- | --- | --- |
| Accommodation | 407 | 528 |
| Food | 213 | 442 |
| Transportation | 90 | 197 |
| Communications and utilities | 98 | 121 |
| Clothing | 24 | 92 |
| Sports and leisure | 27 | 98 |
| Total | 860 | 1,477 |
| Accommodation in Ireland | USD/Month |
| --- | --- |
| Shared room outside of centre | 411 |
| Shared room in city centre | 533 |
| 1 bedroom apartment outside of centre | 780 |
| 1 bedroom apartment in city centre | 944 |