Denmark's universities closely follow international standards and offer over 700 academic programs in English. With only 8 universities in the country, Denmark has 6 universities (according to THE) and 5 (according to QS) in the TOP 400.
Lists and rankings of Danish universities
Information is exploratory. For accurate information, refer to the official website of the school.
Title
City
Bachelor
Master
39
University of Copenhagen
Copenhagen
1,699

USD

2,008

USD

86
Aarhus University
Aarhus
17,000

USD

17,000

USD

105
Technical University of Denmark
Copenhagen
19,000

USD

19,000

USD

273
University of Southern Denmark
Odense
13,000

USD

13,000

USD

314
Aalborg University
Aalborg
15,000

USD

13,000

USD

950
Copenhagen Business School
Copenhagen
20,000

USD

20,000

USD

1501
Roskilde University
Roskilde
VIA University College
Aarhus
IT University of Copenhagen
Copenhagen
University College of Northern Denmark
Advantages of universities in Denmark
Teaching methodology. University education in Denmark is student-centered: here teachers work closely with students and act as knowledge mediators. In the classroom, open debate with professors and other students is encouraged. Traditional lectures are combined with projects where students work in groups and solve problems instead of passively listening and memorizing ready-made answers. As a result, students develop their soft skills, learn to think analytically and creatively in a problem-solving environment and to work both independently and in a team.
Prospects for graduates. The Danish government actively attracts talented students and creates the conditions for further residence and work of graduates in the country. After graduation, a foreigner has six months to find a job and sign a contract, and it will take 9 years to obtain citizenship in Denmark. If the graduate does not plan to stay in the country, a Danish diploma opens up prospects anywhere in the Eurozone.
Training format. The academic week in most Danish universities consists of 10 hours of classes and about 30 hours of independent study of the material and preparation of projects. On a weekly basis (sometimes less frequently, depending on the university), students are assigned projects that they carry out in small groups. During lectures, it is not considered a bad tone to interrupt and ask professors questions, since in Denmark freedom of expression is valued and the diversity of opinions is respected.
Infrastructure. Danish universities are equipped just like other higher educational institutions in Europe. A feature of Danish universities is the absence of "university campuses". However, each institution usually has gyms, libraries, and canteens. Particularly large universities own city museums, for example, Aarhus University and University of Copenhagen.
Internationality. Since 2013, the Danish Ministry of Education has been running a globalization and internationalization program. This is manifested in free tuition at universities for EU citizens and special scholarships. Danish universities often contact graduates of European schools directly, attracting talented students. However, financing is limited only to Europeans, who make up the bulk of Denmark's student body. Students from non-EU countries have to pay a higher amount by European standards, and this affects the number of students from Asia, Africa, and the CIS. However, through payments from foreign students, Danish universities significantly improve their quality and maintain the standards of education at a high level, therefore universities actively welcome foreign students from outside the EU/EEA and Switzerland. For example, in 2014, the Top Talent program was launched to attract talented students from China and Brazil.
Disadvantages of universities in Denmark
Few English-language programs. Danish universities offer few bachelor's programs in English. For example, the Technical University of Danmark (DTU) offers only 3 programs, while in many others, such as the University of Copenhagen, all bachelor's studies are taught in Danish. The Danish language is not easy to learn, therefore, students who do not plan to link their future life with Denmark should seriously think about the expediency of getting an education in this country.
Expensive education. For citizens of the EU states, education at Danish universities is completely free. As for the rest, the average cost of a year of study at a Danish university is about 75000 DKK. Although Danish institutions provide scholarships for international students, they rarely cover the full cost.
Lack of control in studies. Danish universities emphasize independence, self-discipline, and personal responsibility for the studies. There is a saying among Danish educators: You take education, you don't get it. For example, in Denmark, attendance is not monitored and teachers do not push students. Some people do well in this system, while others cannot fit into it. Therefore, visitors need self-discipline and act on their own initiative during studies.
Requirements for admission to universities in Denmark
Program
Age
Duration
Min. cost
Avg. cost
Min. lang. proficiency
Exams
Foundation
16+
1 year
90000 DKK/year
100000 DKK/year
B2
IELTS 5.0
Bachelor's
17+
3-5 years
Free

For EU/EEA, Switzerland citizens

107000 DKK/year
C1
IELTS 6.5 / TOEFL 79
Master's
20+
1-2 years
Free

For EU/EEA, Switzerland citizens

75000 DKK/year
C1
IELTS 6.5 / TOEFL 83
MBA
20+
1-2 years
20000 DKK/program

2 years / part time

315000 DKK/program

2 years

C1
IELTS 6.5 / TOEFL 83 / Danish A-level
Doctoral
20+
3-4 years
Free

For EU/EEA, Switzerland citizens

100000 DKK/year
C1
IELTS 6.5 / TOEFL 83
The following is required for admission to universities in Denmark:
Supplementary courses, as a rule, imply 1 year of study at the university in a home country or passing at least 2 subjects of Danish HF high school with examsSimilar to A-Level in the UK (upper secondary bridging courses). Some universities accept students with 11 years of education without supplementary courses, but only with a GPA from 4.5 with only good and excellent grades. Here you can determine if your certificate / diploma is suitable for admission. However, the definitive answer to whether an applicant passes with his current certificate can be only given by the admissions office.
All documents must be translated into Danish or English and notarized. For admission to all Danish universities, you must register on the optagelse.dk website, which usually opens on February 11th, March 5th is the deadline for submitting applications for international students. The dates should be checked on the websites of universities or here. Read more about the admission requirements here.
Read more
Types of educational institutions in Denmark
In Denmark, there are the following educational institutions where you can get higher education:
Business academies (Erhvervsakademi) — short-term programs that last 1.5-2.5 years;
University colleges (Professionshøjskole) — specialized bachelor's programs;
Universities (Universitet) — bachelor's, master's and doctoral programs;
Artistic higher education Institutions — programs of architecture, music, design, cinema, visual and performing arts;
Schools of maritime education & training (maritime academies) — educational programs in the fields of the merchant navy and fishing industry.
Denmark has 8 public universities, 8 colleges, and 8 academies. A separate group is made up of maritime academies, of which there are 5. They all have a large number of faculties with an extensive selection of programs. The overwhelming majority of educational institutions are regulated by the Ministry of Higher Education and Science.
Business academies in Denmark
Business academies (former academies of professional higher education) implement:
Academy profession degrees (erhvervsakademigrad, AP);
Selected professional bachelor's programs in technical and trade education;
Additional education for adults;
Diploma programs.
Here learning is closely related to practice, especially in the field of technical and commercial education. Business academies collaborate with companies, regional forums, university colleges and universities.
There are 8 such academies in Denmark, all of them are independent institutions, and their activities are regulated by the Law on Academies for Professional Higher Education:
The main goal of business academies is to develop higher education in the regions of Denmark (the locations of the academies). They provide wide geographical coverage of educational programs across the country, thus helping to achieve the political goal — at least half of the 30-year-old residents of Denmark should receive higher education.
Universities and university colleges in Denmark
Universities offer research-based higher education at the Bachelor's, Master's and PhD levels. They are also responsible for most of the public research in Denmark.
Denmark has 8 universities:
Information is exploratory. For accurate information, refer to the official website of the school.
Title
Country
City
Bachelor
Master
39
1
University of Copenhagen
Denmark
Copenhagen
1,699

USD

2,008

USD

86
2
Aarhus University
Denmark
Aarhus
17,000

USD

17,000

USD

105
3
Technical University of Denmark
Denmark
Copenhagen
19,000

USD

19,000

USD

273
4
University of Southern Denmark
Denmark
Odense
13,000

USD

13,000

USD

314
5
Aalborg University
Denmark
Aalborg
15,000

USD

13,000

USD

950
6
Copenhagen Business School
Denmark
Copenhagen
20,000

USD

20,000

USD

1501
7
Roskilde University
Denmark
Roskilde
9
IT University of Copenhagen
Denmark
Copenhagen
The state finances universities, but they are autonomous and managed by councils. However, Danish universities comply with government regulations on the conditions of wages and employee hiring process. The Danish Agency for Universities and Internationalization helps universities in the process of hiring and establishing salaries of managers and employees.
Danish universities receive funding for education and research through:
Government grants for higher education;
Fundamental research grants;
Ministry grants to provide scientific council to the public sector;
Research grants awarded through open competitions.
University colleges offer higher education with an emphasis on practice. They implement:
Professional bachelor's programs;
Some academy profession degrees (erhvervsakademigrad, AP);
Additional education for adults;
Diploma programs.
The university colleges in Denmark are independent institutions governed by the University Colleges Higher Education Act. The goal of university colleges is to develop higher education with a focus on practice. Together with business academies, colleges should:
Provide a broad educational environment in the geographic regions of Denmark;
Develop technical and commercial education in the regions.
There are 8 colleges in Denmark:
Groups and associations of educational institutions
Universities Denmark is an association of 8 Danish universities that works to develop the sector at the regional, national, and international levels. Universities Denmark acts as a coordinating body in resolving issues and representing the interests of the sector. The Association also promotes cooperation between universities at the administrative level[0].
PAND is a national network of local associations representing PhDs at the university level. Founded in January 2017, the network aims to foster collaboration and knowledge sharing between the network's member associations, as well as provide a common voice for PhDs in Denmark on national and international topics. There are four main goals that PAND hopes to achieve:

Provide a unified voice;
Promote the interests of PhD students;
Support local associations and promote cooperation between members[1].

Sino-Danish Center for Education and Research (SDC) is a partnership between 8 Danish universities, the Chinese Academy of Sciences (CAS), and the University of the Chinese Academy of Sciences (UCAS). SDC activities include Danish-Chinese research cooperation in:

5 priority areas;
7 affiliated master's programs with an annual admission of about 150 bachelor's students;
Training a large number of doctoral students.
The goal of the organization is to strengthen cooperation between Danish and Chinese learning environments and to increase the mobility of students and researchers between Denmark and China[2].
Free universities in Denmark
Higher education in Denmark is free for citizens of the EU/EEA and Switzerland, as well as for students who, according to the EU law, are entitled to the same status as Danish citizens.
Higher education is also free for students who, at the time of application, have:
Permanent residence in Denmark;
Temporary residence with the possibility of obtaining a permanent residence;
Residence permit in accordance with the Law on Foreigners — as a child of a foreign citizen who has a residence permit on the basis of employment.
The rest of the students need to pay tuition fees at universities. In turn, the Danish government and universities offer scholarships and grants.
Read more
Interesting facts about universities in Denmark
From the 16th century and until 1929 there was only one university in Denmark (after the occupation of the Schleswig-Goldstein land by Germany) — University of Copenhagen;
In the first week, Danish universities organize programs to adapt to the country and the new environment for students from abroad. All foreigners gather in groups under the guidance of a university employee and walk around the city, get acquainted with historical places and with each other.
The most common form of transport in Denmark, like in the Netherlands, is a bicycle. Large streets have special bike lanes, and universities have their own parking lots. However, you still need to fight for a parking spot.
Hans Christian Andersen, Ole Christiansen (inventor of LEGO), Lars von Trier (6 Palme d'Or and persona non grata status at the Cannes Film Festival), 13 Nobel laureates, Seren Kierkegaard (philosopher, creator of existentialism) — all these people studied at universities in Denmark.
Photographs of Danish universities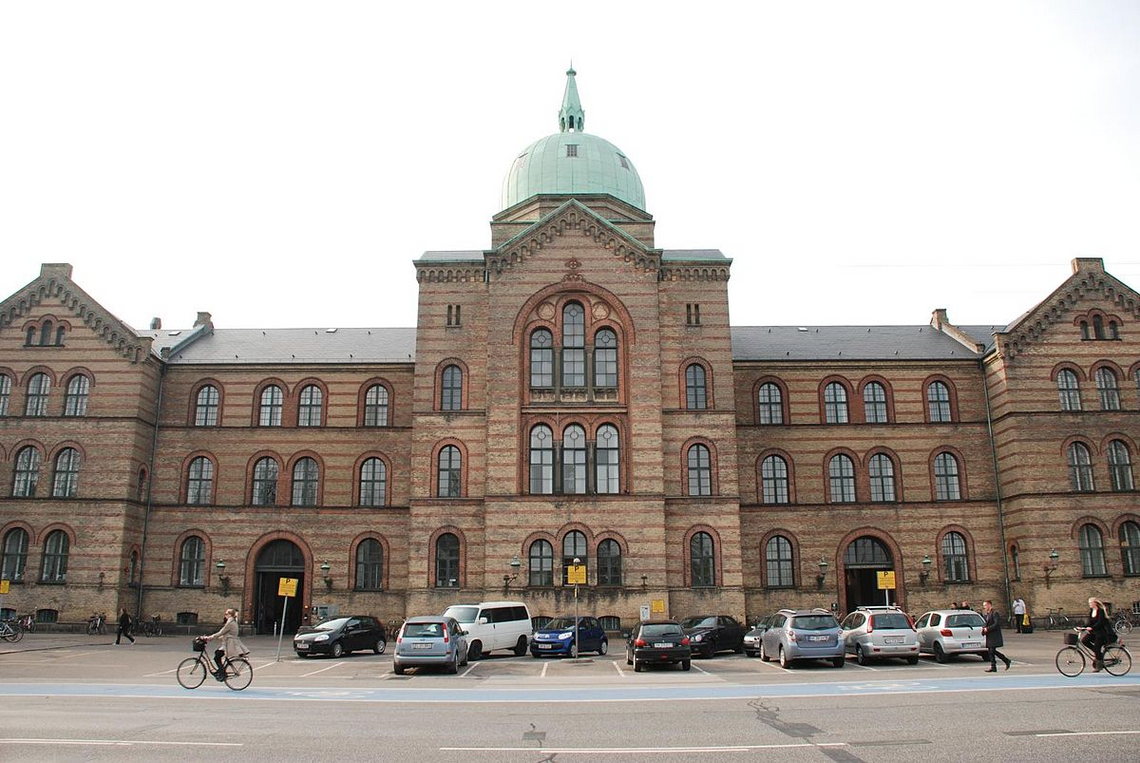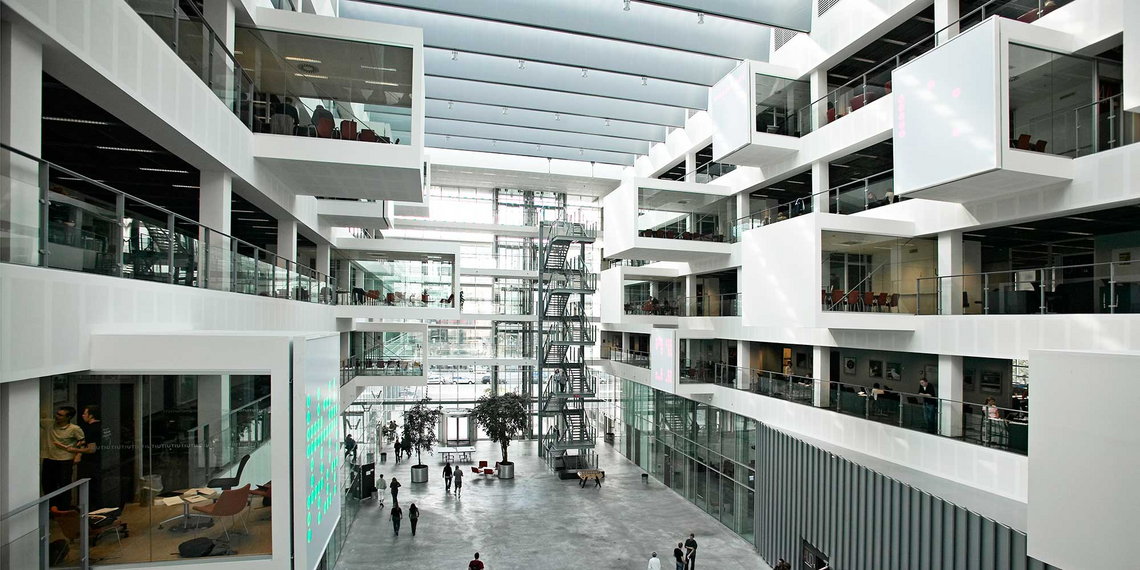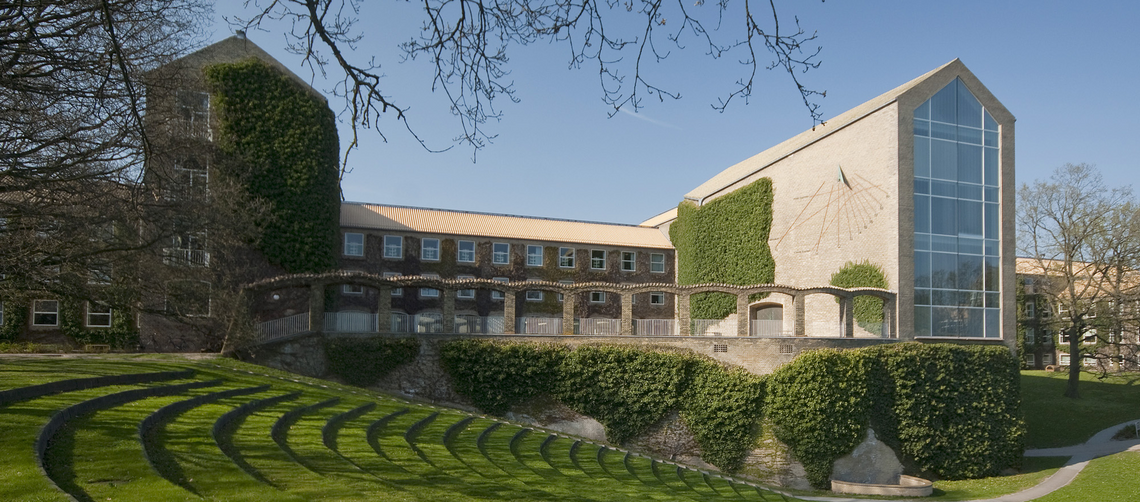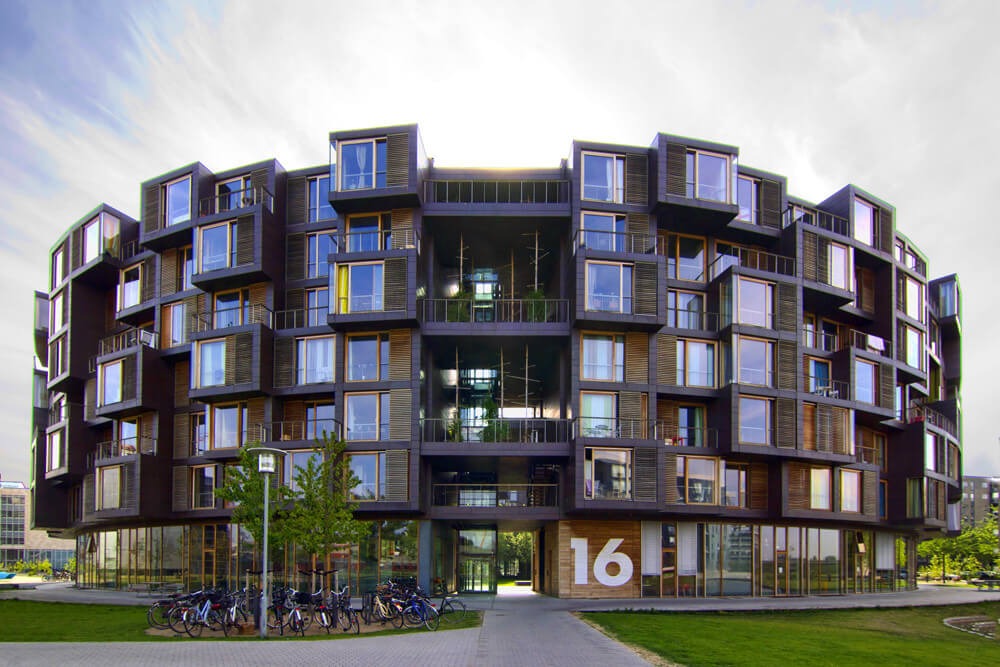 Last updated:
Denmark - General information
| | |
| --- | --- |
| Region | Nordic Countries |
| Capital | Copenhagen |
| Language | Danish, Faroese |
| Currency | Danish Krone |
| Population | 5,602,536 |
| Students | 240,000 |
| Foreigner students | 89.6% |
Statistics - Universities
| | |
| --- | --- |
| Universities in top 100 | 2 |
| Universities in top 200 | 3 |
| Universities in top 500 | 5 |
| Universities in top 1000 | 6 |
| Universities in top 5000 | 8 |
Cost of living in Denmark
| Expenses - USD/Month | Min. | Med. |
| --- | --- | --- |
| Accommodation | 358 | 500 |
| Food | 228 | 523 |
| Transportation | 45 | 213 |
| Communications and utilities | 69 | 90 |
| Clothing | 32 | 120 |
| Sports and leisure | 25 | 114 |
| Total | 757 | 1,561 |
| Accommodation in Denmark | USD/Month |
| --- | --- |
| Shared room outside of centre | 361 |
| Shared room in city centre | 505 |
| 1 bedroom apartment outside of centre | 545 |
| 1 bedroom apartment in city centre | 792 |