By law, secondary education in Canada is compulsory. There is no single national system: education is overseen by provincial and territorial governments. Schools within a certain area are also managed by local school boards.
Students in every Canadian province must attend school up to the age of 16, except for Manitoba, Ontario and New Brunswick, where the compulsory age is 18, or until a high school diploma has been achieved.
Stage of Education
Grades
Age

Pre-elementary
Kindergarten
4-5

Elementary / Primary
1-8
6-14

Secondary / High school
9-12

except for the province of Quebec where school education is limited by 10 grades

15-18
Students can choose to study in English, French or two official languages. Both public and private schools now accept international students. The curriculum in these institutions is the same within a certain province or territory. But in private ones, the class sizes are usually smaller.
There are private boarding schools (with on-site accommodation), IB-schools, alternative and specialized sports programs or schools for students with learning disabilities.
Please note that special rules apply to minor children studying in Canada[0].
Education in Canada is one of the highest quality and most prestigious in the world. While studying students are given unique opportunities to gain practical experience in Canadian companies, which significantly enhances their further employment in any country. Upon successful completion of the program, a talented graduate has every chance to immigrate to Canada without major obstacles from the government.
High cost of training. Canadian education is considered the most affordable among English-speaking countries (the US, the UK, and Australia), though it is still quite expensive. The average tuition fees for international undergraduate students are almost 24,112

USD

per year.
Lack of a national education system. Canada includes 10 provinces and 3 territories. The language of instruction, the duration of study, the requirements for admission vary, depending on the region. For example, in the province of Quebec, graduates of a school can enter a university only after graduating from a pre-university college (CÉGEP). Canadian universities are also largely autonomous in admission criteria, so an applicant may not be able to send the same set of documents to several institutions.
Intense training. In addition to the excessive learning loads during classes, a student at a Canadian university has to spend a lot of free time on enhancing knowledge in many areas. Results from the National College Health Assessment at the University of Calgary reveal that over 40% of students experience severe stress because of academic performance, 60% of students have some sleep difficulties and 12% contemplated suicide[7]. To address this problem, many Canadian universities have launched programs providing students with 24/7 mental health support.
Cost and structure of education in Canada
Type of study
Age
Duration
Min. cost
Avg. cost
Min. language level

English / French

Exams
Summer Camp
6-17
1-4 weeks
121

USD

/week
2,009

USD

/week
A1
-
Language School
16+
2-24 weeks
121

USD

/week
3,215

USD

/week
A1
-
Secondary education
6-18
11-12 years
6,430

USD

/year
8,841

USD

/year
B1
IELTS 5.0-5.5 / DELF B1
Foundation
16+
1 year
8,037

USD

/year
20,093

USD

/year
B1
IELTS 5.0-5.5 / DELF B1
Colleges
17+
1-4 years
1,607

USD

/year
8,037

USD

/year
B2
IELTS 6.0-6.5 / DELF B2
Bachelor's
17 +
3-4 years
16,075

USD

/year
2,170

USD

/year
B2
IELTS 6.0-6.5 / DELF B2
Master's
20+
1-3 years
8,037

USD

/year
14,226

USD

/year
C1
IELTS 7.0-7.5 / DALF C1
MBA
20+
2 years
31,346

USD

/year
42,437

USD

/year
C1
IELTS 7.0-7.5 / DALF C1
Doctoral
20+
3-6 years
8,037

USD

/year
12,056

USD

/year
C1
IELTS 7.0-7.5 / DALF C1
Expenses
Average cost

Language test

IELTS / DELF

157

USD

Evaluation Service
121

USD

Study permit
121

USD

Flight from Mumbai / Beijing / Los Angeles
1180 / 1440 / 217

USD

Accommodation
4,019

USD

per year

Health insurance
563

USD

per year

Food
281

USD

per month

Public transport
80

USD

per month

Study materials
964

USD
Options for admission to Canadian universities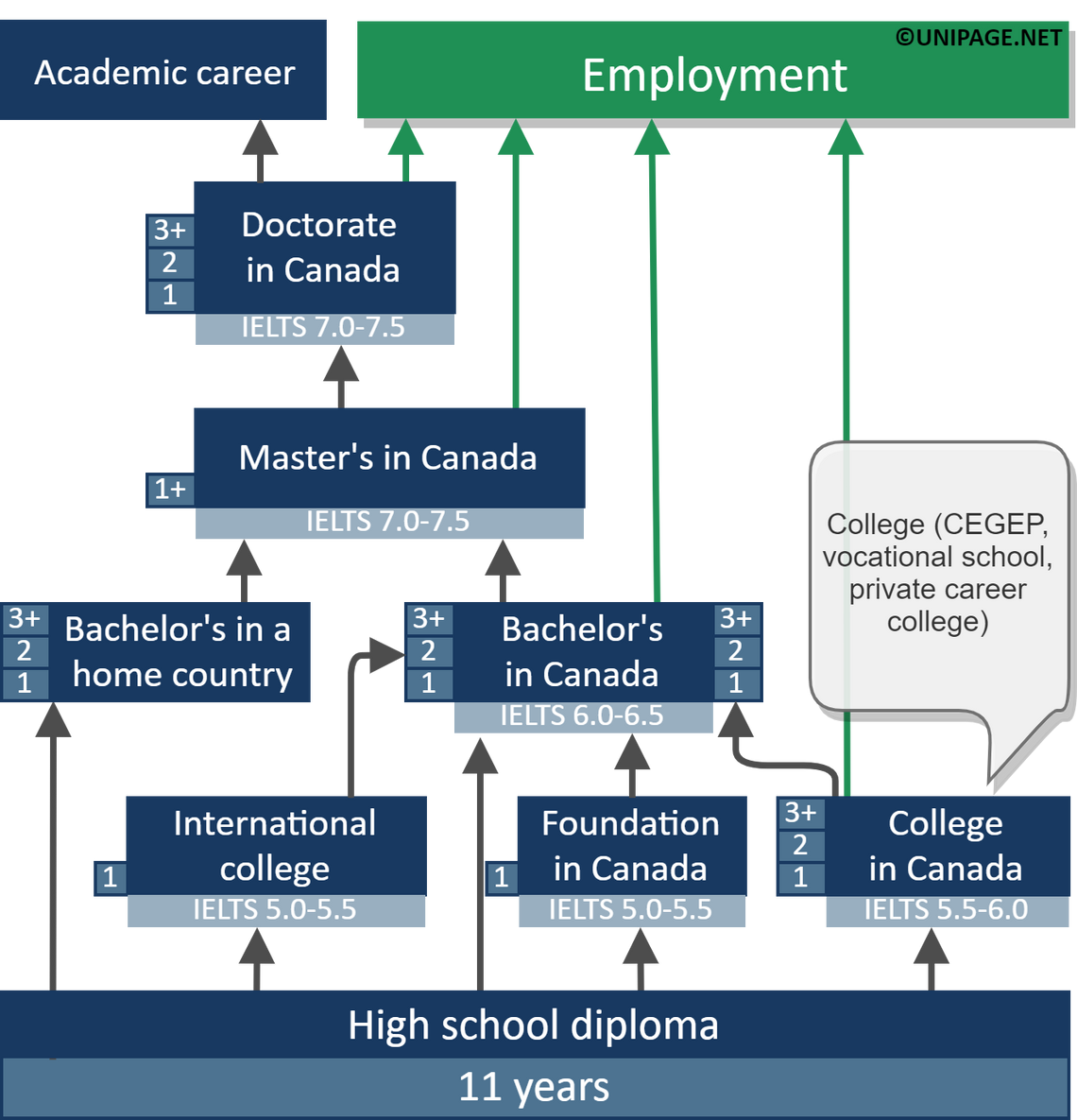 Admission and entry requirements at Canadian universities
Higher education in Canada is provided by two types of institutions: universities and vocational colleges. International students can apply to both immediately after school, in case they have an equivalent of Canadian high school diploma (12 grades). As for graduate or postgraduate studies, students will normally need to have a degree from the previous stage of higher education — bachelor's or master's. Applicants are entitled to consider only those universities and colleges that are included in the list of designated learning institutionsstudent visa requirement.
There are two main intakes at Canadian universities: in September and January. Some universities offer a third intake in May, July or October. Application proceduresome documents are submitted online, others can be sent later by post usually begins a year before classes start. Students get official replies from educational institutions one or two months after submitting an application. Please note that most universities process applications as they arrive and within a certain quota, therefore an early submission of documents significantly increases your chances.
Academic credential evaluation
An important step before entering a Canadian university is academic credential assessment and recognitionfrom a few weeks to a few months. Each educational institution has the authority to independently decide on the recognition of a candidate's qualifications, but not all universities in Canada have the capacity to assess them. In this case, students can call on external services which can be provided by six members of the Alliance of Credential Evaluation Services of Canada (ACESC). The application fee is about 121 USD.
It is usually required to provide scanned copies of government-issued identification (ID) and academic documents. The latter may include:
Diploma(s) or degree certificate(s);
Transcript(s) / mark sheets / index;
Detailed course outline(s).
The complete list of required documents depends on the country and is available on the websites of the organizations. Any documents that are not in either English or French must be translated and certified.
Foundation programs in Canada
If a student does not meet language proficiency requirements, he is advised to enroll in a foundation program for up to 1 year. The main goal is to help international students in adaptation and learning the language. Some Canadian universities offer their own preparatory courses for foreigners, but there are also independent programs.
Admission requirements for a foundation year are similar to those for college or university. The only difference is that the language criterion is much lower. The minimum level of English or French is B1 (Intermediate/Intermédiaire).
College in Canada — Vocational education
Unlike degree-granting universities, colleges grant mainly diplomas, certificates and in some cases, bachelor's degrees. Colleges focus more on specific employment skills, career training, and trades. They provide students with practical learning in a variety of technical and professional fields such as agriculture, business, engineering, information and communication technology, health, hospitality management, language, social services, and arts and design.
University colleges also offer degree programs where a student can take courses and earn credits that can be later transferred to a university. However, college-level education is already enough to get a job that does not require an in-depth four-year study.
Bachelor's in Canada — Undergraduate
Bachelor's degree is the first stage of classical university education, which takes 3-4 years to complete, depending on the province. Students can get here directly after graduating from school (11 years)except for universities in Quebec or Canadian college. For foreign applicants, it is also possible to spend the first year of study in a separate institution — an international college — followed by admission to the second year of undergraduate studies.
An academic year usually runs from September to May, divided into two semesters, some universities also offer a summer one. In addition to compulsory subjects, bachelor students have the opportunity to choose additional courses that are not related to the program. In the learning process, the main emphasis is on seminars and independent study of the subject, which requires a student to have a high degree of interest in the chosen program. In order to graduate from a Canadian university, you need to get a certain amount of creditsdifferent from European ECTS , which is individual for each university.
Most universities in Canada provide students with practice (1-2 months) in a Canadian company, which usually becomes a significant advantage for further employment.
Several universities in Canada offer cooperative education options. Co-op students combine study with work, for which they can get up to 50 percent of credits. Such programs usually take about 4.5 years to complete.
Each university sets its own admission requirements for undergraduate programs. Those may include:
Graduation certificate / diploma;
A completed application form;
SAT results;
A letter of motivation or a personal statement of experience;
Evidence of extracurricular involvement (community service, sports, etc.)

if applicable

;
Awards and/or scholarships won

if applicable

.
Quebec's educational system is in many ways unique to the rest of Canada. For example, it is the only province where secondary education requires 11 years of study. However, that is not enough to be qualified for university admission. The boundary between secondary education and higher education in Quebec is pre-university college CÉGEPCollège d'enseignement général et professionnel which usually lasts 2 years.
Foreign applicants also need to have at least 12 years of studyor 13, depending on the university. You can make up for the missing training by enrolling in any Canadian college or by completing one or two years of undergraduate studies in your home country. In some cases, the latter option would save a significant amount of money.
Master's in Canada — Graduate / Postgraduate
Master's degreeMA, MSc, MFA, MEng, MBA, in contrast to undergraduate studies, involves a narrower subject focus. An applicant can choose between two types of master's degrees. Research-based master's programs emphasize conducting original scientific research, while professional master's programs focus more on applied education, offering a set of courses in a particular subject area. Duration varies from 1 to 3 years.
Most programs include a dissertation that makes up a large proportion of the course's credits. Upon completion of training, students can also take a comprehensive examination, including both written and oral parts. Each of them is assessed on a pass/fail basis. Due to its size, the exam can be administered in several days.
Some Canadian universities offer co-op programscooperative education programmes which enable students to gain hands-on, paid experience in placements related to their field of study. Internships are usually between 2 and 4 months. They are often used by employers for getting to know potential employees.
Basic admission requirements are the following:
A minimum GPA

Grade Point Average

score for an undergraduate degree (3.0 / 4.0 or its international equivalent);
In addition, you may need:
Doctorate in Canada — Postgraduate
As in many other countries, the highest level of academic qualification a student can achieve in Canada is doctorate. In addition to the traditional academic PhD, professional doctorates are also available. Those include DBADoctor of Business Administration and EdDDoctor of Education. Most programs require 3 years of full-time study, but some may be extended up to 6 years.
Unlike the United States, doctoral studies in Canada are research-based from the outset. In the first year of study, students complete general courses focusing on techniques and methodology of research, teaching, presentation or publication, sit a comprehensive exam, and then move on to write their thesis. As for professional programsDBA and EdB, they include a lot of practice and case studies also ending with doctoral thesis.
Some Canadian universities offer a collaborative route to PhD involving students studying for some time at another international institution within cotutelle(ENG) co-tutored programs. Unlike other joint PhDs with ongoing partnerships between universities, cotutelle arrangement is usually specific to each student's project.
Basic admission requirements:
A minimum GPA

Grade Point Average

score for a master's degree (3.0 / 4.0 or its international equivalent);
You will also normally need to provide the university with the following:
A certified copy of your qualifications and transcripts;
A research proposal;
In most cases, a master's degree is required in order to gain admission to a PhD program. However, some universities offer doctoral stream Master's routes for those holding a bachelor's degree. Such programs begin with one or two years of additional training, making up for the lack of master's education.
You can start your academic career in Canada already at the stage of obtaining a doctorate as a graduate teaching assistant, or instructor. Holding this position assumes a certain amount of teaching (usually at the undergraduate level) and significantly enhances a CV. In return, a PhD student either gets paid a salary or has some of his doctoral fees waived by the university.
Those who have already earned their PhD can be considered for the positions of Graduate Research Associate, Postdoctoral Instructor, or Junior Researcher. It is also possible to become an Assistant Professor. Unlike European countries, there is no limit to the number of people holding higher academic ranks within a university in Canada. Therefore, competition is much lower. The most important criterion affecting career advancement is scientific research. Besides, almost all academic staff typically spend from 6 to 20 hours a week teaching.
After a probation period (usually 6-7 years), the Assistant Professor may be promoted to Associate Professor and receives tenure. And after another 5 years, based on continuing accomplishments in the areas of teaching and research, the candidate may be promoted to Full Professor.
Salaries typically depend on the budget of the university itself. On average they would be 6,430 USD for Assistant Professor, 8,278 USD for Associate Professor, and 10,529 USD for Full Professor. At the same time, the average wage in the country is much lower — about 3,215 USD.
Scholarships and grants at Canadian universities
Capable students at all levels of training have a chance to receive financial aid in the form of scholarships and grants for academic, sports or subject-related achievements. Scholarship funding is always limited and very competitive. Therefore, it is important to apply as early as possible. You can view a selection of scholarships offered by the Canadian government, individual universities, and other organizations here. Provincial governments also provide scholarships, which are usually advertised on their websites[8].
Student visa to Canada
To study in Canada for six months or more, each student must obtain a Canadian study permit. The application fee is 121 USD. Generally, you should apply for it before you come to Canada.
A study permit is not a visa. A student may need a visitor visa or electronic travel authorization (eTA). Typically, a study permit is valid for the entire length of your study program, plus an extra 90 days, which can be used to decide on further actions. In case of moving to the next stage of education, you must apply to extend your stay as a student. This can be done without leaving the country.
To be eligible for a study permit, an applicant must:
Be enrolled at a designated learning institution in Canada[9];
Prove financial viability during your stay in the countrya minimum sum for Quebec is 8,841

USD

, for the rest of Canada — 8,037

USD

(not including tuition fees);
Have no criminal record and get a police certificate

if required

;
Be in good health and get a medical exam

if required

;
Submit a complete set of documents.
Those who wish to study in Quebec will need to obtain an additional document from the provincial government — a Certificat d'acceptation du Québec (CAQ — Québec Acceptance Certificate).
Please note that each province and territory decides the age of majority. A person under this age at the time of admission is considered a minor child, and therefore must either arrive in the country with a parent (legal guardian) or have a custodiana responsible adult, who is a Canadian citizen or a permanent resident, who will take care of and support the minor child In Canada. The process of applying for custodianship may delay getting a visa for another two months.
| Alberta, Manitoba, Ontario, Prince Edward Island, Quebec, Saskatchewan | 18 |
| --- | --- |
| British Columbia, New Brunswick, Newfoundland and Labrador, Northwest Territories, Nova Scotia, Nunavut, Yukon | 19 |
Work while studying in Canada
According to a study permit, an international full-time student may be able to work on- or off-campus, without a work permit, which can significantly reduce the cost of staying in the country. During regular school semesters, a student is allowed to work up to 20 hours per week, during winter and summer holidays — full time. It is also necessary to get a Social Insurance Number (SIN), which provides students with a right to work and get government benefits and services.
The minimum wage of an international student depends on the province and can be 9-12 USD.
Opportunity to stay and immigration to Canada
Upon graduation, international students have the right to temporarily work in Canada with a Post-Graduation Work Permit (PGWP). It can be valid for 3 years, provided that the training program was more than 2 years. In other cases, a PGWP is issued for up to the same length as a study program completedfrom 8 months to 2 years. The cost of a PGWP is 205 USD.
To be eligible for this opportunity, a student must have completed a PGWP-eligible program:
At a designated learning institution (DLI)[10];
That was at least 8 months long;
That led to a degree, certificate or diploma.
A student is strongly advised to apply before his study permit expires90 days after official date of completeion. The processing time is about 3.5 months. During this period, applicants can work full time if they:
Had a valid study permit at the time of submitting an application;
Completed a study program;
Was eligible to work off-campus without a work permit while studying and did not work more hours than was allowed to.
The experience gained with PGWP can help you qualify when applying for immigration through Express Entry. Both federal and provincial programs are available. To participate, you will need to submit your profile in the online system. Then you will be ranked in a pool of candidates using a points-based system. Those with the highest scores will get an invite to apply for permanent residence within 90 days.
Employment prospects
In Canada. Immediately after graduation from a Canadian institution, a person has an opportunity to get a PGWP and stay in Canada for up to three years for the purpose of finding a job. In the future, provided he has an extended contract, a candidate is eligible to receive a residence permit under one of the immigration programs.
In America. Canadian qualifications are in no way inferior to the American ones, and the higher education systems of the two countries are very similar. Therefore a graduate can easily find a job in the United States.
In other countries. A Canadian degree is recognized worldwide. It serves not only as proof of excellent English language proficiency but also as an indicator of advanced knowledge in a certain field.
Last updated:
Canada - General information
| | |
| --- | --- |
| Region | North America |
| Capital | Ottawa |
| Language | English, French |
| Currency | Canadian Dollar |
| Population | 35,158,300 |
| Students | 1,015,000 |
| Foreigner students | 11.9% |
Statistics - Universities
| | |
| --- | --- |
| Universities in top 100 | 4 |
| Universities in top 200 | 8 |
| Universities in top 500 | 21 |
| Universities in top 1000 | 27 |
| Universities in top 5000 | 78 |
| Expenses - USD/Month | Min. | Med. |
| --- | --- | --- |
| Accommodation | 294 | 376 |
| Food | 239 | 416 |
| Transportation | 54 | 144 |
| Communications and utilities | 81 | 89 |
| Clothing | 19 | 71 |
| Sports and leisure | 23 | 84 |
| Total | 711 | 1,179 |
| Accommodation in Canada | USD/Month |
| --- | --- |
| Shared room outside of centre | 297 |
| Shared room in city centre | 380 |
| 1 bedroom apartment outside of centre | 539 |
| 1 bedroom apartment in city centre | 690 |