Education for schoolchildren in Austria is compulsory from ages 6 to 15. After grade 9, students can choose a vocational or general education direction. High schools are divided into:
Pre-professional schools (Bildungsanstalt für Elementarpädagogik, Bildungsanstalt für Sozialpädagogik) — teacher training colleges that accept applicants after the 8th grade (grades 9-13). Bildungsanstalt für Elementarpädagogik focuses on educating and caring for children from ages 1 to 6 and work in nurseries, kindergartens. Bildungsanstalt für Sozialpädagogik trains child and youth counselors. After them, you can go to universities;
Part-time vocational schools (Berufsschule, grades 10-13) — additional specialized training. Sometimes serves as an addition to on-the-job training;
Secondary technical and vocational schools (Berufsbildende mittlere Schule, grades 9-12) — provide students with basic special knowledge and skills for employment in the field of engineering, trade, arts and crafts, commerce, etc.;
Colleges of higher vocational education (Berufsbildende höhere Schule, grades 9-11, grades 12-13) — allow students to work in the same fields as after secondary technical schools, but in higher positions. After them, you can also go to a university;
Gymnasiums (Allgemeinbildende höhere Schulen, grades 9-12) are aimed at preparing the student for university education.
Given the variety of secondary schools and qualifications, students make decisions about their future quite early, which often leads to the wrong choice of profession. Therefore, Austria is now developing a more acceptable secondary education system.
There are also private schools in Austria. Most of them are run by the Roman Catholic Church. Such institutions have a reputation of being more selective and strict than public schools, and some of them are considered elite.
Since 1960, education in Austria is no longer a prerogative of the elite, but a national property. Many foreign students are interested in studying in the country. There are many reasons for this: the world class universities are located here, tuition fees are low, and safety and a high standard of living promise interesting and prosperous student years. Located in the heart of Europe, Austria is renowned for its cultural and scientific achievements in various fields, from classical opera to automotive engineering. According to the survey of international students on the website StudyPortals, Austria is one of the best countries for education: it was rated 9 out of 10.
Cheap education. Public universities in Austria are free for EU citizens, and for the rest, tuition costs only 726.85

USD

per semester. At the same time, one does not have to worry about the quality of education: here it is of the highest quality. According to the international QS ranking 2021, 8 universities of the country made it into the list of the world's best universities, and 11 according to THE ranking. It is worth considering that in some universities of applied sciences and in private universities, the cost of training may be significantly higher, but it is still not comparable to the cost of studying in the United States or the UK.
Comfortable learning. Educational programs in Austrian universities are famous for both liberal arts, especially in the fields of religious studies and theology, and natural sciences, the strongest areas of which are astronomy and physics. Other countries, like Germany, France and the UK can boast this as well, but the advantage of Austria is that it is a small country with a developed infrastructure, and many universities are located in small towns, where everything is available in a few minute walk radius.
Liberal atmosphere. The pace of learning in Austria is quite relaxed. Here local students can extend their studies up to 6 years. The almost free education and the long timeframe to complete it, create an atmosphere of freedom and leisure. In general, professors do not put pressure on students and are always ready to help them. Also, students independently choose subjects, topics of term papers and theses and even appoint dates for exams.
Excellent living conditions. The state has beautiful nature and architecture, a high level of safety and social security, a prosperous economy and stability. Austria is the 2nd country after Switzerland in terms of quality of life, according to the IMD World Competitiveness Yearbook 2019[0]. At the same time, the Expat Insider rating ranks Austria the 6th for the same index. Vienna has become the best city in the world to live in multiple times. In the Quality of Living Survey 2019 by the Mercer Group, the capital of Austria has been awarded this title for the 10th time in a row[1].
Rich cultural life. The birthplace of Strauss and Mozart offers a wide range of musical and cultural entertainment for international students. Cheap tickets for opera, ballet and symphony concerts, student discounts for famous festivals such as Salzburg and Vienna, visits to Kunsthistorisches Museum, Albertina, or Palais Liechtenstein art museums diversify the student's life and enrich his personality culturally.
Expensive life. Accommodation in the center of Vienna will cost about 1,181-1,771

USD

per month, and in the suburbs — 708-945

USD

. These figures do not include utility bills and the Internet, which will add another 236

USD

in your monthly bill. To save money, you can rent an apartment for several people (Wohngemeinschaft, WG). It is very popular with students in Austria. For example, a room in an apartment will cost about 413-461

USD

per month. An additional option for accommodation can be a dormitory, which includes both double rooms and separate two-story rooms with a kitchen. You should book a place in a dormitory in advance, approximately 6 months before the start of your studies. It should be noted that it is difficult to find accommodation, especially in dormitories, as there is a large number of arriving students. As soon as tenants put up rent offers, the apartments get booked almost instantly, so those who have not succeeded in finding housing sometimes have to postpone their studies and just leave.
High percentage of expulsions. Austria has a record student dropout rate of 50%. The lowest dropout rate could be seen in Vienna Medical University: only 23% of students leave the university without a degree. However, for most universities in Europe, this figure is very high. This is largely due to the fact that in universities students are perceived as young researchers who have a good understanding of their area of ​​interest. In the case of yesterday's schoolchildren, this does not always correspond to reality. Nevertheless, the reduction of expulsions is included in the Austrian National Development Plan for Public Universities, which is in place until 2024[2].
Freedom to schedule. At first, it is unusual for some students to compose their own schedule and select their own subjects. Here you need to consider the time and coordinate the schedule yourself so that the sequence of different lectures does not overlap. It may also turn out that certain days will be packed with classes, while the rest will be free. Moreover, the classes fill up quickly, so you need to register for them as early as possible.
Language barrier. If you do not speak German, then living in Austria will not be easy. In large cities, one can still do with just English, and in small towns, residents speak only German and often with a specific Austrian dialect. Moreover, in the provinces, the attitude towards foreigners is wary and not always hospitable. And finding a job without knowledge of the German language will be almost impossible. Therefore, the applicant is advised to start learning German in advance, even if the study itself will be in English.
The unfriendliness of the locals. Despite the fact that there are a large number of foreign students in Austria (for example, in 2017-2018, 26% of all students in the country were foreigners), Austrians are not particularly friendly[3]. For some foreigners, locals can even seem rude due to their directness and honesty. Expats evaluated the criteria of friendliness and the ability to find friends in Austria as quite low: the country ranks 4th and 7th in the aforementioned ranking, and that is counting from the very bottom of the list[4]. Also, Austrians are often called xenophobes and even racists. The situation is better in cosmopolitan Vienna and other big cities. A prospective student should take this into account when choosing a country of study, but not dwell on this too much. Local residents need time to get used to aliens, and the international community in universities and cities will not let an active student get bored.
Cost and structure of education in Austria
Type of study
Age
Duration
Min. cost
Avg. cost
Language requirements
Exams
Summer camp
6+
1-5 weeks
437

USD

/week
945

USD

/week
-
-
Language courses
16+
1-52 weeks
224

USD

/week
354

USD

/week
A1
Rented locally in schools
Secondary education
10+
11-12 years
Free

state schools, language of instruction — German

35,424

USD

/year

private schools

B1
Exam/interview

in private schools to determine the level of language proficiency

University preparation
17+
1-2 years
413

USD

/semester
4,251

USD

/year
A2
ÖSD Zertifikat А2, Goethe Zertifikat А2
Bachelor's
17+
3-4 years
Free

for EU citizens

4,723

USD

/semester
C1
ÖSD Zertifikat C1, Goethe Zertifikat C1, TestDaF 4

depends on the educational institution

Master's
20+
1-2 years
Free

for EU citizens

5,904

USD

/semester
C1
ÖSD Zertifikat C1, Goethe Zertifikat C1, TestDaF 4

depends on the educational institution

MBA
20+
1-2 years
15,351

USD

/year
29,520

USD

/year
C1
TOEFL 88 / IELTS 6.5
Doctorate
20+
3-4 years
Free

for EU citizens

3,247

USD

/semester
C1
ÖSD Zertifikat C1, Goethe Zertifikat C1, TestDaF 4

depends on the educational institution
Item
Average cost

Registration fees
24

USD

/semester

Visa
177

USD

Accommodation

depending on the city and the type of housing

590

USD

Insurance
1,653

USD

/year

Food
295

USD

/month

Public transport
89

USD

/semester
All prices and requirements must be checked on the university websites.
Optionss and schemes of admission to Austrian universities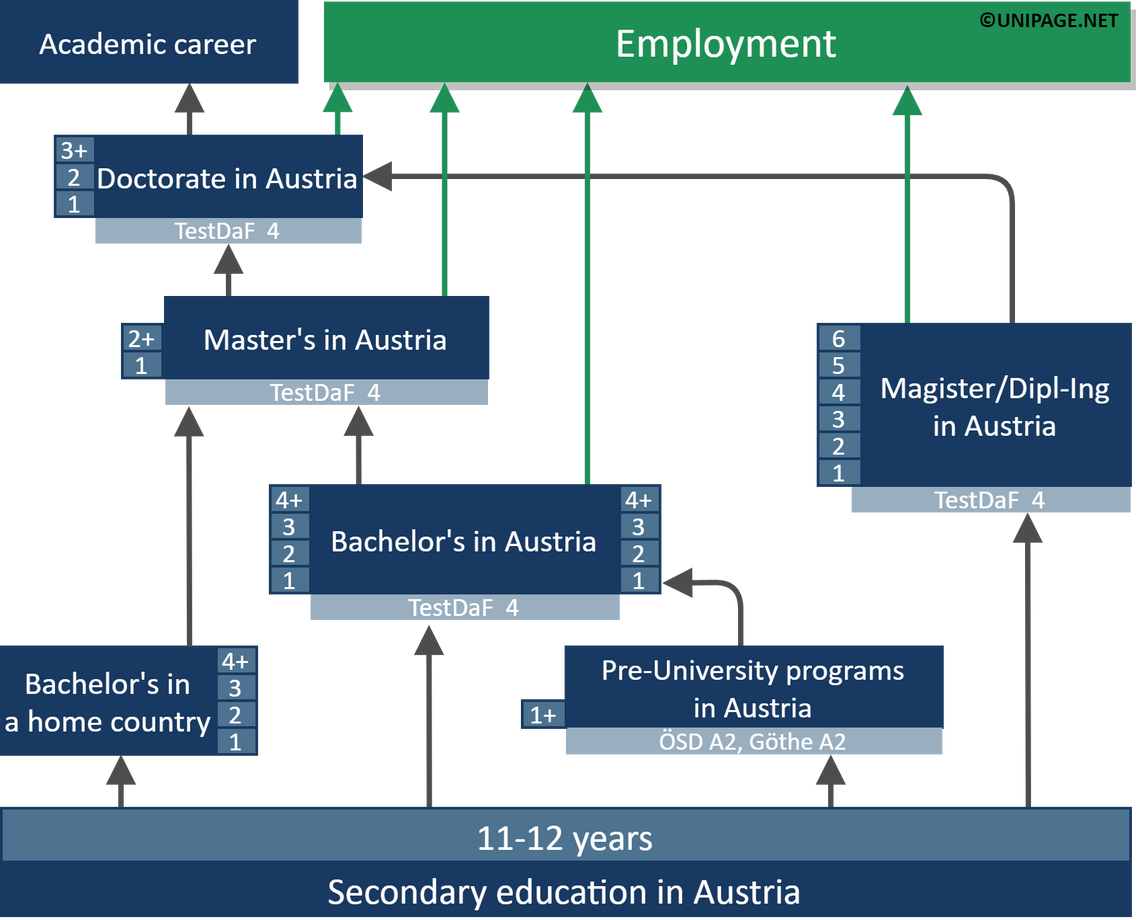 Admission requirements in Austrian universities
The main language of instruction at Austrian universities is German. For admission to most universities, the level of German language proficiency must be at least C1. The tests accepted by universities are listed on the websites of the universities. Usually these are ÖSD Zertifikat, Goethe Zertifikat, TestDaF and others. There are also English-language educational programs, but they are few compared to the German ones. They are common in master's programs and doctoral studies, especially in business, management, marketing and information technology. The minimum level of English proficiency is IELTS 6.0. Some specialties require a score of at least 6.5. In recent decades, Austrian university education has followed the Bologna Process. However, the old system with combined bachelor's and master'sDiploma program (Diplomstudium) / Magister still exists in some specialties, for instance medicine.
There are 22 public and 16 private universities in the country that provide a wide range of degree programs. There is no unified system for admitting students in Austria, so each university puts forward its own criteria. Requirements for admission are indicated directly on the websites of universities.
As a rule, for admission you will need the following:
Copy of your passport;
Secondary education certificate / Bachelor's / Master's degree;
Proof of German or English proficiency (diploma confirming prior education in German / English or a language certificates);
Studienplatznachweis certificate (confirmation that the student has the right to be educated in a similar specialty at a higher educational institution in a home country);
Research proposal or project (for doctoral studies).
In addition to the standard set of documents, some admissions offices require written exams, oral tests and interviews. Since 2019, universities have begun to actively introduce entrance examinations, for example, to universities of applied sciences and medicine, to universities of arts, to programs in law, chemistry, political science and psychology. In this case, it is imperative to clarify the deadlines for submitting applications and the dates of entrance exams. The application deadline for them may end 6 months before the start of the semester. Additional information can be found on the websites of universities and on the German-language portal Studiversum.
Legalization and recognition of a diploma in Austria
Austrian universities request legalized documents (education certificate/diploma and sometimes Studienplatznachweis) from foreign applicants. If your country is part of the Hague Convention of 5 October 1961, legalisation is supposed to be done by apostille. After apostillisation, the document must be translated into German and notarized. However, additional agreements may exist between the states, so you should check the requirements for your particular case.
In Austria, in turn, the apostille is affixed at the Ministry of Foreign Affairs, the courts of first instance and by the governments of the federal provinces.
Foundation programs in Austria
The OeAD organization implements training programs for the university. They prepare foreign applicants for additional university admission exams and for study in German. These programs can be in:
German as a foreign language;
English, mathematics, physics, chemistry, biology, history, geography.
University preparation programs are present in Vienna, Graz and Leoben.
To enroll in the program, you must be already admitted to the university and speak German at a level not lower than A2 (according to CEFR). Sometimes universities make exceptions, but for details you need to contact the administration directly. The winter semester runs from October to February, and the summer semester from March to June. All Foundation students have university student status and are issued student cards. Detailed information about the preparatory programs can be found here.
There are also preparatory courses and international Foundation programs at the universities themselves:
Vocational education — FH in Austria
Previously existing college programs were introduced to the Universities of Applied Sciences (Fachhochschulen) (UAS/FH)[5]. FH offer students a professionally oriented higher education in bachelor's programs (6 semesters) and master's programs (2-4 semesters). The studies can be full-time, part-time, or short-term for working studentsinternational students can obtain visas only for full-time programs. The curriculum consists of practical activities and compulsory vocational training. The latter can take place in Austria or abroad. Such internships usually last 15 weeks. At the end of the training, students write their theses.
FH provides over 650 degree programs in areas such as business, engineering and IT, social sciences, media, design, medicine. In total, there are more than 20 universities of applied sciences in Austria. About 80 programs are taught entirely in English.
To enter, you will need:
Additionally, admission tests are conducted, for example: an exam, interview, testing, portfolio review or group games. Application deadlines and requirements depend on the program and the university. It is worth noting that the number of applicants usually exceeds the number of study places at universities. The cost of studying at FH ranges from 1,771-2,362 USD per year.
UAS degrees are equated to research university degrees. Therefore, graduates of master's programs from universities of applied sciences can enter traditional universities for doctoral studies. FH programs can be found on the website of the Austrian Universities of Applied Sciences Portal .
Bachelor's in Austria — Undergraduate
Bachelor's programs are held by research universities and universities of applied sciences. Education is offered in a variety of disciplines, for example: arts and humanities, economics, engineering, law, medicine, veterinary medicine, natural and social sciences, education, theology.
Universities and programs put forward their own criteria for admission. Usually the requirements are as follows:
Transcript with grades from the last completed education;
Studienplatznachweis certificate (confirmation that the student has the right to be educated in a similar specialty at a higher educational institution in a home country), or if the student is already studying at a higher educational institution, a certificate from the university;
Proof of German language proficiency at A2

for Foundation

/C1 level (ÖSD, Goethe Zertifikat, telc Deutsch, DSH2, DSD II, TestDaF 4);
Passing an entrance exam (not for all programs);
CV;
Copy of the passport.
Documents not in English/German must be translated and notarized. In large universities, it takes several weeks to process applications from international students. This period often coincides with visa applications, which can lead to missed deadlines. Therefore, it is advisable for applicants to start collecting documents and submitting an application as early as possible. In some cases, the letter of admission may be conditional: the candidate will be required to pass additional exams (English, mathematics, history or geography) and improve the German language proficiency from A2 to C1. In this case, the student needs to complete the preparatory program and pass the exam upon completion.
Typically, bachelor's programs last for 4 years in engineering and 3 years in other fields. The number of ECTS credits is 180-240. Austrian universities do not have a fixed curriculum: the student himself chooses the schedule, professors and exam dates. At the end of their studies, students take final exams and defend their graduation work.
Master's in Austria — Graduate/Postgraduate
Master's programs are offered by private, public and universities of applied sciences. Before Austria joined the Bologna Process, the Master's degree was merged with the Bachelor's degree and lasted much longer. Such programs were called the Diploma program (Diplomstudium) or Magister. Now they can still be found in some universities (about 6 years of study), but most universities have switched to standard master's programs. They usually last 2 years at universities and 1-2 years at Fachhochschulenuniversities of applied sciences.
The curriculum includes compulsory and elective courses. During the first year, students learn general subjects, and in the second year, turn to elective disciplines. All master's students do research and write term papers and/or dissertations. For some one-year programs at Fachhochschulen, academic work is not required. In other cases, the thesis is worth about 20-40 ECTS credits and its defense takes place orally. Throughout their studies, students attend lectures, conduct research, and work on group and individual projects.
There is no centralized application system in Austria. Universities accept applications through websites. Usually the following documents are required:
Apostilled bachelor's diploma (for most programs it is compulsory to have a degree in a related specialty);
Studienplatznachweis certificate (not required if the bachelor's has been completed in Austria);
Language certificate German/English (C1/B2);
CV;
The documents must be translated and notarized. Terms and criteria are indicated on the websites of programs and universities.
Doctoral studies in Austria — Postgraduate
Universities in Austria implement doctoral studies in various fields of science. Some programs are general and cover a wide range of disciplines, while others are structured and focused on research of specific topics. The latter are usually offered at selected doctoral schools (Doktoratskollegs) created by universities.
Doctoral studies in Austria last from 3 to 4 years. Often, the duration of study depends on the student's qualifications: with a master's degree, doctoral studies will last 3 years, without it (with a bachelor's degree) — 4.
The first part of the study includes usual lectures and seminars aimed at gaining knowledge and developing research skills. Towards the end of the first year of study, candidates choose a thesis topic. Once it is approved, the remaining time is allocated to writing a scientific paper.
In Austrian universities, PhD candidates are often assigned two academic advisors. The delivery of the thesis takes place in the form of presentation and oral defense (Rigorosum) before the commission.
In Austria, there is an opportunity to work during your doctoral studies. This is how the student becomes an employee of the university and receives a salary. In return, he teaches, helps in labs, and does paperwork.
The admission process for doctoral studies is similar to applying for a bachelor's or master's program. The candidate is required to present the following:
Master's degree

sometimes a bachelor's is enough

in the relevant field;
Transcript with grades (from master's and bachelor's degrees);
Studienplatznachweis certificate (confirmation that the student has the right to be educated in a similar specialty at a higher educational institution in a home country);
Language certificate for German/English;
Letters of recommendation from several people;
Research project / proposal;
Interview.
All documents must be translated into English or German and notarized. Applicants are also encouraged to find a scientific advisor for future research in advance.
The career ladder of a professor in Austrian universities usually includes 4 stages:
PhD — a pre-doc assistant at the university;
Universitätsassistent — a non-tenured Assistant;
Assistenzprofessor/assoziierter Professor — an Assistant/Associate Professor;
Universitätsprofessor — a tenured Professor.
There are other non-tenured positions:
Lektor — part-time teachers, hired on a temporary or permanent basis;
Projektmitarbeiter — project assistants, hired at the time of research, usually funded by external agencies;
Leitende Dozenten — the same as the Assistant position, but with teaching duties only;
Senior Wissenschaftler/Künstler — the same as the Assistant position, but with additional duties (for example, working on a project).
To start an academic career, PhD candidates start working already while studying at the position of Universitätsassistent. Then the researcher becomes an Assistant Professor. Over the next 6 years, the scientist should be successful in research and teaching. Sometimes he is required to additionally obtain the Habilitation qualification. After that, the Assistant automatically moves to the permanent position of Associate Professor. It is not easy to become a full-time professor in the future, since there are often no vacancies in universities. Moreover, the professor must have an excellent track record of research and teaching success.
Professors are selected and hired by a special committee organized by the University Senate. Contracts can be temporary or permanent, full-time and part-time.
The size of a professor's salary depends on the position and length of service. Thus, an assistant professor who has worked for up to 6 years receives an average of 3,542 USD per month, and those who have been working for more than 10 years — 5,904-7,085 USD. For the position of a professor, the salary ranges from 4,723 USD to 7,675 USD[6].
Foreign candidates for a professorship in Austria are not required to be fluent in German at the time of application. However, universities generally expect an applicant to learn German at an academic level within a short time. Therefore, the scientist is advised to start learning the language in advance. It should be noted that often the internal staff of the university has priority in the selection of applicants.
Scholarships and grants in Austria
In Austria, scholarships and research funding for foreigners does exist, however, there are few of them and they are mainly offered for master's and doctoral students. The types of grants also depend on the country of origin of the applicant. It is worth noting that in Austria, the cost education is rarely fully covered. Grants cover expenses only in part or in a single payment.
Types of scholarships:
From Institutions. They can be foundations as well as large companies and NGOs

Non Government Organisation

. Current opportunities are listed in the Austria Scholarship and Research Grant database. A separate list of programs can be found on the OeAD page.
University. Some higher education institutions provide grants and scholarships to international students. The options can be found in the same search engine or directly on the university website. Usually the financial aid department at universities deals with grants and provides details.
Student visa in Austria
Nationals of EU/EEA countries or Switzerland do not need a visa to come to Austria. However, if the planned period of study exceeds 90 days, one should register with the municipal authority (Magistrat, Bezirkshauptmannschaft) and get a residence permit within 4 months upon arrival.
When it comes to students from other countries, in order to legally enter the country for education for a period exceeding 6 months, one must apply for a D study visa at the Austrian embassy. The list of documents required for obtaining a visa depends on the citizenship of the applicant and the country of submission. Standard requirements:
Completed and signed visa application form;
Passport and its copy;
Photo 3.5 x 4.5 cm;
Booked or purchased air ticket;
Medical insurance;
Letter of admission from an Austrian university;
Proof of funds (for ages up to 24: 533.100

USD

per month, over 24: 966.77

USD

per month);
Confirmation of the future place of residence in Austria (rental agreement, booking in a hotel or a hostel);
Police certificate with an apostille.
The documents must be translated into German/English.
The cost of the visa depends on the country of application. Consideration of documents is done in a maximum of 3 months. The earliest deadline for submission is six months before the trip. Visa documents are submitted personally by the applicant and directly to the Austrian embassy.
A student visa is a single entry visa. After arriving in the country, the student must register at the Magistrat office at the place of residence within 3 working days from the date of arrival. He must also apply for a residence permit (only from October 1, if it is the fall semester). The residence authority considers an application for a residence permit within 90 days (usually done in a week, then a work permit is given). The total cost of filing documents and obtaining a residence permit is 189 USD. After obtaining a residence permit, a student visa becomes a multiple entry one. The necessary documents and additional information on obtaining a residence permit are indicated on the website of the Austrian Agency for International Cooperation in Education and Research.
Opportunity to work while studying
Nationals of EU member countries, Switzerland, Norway, Iceland, and Liechtenstein are eligible to work in Austria without any limitations or additional requirements.
At the same time, according to Austrian law, international students from the rest of the world have the right to work no more than 20 hours a week. The salary will be around 413 USD per month. Knowledge of the language for work is advised, especially in small towns. Positions that a student can have are usually the simplest ones: waiter, courier, etc. It should be kept in mind that before starting work, the boss must issue a work permit (Beschäftigungsbewilling), and its issuance is limited by a quota set by the Austrian government. This can be an obstacle to successful employment in the country. If the student intends to undertake a paid internship, a work permit will not be required.
Also, students have the opportunity to work without permission (Werkvertrag). These can be one-time results-oriented services (for example, addressing 1000 envelopes). When performing this work, the student should not be bound by a fixed time and place of work. However, here you need to be careful and understand exactly the difference between contract work and the services provided by self-employed (Werkvertrag). The legal consequences of illegal labor can cause deportation from the country. Therefore, before starting work, the student is advised to contact the Labor Chamber (Arbeiterkammer, AK) or the State Employment Service (Arbeitsmarktservice, AMS) and consult about the legality of the work.
Opportunity to stay and immigration to Austria
Graduates from the EU/EEA member states and Switzerland enjoy the opportunity to stay and work in Austria with no further requirements.
As for citizens of other countries, after graduation from an Austrian university, they have the right to stay in the country for 12 months to look for a job or start a business. To extend the residence permit, you must provide:
Proof of funds. For a person who is unmarried, the monthly income must be 966.77

USD

;
Medical insurance, covering all risks;
Proof of residence in the country (such as a rental contract).
If during this year a young specialist has found a position corresponding to his qualification level, he can receive a work permit (Red-White-Red Card). Requirements for obtaining this permit are:
The minimum salary must be at least 2416.59

USD

per month (for 2020);
The same requirements as stated above.
The cost of applying for a Red-White-Red Card is 142 USD. The initial validity period of the card is 1 year, subsequently it can be renewed for 3 years.
The required documents and details are listed on the Federal Government for Immigration to Austria website.
Job prospects and opportunities
It will not be easy to find a job in Austria after graduation. Firstly, knowledge of the German language is mandatory, and secondly, it is worth remembering that Austria is a rather conservative country, where 'who you know' plays a role in job search, so it would not hurt a foreigner to start networking as early as possible. However, the country's economy is stable and prosperous: in 2019, the unemployment rate in Austria was only 4.67%[7]. The state itself is ranked 13th in the list of the richest countries according to the IMF in 2019[8].
In Austria, almost all sectors of the economy are developed, in particular the service sector (tourism, finance, legal advice), industrial production (electrochemistry, engineering, mechanical engineering, machine tools, equipment manufacturing) and agriculture[9]. Also, job prospects depend on the specialty of the graduate. Highly paid specialists in management, financial services, marketing, consulting, accounting, sales and business[10].
When looking for work in other European countries, it is necessary to take into account the peculiarities of a particular state. For example, knowledge of the German language will come in handy when applying for a job in Germany. In general, an Austrian diploma, like almost any European one, is highly regarded in many countries of the world.
Photographs of Austrian universities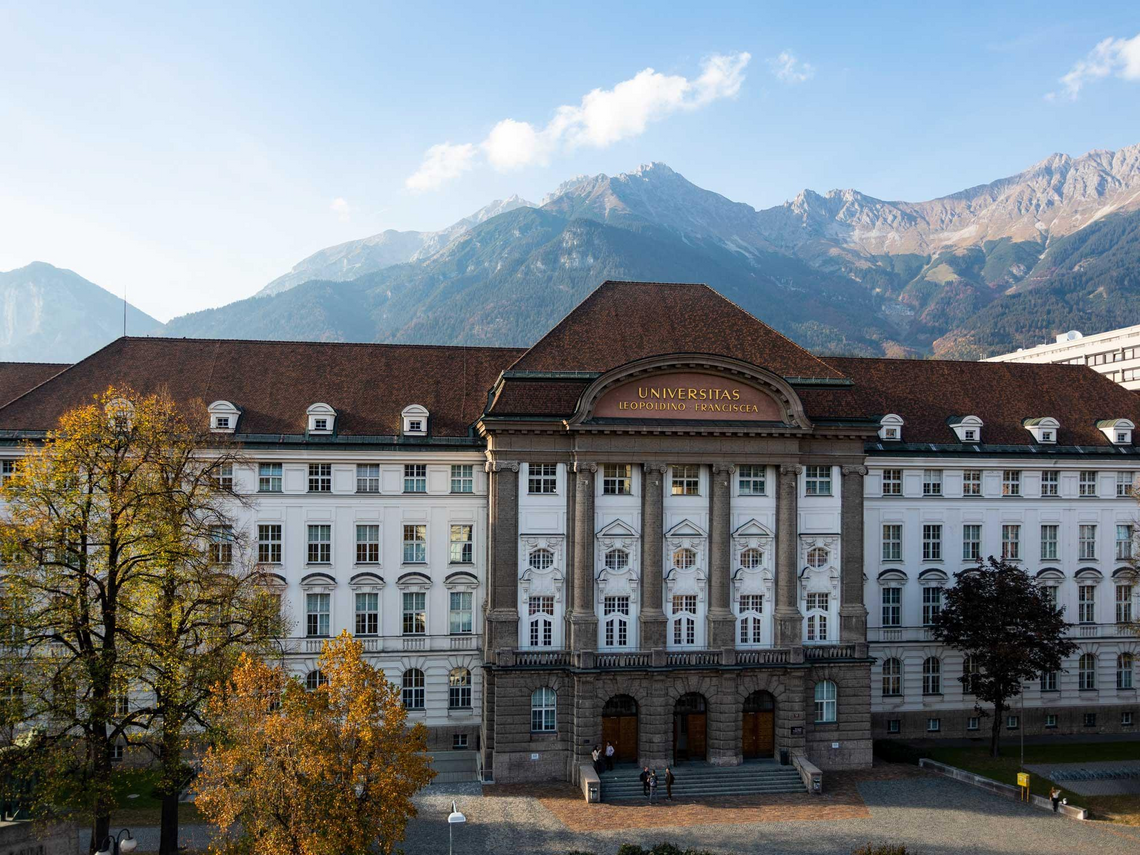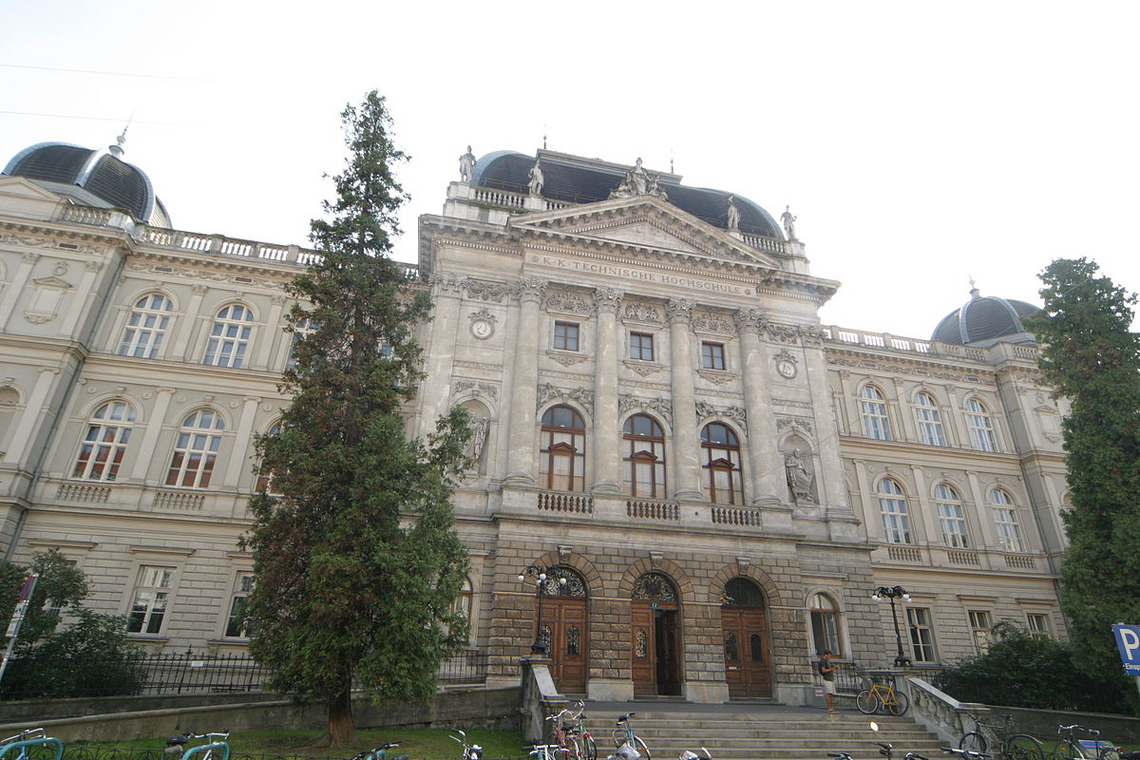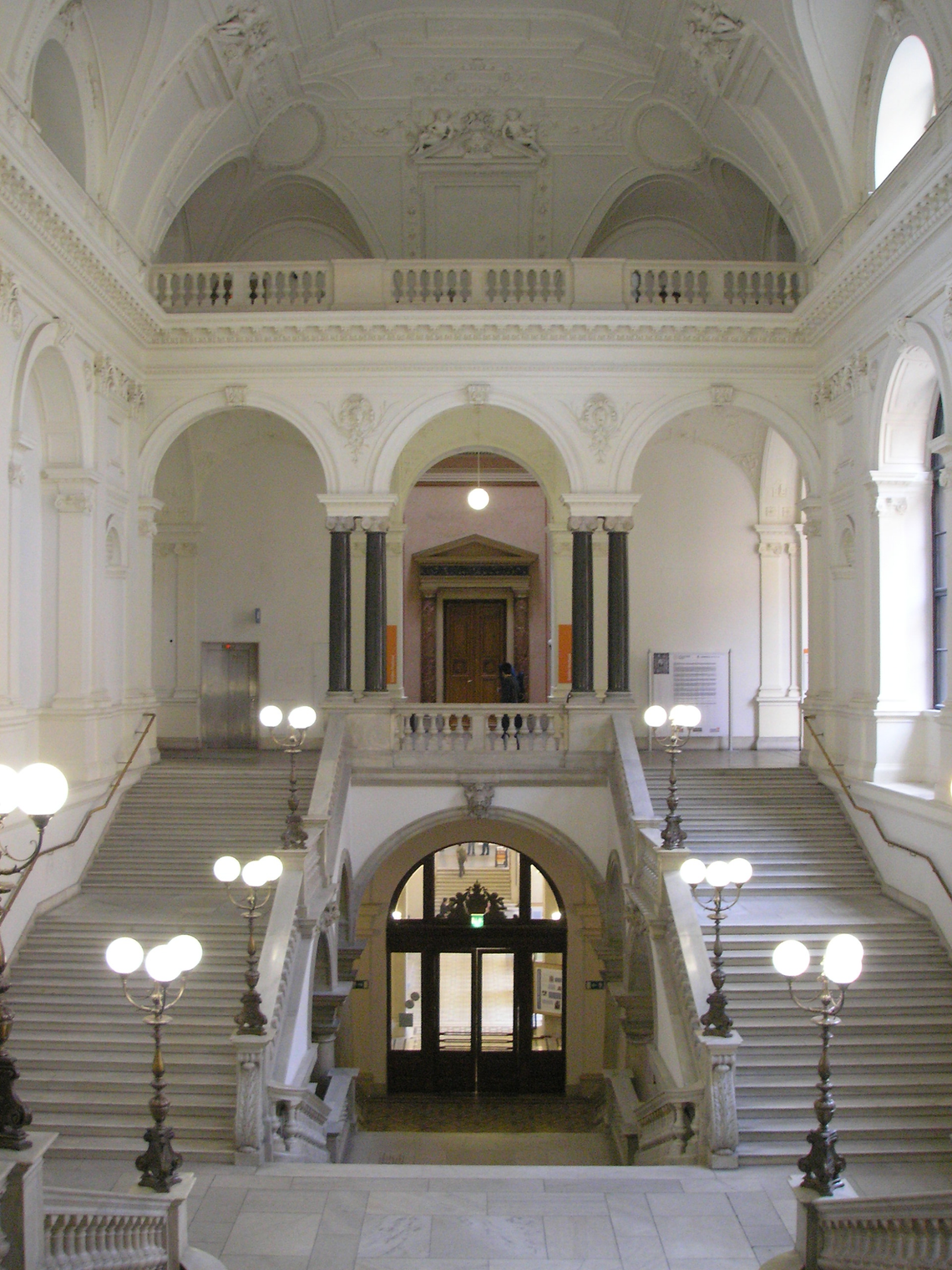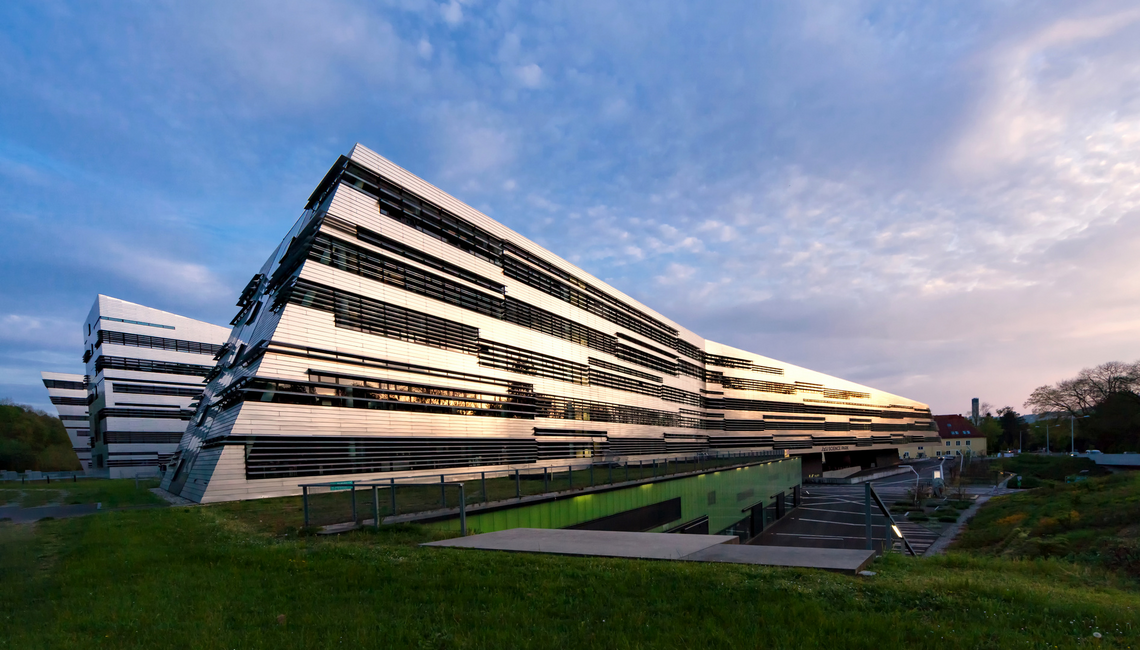 Last updated:
Austria - General information
| | |
| --- | --- |
| Region | Western Europe |
| Capital | Vienna |
| Language | German, Croatian |
| Currency | Euro |
| Population | 8,501,502 |
| Students | 284,000 |
| Foreigner students | 20.4% |
Statistics - Universities
| | |
| --- | --- |
| Universities in top 200 | 1 |
| Universities in top 500 | 4 |
| Universities in top 1000 | 10 |
| Universities in top 5000 | 28 |
Cost of living in Austria
| Expenses - USD/Month | Min. | Med. |
| --- | --- | --- |
| Accommodation | 287 | 380 |
| Food | 241 | 436 |
| Transportation | 40 | 151 |
| Communications and utilities | 73 | 108 |
| Clothing | 28 | 104 |
| Sports and leisure | 25 | 98 |
| Total | 693 | 1,278 |
| Accommodation in Austria | USD/Month |
| --- | --- |
| Shared room outside of centre | 290 |
| Shared room in city centre | 384 |
| 1 bedroom apartment outside of centre | 438 |
| 1 bedroom apartment in city centre | 570 |