Secondary education in Spain is compulsory for all children between ages 6 and 15. Schooling can be divided into two stages: Primaria — primary school (6-11 years old) and Educación Secundaria Obligatoria — high school (12-15 years old). Two years of high school, or Bachillerato, are not required for students: this is preparation for the university. In public schools, instruction is in Spanish or one of the dialects. Children learn the first foreign language from the age of 8, the second from 13 (optional). Foreign students usually prefer private boarding schools. They are often taught in English. Also, many private institutions collaborate with American and British universities. This allows students to choose which final exam to prepare for: Spanish Selectividad, British A-Level, or American SAT. Compared to other European countries, secondary education in a private school will not cost too much: primary — from 3000 to 8,311 USD/year, secondary and senior — from 8000 to 23,745 USD/year.
Education in Spain is rapidly gaining ground in Europe and the world. Studying here attracts more and more foreigners every year: in some educational institutions, the proportion of students from abroad reaches 20%. More than 25 universities in Spain are included in the QS world ranking of the best universities, which indicates the high quality of the educational standards. The Spanish degree is recognized worldwide and the relatively low cost of tuition and accommodation makes education here more accessible for students than in other European countries.
International diploma. Diplomas of Spanish universities are recognized around the world. The legalization procedure for the countries participating in the Hague Convention is clear and simple. You can learn more about the legalization of diplomas here.
Learning languages. The Spanish language is the 3rd most spoken language in the world[0]. It is also one of the six official languages ​​of the UN, which speaks of its important place in international communication. Fluency in Spanish can be a great advantage when looking for a job. Many universities in the country also have English-language programs and courses, after which graduates will have a high level of proficiency in at least two foreign languages.
Attitude to formalities. The priority is the comfort and personal development of the student, and not his academic success. This rule is followed by most educational institutions in Spain, starting at primary school. Formalities like deadlines, criteria, and ratings do not play a key role. During classes, students are not shy to express their opinions, and teachers are always open to friendly communication.
Prices. Spain compares favorably with many countries due to its low prices for rental housing, food, and transportation. Students often rent an apartment together, so you will pay approximately 297

USD

per room. The bill in the restaurant will be 12-36

USD

. Students are entitled to discounts at museums, cafes, and shops, as well as reduced fares.
Climate and nature. The weather in Spain is very comfortable almost all year round, the temperature even in winter rarely drops below +15 °C. Students take advantage of this and often prefer parks to stuffy libraries. The landscape of the country is very diverse: in your free time, you can relax on the beach or go hiking.
Lack of prestige. In general, the quality of Spanish education is constantly growing. But right now studying in Spain is more popular among foreign students in the form of an exchange semester or as a way of immigration. It is rarely seen as an investment in a prestigious education. Exceptions are most often universities with English-language programs or ones that offer double degrees.
The autonomy of education. In 1978, autonomous communities appeared in Spain. These changes led to the decentralization of the Spanish higher education system. Each region has its own rules and specifics of training. The educational institutions that are under the control of such autonomous communities give far fewer prospects for their students at the state level.
Slow globalization. Spain does not invest much in the promotion of its education abroad, which is why it attracts far fewer foreign students than it could. Also, the country has a long process of obtaining work permits for foreigners (about 5 weeks). Because of this, it is difficult for students to find work, and in universities, there are not many foreign teachers.
Brain drain. Many Spanish students see few prospects in their homeland. This is primarily due to the low standard of living and wages, even compared to neighboring France. The massive emigration of young talents makes Spain not the most attractive option for foreign students.
The cost and structure of education in Spain
Type of training
Age
Duration
Min.cost
Avg. cost
Min. language proficiency
Summer camp
5-18
1-8 weeks
404

USD

/week
831

USD

/week
Beginner
Language courses
4+
1-15 weeks
214

USD

/week
439

USD

/week
Beginner
Secondary education
12+
1-4 years
3,562

USD

/year
14,247

USD

/year
Intermediate
Foundation
17+
1-2 years
4,749

USD

/year
11,873

USD

/year
DELE B1 / IELTS 6.0 / TOEFL 80
Bachelor's
18+
4 years

medical and architecture programs can last for more than 5 years

546

USD

/year

public university

14,247

USD

/year

private university

DELE B1 / IELTS 6.0 / TOEFL 80
Master's
20+
1-2 years
855

USD

/year
2,529

USD

/year
DELE B2-C1 / IELTS 6.0 / TOEFL 80
MBA
20+
1-2 years
21,371

USD

/year
45,116

USD

/year
DELE B2-С1 / IELTS 6.5, GMAT 600
Doctoral studies
20+
3 years
712

USD

/year
2,375

USD

/year
DELE B2-С1 / IELTS 6.5
Expense
Average cost

Language exam
285

USD

Student visa
42

USD

Registration fee
119

USD

Flight
178

USD

Accommodation
297

USD

/month

Transport
47

USD

/month

Meals
142

USD

/month

Insurance
47

USD

/month
Education in English in Spain
The number of educational programs conducted in English in Spain is constantly growing. Some of the bachelor's specialties are being taught only in English: marketing, tourism, economics, communications, journalism. Examples of the universities conducting studies in English are Global Business School in Barcelona and Marbella University in Malaga.
Among the master's programs, there are way more English than Spanish ones. The country is trying to focus on the global market and attract foreign students. This is especially true for private business schools and MBA programs.
Also in Spanish universities there are quite many bilingual programs, where some of the courses are taught in Spanish, and some in English. The minimum knowledge of English for most universities is IELTS 6.0 or TOEFL 80.
The options for admission to universities in Spain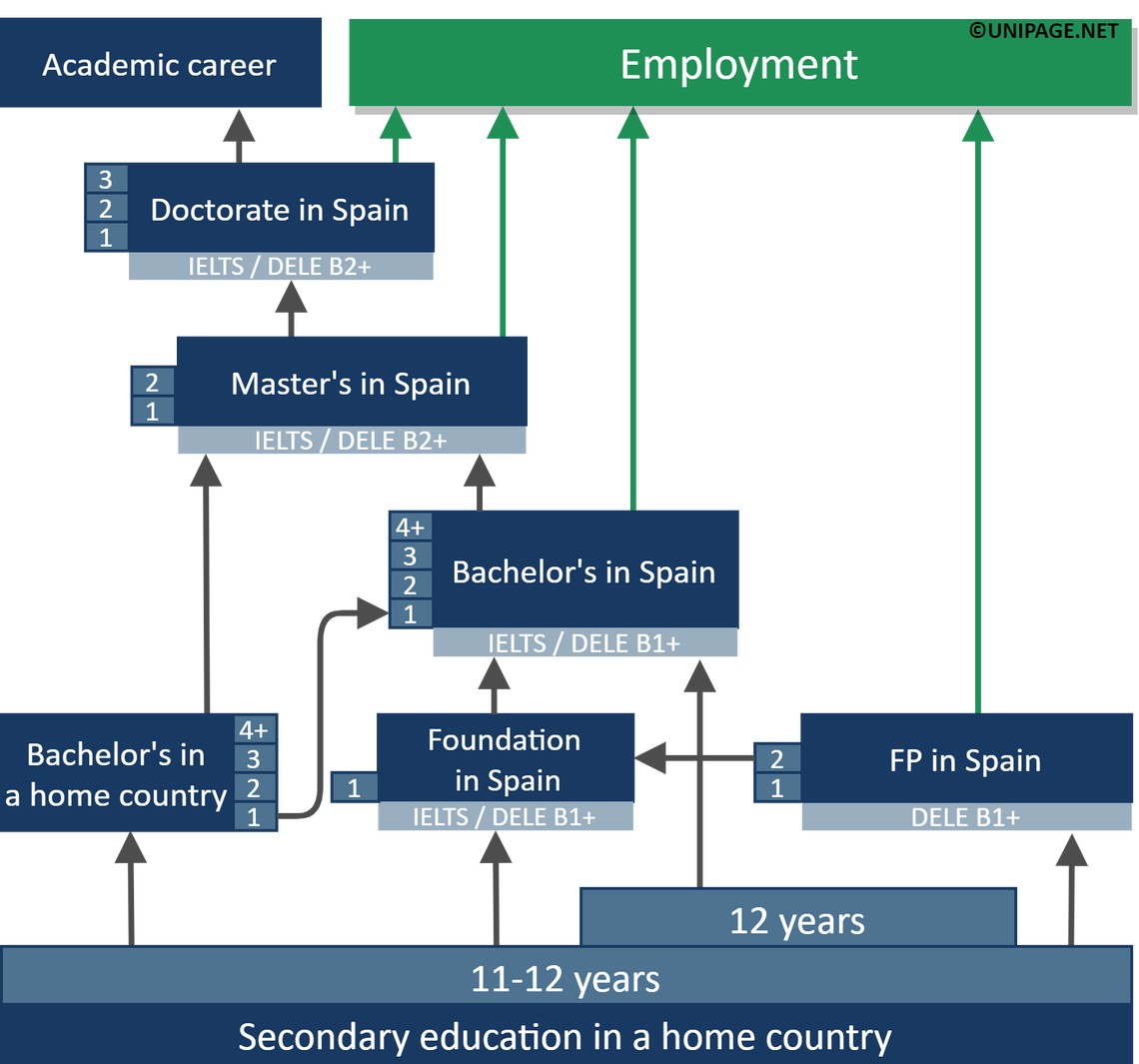 Legalization and homologation of a diploma in Spain
Upon admission and employment in Spain, you may need to confirm foreign documents by means of of one of the procedures:
Homologation (homologación)[1] — recognition of a foreign diploma in one of the regulated professions requiring registration in specialized colleges (medical workers, lawyers, teachers, architects, engineers — Full list). Requires proficiency in the Spanish language of at least B2;
The recognition of equivalence (equivalencia)[2] is a somewhat simplified homologation procedure for other unregulated professions. No language confirmation is required;
Convalidation (convalidación)[3] — transferring part of the studied disciplines from a diploma, followed by studying missing courses at a Spanish university and accelerating reception of a Spanish diploma with similar qualifications. It is used in case the document is not subject to homologation.
If confirmation is required to continue training[4], the application for homologation (regardless of profession) and convalidation is carried out through the consular services of Spain in the home country, as well as directly by the Ministry of Education and Training in Madrid or its regional branches within municipalities and local authorities.
In the event that confirmation is required for employment, you can submit documents to the authorized regional authorities (Registro Público), including some Spanish municipalities.
Documents received in other countries must be legalized using either an apostille or consular legalization depending on the country of issue.
For all procedures the same package of documents is required:
An application (online form is prepared or a ready form is downloaded on the website of the Ministry of Education: homologation of a diploma or certificate, equivalence, validation);
A copy of the identification document with citizenship information;
Copy of legalized document of education (certificate / diploma);
A copy of the legalized academic transcript (appendix to the certificate / diploma) indicating the duration of study, the studied disciplines and the corresponding number of hours or credits (ECTS);
Receipt of payment of the administrative fee (163.26

USD

)[5].
Important: All copies must be certified and accompanied by copies of official translations into Spanish.
Additionally, when applying for homologation of a degree which is on the list of regulated professions, you must confirm your knowledge of the Spanish language with a certificate (minimum B2), in some cases — work experience (usually for doctors).
Preparatory programs in Spain
Applicants that are 17 years and older can undergo a Pre-Bachelor Foundation Program in many major universities in Spain. This helps to equalize the level of knowledge of foreign students who completed less than 12 years of school to local standards since Spanish students have to study for 12 years. Students can take a preparatory course in specialized subjects or tighten up the Spanish. ECTS (up to 60) received during training will be taken into account upon admission to the university. Classes are held in both English and Spanish, depending on the chosen study program.
Requirements for admission are minimal:
Confirmation of the level of English (IELTS) and / or Spanish (DELE) language;
High school diploma, which allows you to enter a university in your native country.
Vocational (special) education, or La Formación Profesional, is an analog of a college or trade school. This path in Spain can be chosen instead of the senior classes, which are aimed at preparing for university entrance. After graduating from a Spanish technical school, it is impossible to immediately enter the university. To do this, you will have to go through a high school program or university preparatory courses. Therefore, among foreigners, this type of education is not very popular.
Professional education lasts from 18 months to 2 years and includes an obligatory stage of employment at the enterprise (Centro de Trabajo) lasting 300 hours. Upon completion of training, students receive a diploma of secondary education and can begin to work. It is also possible to continue education to specialized levels and receive the title of Ténnico (technician).
Bachelor's studies in Spain
Obtaining a Bachelor's degree typically takes 4 years. This corresponds to 240 ECTS. The exception is medicine and architecture programs that last for 5 years or longer. Each year, the student is required to gain 60 ECTS. Students annually write term papers, and in the last year, they graduate with a thesis, which is estimated at 30 ECTS. The dissertation is defended publicly before the commission. Additional credits can be obtained for electives and participation in university events. There are a lot of elective courses, but still they are less in numbers compared to compulsory subjects.
If you are a citizen of one of the EU member states, you can enrol in a Spanish university under the same conditions as Spanish students who have passed their entrance exams/ The only condition is having grades that also grant you entrance to a university in your home country.
Documents for admission
Certificate of secondary education. This must be equivalent to secondary education in Spain (applicable to the citizens of the EU members and some other countries). If you have less than 12 years of school completed, you must submit a document that will comply with the general standard. This may be finishing the first two years at a university, IB diploma, A-Level, preparatory courses at a Spanish university or an entrance exam PAU;
Motivational letter. Not always necessary, but it should be prepared in any case. A statement of purpose can also be useful when obtaining a visa. This is a short essay about the applicant's achievements and the reasons behind choosing this particular university and faculty. It is recommended to prepare a separate letter for each university;
Certificate of Proficiency in Spanish and/or English. Certificate in English (IELTS or TOEFL) will be required when applying for international programs. Proof of Spanish (DELE) is useful for Hispanic and bilingual programs, as well as for internships and when applying for jobs;
Confirmation of sports achievements. Some universities have their own sports teams and pay particular attention to applicants who hold sports titles;
Results of Selectividad (PAU). Officially, since 2014, foreigners do not need to take this exam for admission. You will need it if you are a citizen of Spain. There are 4 blocks in the exam: Spanish, history and philosophy of Spain, a foreign language and a specialized discipline of choice. Some universities still offer to pass PAU to foreigners if they so desire. In this case, a certificate of Spanish proficiency is not needed, but the preparation will take at least 2 years;
The set of documents for applying may vary depending on the university and the year of enrollment. In addition, some formalities differ at Catalonia universities and the rest of Spain. Check the current requirements on the university sites in the sections Admission and International students.
Master's programs in Spain
Master's programs in Spain usually last 1-2 years and equal 180 ECTS. At the end of the second year of study, students publicly defend a master's thesis, which is rated at 30 ECTS. There are three types of master's degree programs:
Professional Master's is focused on obtaining competencies in a particular specialty, and includes the study of large amounts of theory;
Academic and research programs involve frequent work in the laboratory and the opportunity to continue an academic career in doctoral studies.
Documents for admission
Bachelor's/Master's degree of the specialty, related to future studies. Officially, this is necessary for state universities, but in practice, exceptions are possible for related profiles;
Motivational letter. Unlike entering a bachelor's degree, it requires not only justification to accept you to university, but also present specific study and research plans;
Certificate of Proficiency in Spanish and/or English. For fully English-language programs — IELTS 6.0 or TOEFL 80. For Spanish — DELE B2 or C1. Admission to bilingual programs requires two certificates;
Recommendations from undergraduate teachers (1-2 pcs.);
Registration fee ~ 119

USD

.
For degrees awarded outside of Spain and the EU the following documents should be also present:
Passport + copy;
International passport + copy;
Copies of the diploma and a list of completed disciplines with translation into Spanish.
Doctorate in Spain
A PhD will take 3 years to acquire. Doctoral studies are divided into two stages: the first stage is theoretical, that is, attending lectures and seminars for which the student receives 60 ECTS, the second is research and involves the writing of a doctoral dissertation. In the end, the student must defend his study in front of the commission. There is no official time limit for writing a doctoral dissertation; on average, it takes students 3-4 years to do this. Doctoral programs are usually taught in special colleges (doctoral colleges). They may be part of universities or individual research institutes.
To write a doctoral dissertation, you must first find a suitable program and a potential academic supervisor on the website of the university of interest. After that, universities offer to fill out an online application on their website, where the future doctoral student reports on his scientific interests and academic success. The main formal condition is the presence of at least 300 ECTS for the previous stages of student education, 60 of which could be transferred from the master's program.
Doctoral students can work on research grants. In Spain there are quite a lot of them. They are provided by both the government and independent funds. There are several stages in an academic career:
For the initial position of a researcher (Profesor Ayudante Doctor), a candidate must complete a doctorate and receive a certificate from a national agency ANECA;
The position of the lecturer (Contratado Doctor) is available with a special document from ANECA, which gives the right to teach. It is easy to get it if your research experience is more than 3 years;
Further advancement to associate professor (Profesor Titular) and professor (Catedrático) is based on research, experience, and teaching and supervision of students.
The salary of an academic staff member is fixed and determined by the Spanish government. The researcher receives 2,339 USD per month, lecturer — 2,968 USD, associate professor and professor — from 3,206 USD to 4,274 USD[6].
Scholarships and grants
All higher education in Spain is paid. However, talented applicants can often rely on support from the state and private foundations. State scholarships cover all expenses for tuition and accommodation, but they are more often received by students from those countries with which Spain seeks to improve international relations. Therefore, it is worth looking at private scholarships.
There is a number of the most popular universities and business schools that offer scholarships to foreigners. They cover from 15% to 100% of the cost of training. For bachelor's programs, it is an average of 75%, for master's programs — 50%. Doctoral students rarely have the opportunity to receive a scholarship, but the cost of these programs in Spain is relatively low.
The application is submitted before the start of the school year. Each university sets its own deadline. The Commission evaluates the academic success of the applicant and his extracurricular activity in areas related to future studies. A low income of the applicant's family could also serve as a basis for receiving a scholarship.
As a result, the situation is ambiguous: studying at a state university is inexpensive, but getting a scholarship is very difficult. Private universities have many more scholarships for foreigners, but tuition there is many times more expensive.
Student visa for Spain
If you are an EU citizen, you do not need any visas. However, if you intend to reside in Spain for more than three months, you are required to register at the Central Registry Office for Foreigners right after your arrival to Spain. For that you may need a passport/national ID and a letter of acceptance from your university. You will be given a certificate of registration and an identity number for foreigners (NIE — Número de Identificación de Extranjeros).
Students from other countries must obtain a Type D visa at the Spanish Consulate or Visa Application Center. Depending on the length of study, you can apply for a visa for up to 180 days (apply Visado D Estudios hasta 180 días) or longer than 180 days (Visado D Estudios, Investigación). If you do not enter Spain within 90 days from the date of issue of the visa, it becomes invalid.
The application is submitted personally by the applicant or a proxy. At any stage of applying for a visa, the consul may call the applicant for a personal interview, if he considers it necessary. The consular fee is charged separately — 59 USD and the legalization of document translations — 30 USD per sheeteach consulate can establish its own price depending on the city.
Application for a national visa, filled out in Spanish, in duplicate (the template can be found on the consulate website);
Two recent photographs 3.5 x 4.5 cm, colored, full-face, with bare head, on a white background;
International Passport valid for the entire period of the proposed study, and photocopies of all its pages;
Passport and photocopies of all its pages;
Documents confirming accommodation in Spain;
Public or private health insurance certificate from a company accredited in Spain;
Documents confirming admission to a Spanish university or other educational institution;
Confirmation of the availability of funds for accommodation at the rate of 639

USD

/month;
Police certificate and translation into Spanish with an apostille (for adults only);
Medical certificate (form of 082/y).
For minors:
Birth certificate with translation into Spanish;
Written permission of parents or guardians to move a child to Spain with a translation into Spanish and notarized.
If your stay in Spain is more than 180 days, you must apply for a foreign resident card known as TIE (Tarjeta de Identidad de Extranjero). This must be done within 30 days from the moment your arrival in Spain through the website of the country's Foreign Ministry. Registration takes about 30 days. Detailed instructions on obtaining TIE can be found here. This document gives the right to study and work during the year. Then it can be extended as long as you use the education services of Spain.
The opportunity to work while studying in Spain
EU students can work while studying in Spain without serious limitations. However, you still have to check with the local authorities whether you need to provide any documents. Sometimes even EU students are required to sign a contract and apply for a work permit valid for the duration of the contract.
Those staying in the country on a student visa can work for 20 hours per week. These hours should not overlap with studies. Full-time work (40 hours a week) is possible only during summer and holidays. For official employment, you must first receive an invitation from the employer, and then a work permit: form AUT05a. You can apply to the migration office (Oficina de Extranjeria) of each city. Documents are reviewed within 5 weeks.
Finding a job for a student in Spain is quite difficult. Employers prefer full-time employees. Also, few want to spend so much time on the official registration of a foreigner in the state. Most students choose freelance, which allows them to work at a convenient time from home.
Opportunity to stay and immigration to Spain
Foreign students in Spain have a special NIE number (Numero de Identificacion de Extranjero). It is necessary for all formal procedures within the country. But it expires 30 days after graduation along with a TIE student ID. To be eligible to stay in the country and find work, the most convenient way is to apply for a job search visa (estancia por estudios superiores que cesa, para búsqueda de empleo). This can be done 60 days before and 90 days after the expiration of the TIE. Such a visa gives the right to stay in Spain for another 12 months. If during this time the graduate gets a job, later he will receive a resident card with the right to work, which he will be able to renew in the future. After 5 years of living in Spain, a resident has the right to apply for permanent residence and citizenship.
Expired type D visa;
Diploma of a Spanish university (bachelor's, master's or doctoral studies);
Medical insurance;
Confirmation of the availability of funds for accommodation at the rate of 639

USD

/month;
International passport;
Filled out form EX01;
Check on payment of the government fee (13

USD

);
Electronic signature.
Employment prospects
In Spain. The country's unemployment rate remains high (14% in 2019)[7]. Spain is one of the three leaders in the number of unemployed among developed countries, where the average figure is 5%. For graduates, the situation in Spain is especially difficult: 30% of young specialists are left without work[8]. It will be extremely difficult for a foreigner to find work if he does not have unique or strategically important skills.
In Europe. Graduates of Spanish universities with knowledge of English easily get a job in the European Union. In the QS ranking for graduate employment, 7 Spanish universities entered the top 200 worldwide.
Academic career. In Spain, it is difficult for a foreigner to get a position at a university. Employing a non-EU foreigner requires a lot of paperwork, and low salaries attract few candidates. In prestigious Spanish universities like Pompeu Fabra there are many lecturers from abroad (10-15%), but in general their percentage in the country rarely exceeds 3-5%[9].
Last updated:
Spain - General information
| | |
| --- | --- |
| Region | Southern Europe |
| Capital | Madrid |
| Language | Spanish, Basque |
| Currency | Euro |
| Population | 46,704,314 |
| Students | 1,800,000 |
| Foreigner students | 3.1% |
Statistics - Universities
| | |
| --- | --- |
| Universities in top 200 | 3 |
| Universities in top 500 | 12 |
| Universities in top 1000 | 25 |
| Universities in top 5000 | 81 |
| Expenses - USD/Month | Min. | Med. |
| --- | --- | --- |
| Accommodation | 186 | 256 |
| Food | 152 | 310 |
| Transportation | 40 | 124 |
| Communications and utilities | 77 | 94 |
| Clothing | 23 | 86 |
| Sports and leisure | 23 | 82 |
| Total | 502 | 953 |
| Accommodation in Spain | USD/Month |
| --- | --- |
| Shared room outside of centre | 188 |
| Shared room in city centre | 259 |
| 1 bedroom apartment outside of centre | 355 |
| 1 bedroom apartment in city centre | 474 |