Education in Turkey seems a rather non-standard choice for a foreign applicant because most foreigners come here for a vacation, but since the beginning of the 2000s, the number of international students in the country has doubled. In 2019, their number reached 154505 people, and the state plans to increase this number by 2023[1]. This is due to low tuition and living costs, European quality standards, and generous grants. Moreover, thanks to government funding of education, it is becoming better and more affordable by the year. Warm climate, a unique interweaving of Eastern and Western cultures, and friendly local people increase the attractiveness of Turkish education in the eyes of students.
Advantages of education in Turkey

The cost of education and life. State universities in Turkey have low tuition costs, and living in Turkey is considerably cheaper than in the majority of developed countries. The cost of bachelor's programs can be as low as 450

USD

per year, and a month of living in Istanbul will cost about 500

USD

[2]. In addition, the country has warm weather almost all year round, so there is little need to spend money on winter clothing.
Conditions for foreigners. The Turkish government seeks to increase the number of international students in its universities to 200000 by 2023[3]. The authorities are actively financing the education sector and one of the results is the state scholarship Turkiye Burslari. It fully covers tuition and accommodations, and also provides a monthly scholarship. The state recently abolished the 50% limitation for international students[4]. Now there are no restrictions, this will help Turkey to become a center of international education in the East. Not only the government is waiting for foreigners, but the locals are also known for their hospitality and friendliness towards visitors.
Exchange programs. Turkish universities actively participate in the European exchange program Erasmus+ and also have some of their own, for example, Mevlana or Farabi. A student from any country can spend an exchange semester outside of Turkey.
Rich culture and history. Turkish culture is a colorful mosaic that combines modern and ancient worlds of eastern and western traditions. Istanbul, once Constantinople, is at the crossroads of two continents: Asia and Europe. This mix of cultures is felt in the atmosphere of the city and throughout Turkey. Historical monuments, majestic mosques, and attractions will keep you busy.

Resort country. The unique culture, climate, and nature of Turkey make it a popular tourist destination. The country is surrounded by the Aegean, Black, and Mediterranean Seas. In winter, the air temperature usually never drops below 4 degrees. Each region of the country offers its own unusual attractions both man-made and natural. For example, Cappadocia — a favorite place for tourists and photographers, became famous for its "fabulous chimneys" and hot air balloon trips.
Disadvantages of education in Turkey

Language barrier. Turkish universities are actively developing English-language programs, but most of the courses are still taught in Turkish. The general level of English proficiency in the country is low: according to the EF English Proficiency Index Turkey occupies only 79th place. However, many Turks working in the tourism sector speak English.
Censorship. Turkish education is censored and formed under the pressure of certain political and social groups. Under the influence of creationist religious ideas, Darwin's evolutionary theory was removed from the school curriculum, which led to widespread public outcry and media criticism. Freedom House 2019 report rated Turkey's internet as "not free." The Turkish government is constantly blocking sites such as Twitter, YouTube, and Wikipedia. According to the Twitter report on transparency, Turkey was the leader in censoring social networks in 2017. And in 2018, 74% of the total requests to remove content from Twitter came from two countries: Russia and Turkey[5]. Turks also often have their own view on history. For example, the genocide of Armenians in the Ottoman Empire is denied at lectures.
Employment. Without knowledge of the Turkish language, it is almost impossible to find employment. Moreover, according to the Labor Law, the employer must have 5 Turkish citizens per foreigner. The employment rate of young people with higher education in the country has fallen by 6% over the past decade. This is mainly related to the employment of women: from 70% in 2008, their employment level fell to 62% in 2018[6].
Briefly about secondary education in Turkey

Public high schools (Normal Liseler or Duz Liseler). Students who successfully completed elementary school study here. Graduates of Normal Liseler pass the national university entrance exam (ÖSS) and can enroll in higher education institutions. Graduates are awarded Lise Diploması.
Vocational schools (Meslek Liseleri). Graduates of vocational schools can automatically enroll in two-year vocational colleges College Meslek Yüksek Okulları, or pass the national entrance exam (ÖSS) and go to university.
Anatolian high schools (Anadolu Liseleri). They include 1 year of an in-depth study of the English language, and then 3 years of regular secondary school education with additional hours of English. Lessons in mathematics and natural sciences at Anadolu Liseleri are sometimes taught in English, and in some schools — in German or French.
High schools (Super Liseler). The difference between these and regular high schools is in one additional year of learning English. And they differ from Anatolian secondary schools in that they always teach math and science in Turkish, and generally fewer hours are spent on English.
School of natural sciences (Fen Liseleri). These are special public schools with a science inclination for talented students. Fen Liseleri prepares students for higher education in the fields of science, technology, and medicine. There are also Anatolian higher schools of natural sciences (Anadolu Fen Liseleri), where mathematics and natural science are sometimes taught in English.
Private high schools (Ozel Liseler). Most private schools charge high tuition fees, on average around 20,000

USD

. Ozel Liseler accepts foreigners and makes their own entry requirements. Usually, you need to know English. But you should carefully read the schools' websites, as some of them are bilingual, requiring the knowledge of Turkish.
The cost and structure of education in Turkey
First table contains information for studying in Turkish, the second — in English.
Type of training
Age
Duration
Min. cost
Avg. cost
Min. language proficiency
Exams
Summer camp
6+
1-10 weeks
350

USD

/week
450

USD

/week
-
-
Language schools
6+
1-52 weeks
160

USD

/week
400

USD

/week
Temel 1 (A0)
Conducted at schools
Language courses at the university
16+
2 weeks -
2 years
64

USD

/semester
182

USD

/week
-
-
Secondary education
6+
1-12 years old
Free
20,500

USD

/year

Orta (B1)

School exam 70/100
Foundation
16+
1-2 years
100

USD

/month
200

USD

/month
Orta (B1)
Placement exam
Bachelor's
18+
4-6 years
300

USD

/year
4,000

USD

/year
Yüksek 1 (B2)
TÖMER / TYS

Master's
20+
1-3 years
300

USD

/year
5,000

USD

/year
Yüksek 2 (C1)
TÖMER / TYS
MBA
20+
1-2 years
4,000

USD

/year
18,000

USD

/year
Yüksek 2 (C1)
TÖMER / TYS
Doctoral
20+
2-4 years
300

USD

/year
500

USD

/year
Yüksek 2 (C1)
TÖMER / TYS
Tuition in Turkey in English
Type of training
Age
Duration
Min. cost
Avg. cost
Min. language proficiency
Exams
Summer camp
6+
1-10 weeks
350

USD

/week
450

USD

/week
A1
-
Language schools
6+
1-14 weeks
200

USD

/week
600

USD

/week
A1
Conducted at schools
Secondary education
6+
1-12 years
20,000

USD

/year
20,500

USD

/year
B1
TOEFL IBT — 65
Foundation
16+
1-2 years
Free
8,100

USD

/month
A1
Placement exams
Bachelor's
18+
4-6 years
450

USD

/year
7,000

USD

/year
B2
TOEFL IBT 75
Master's
20+
1-3 years
600

USD

/year
8,000

USD

/year
C1
TOEFL IBT 92
MBA
20+
1-2 year
2,000

USD

/year
15,000

USD

/year
C1
TOEFL IBT 92
Doctoral
20+
2-4 years
500

USD

/year
9,000

USD

/year
C1
TOEFL IBT 92
Students from Turkic republics (Bashkortostan, Dagestan, Karachay-Cherkessia, Tatarstan) and countries (Azerbaijan, Bosnia and Herzegovina, Kazakhstan, Kyrgyzstan, Macedonia, Mongolia, Moldova, Nakhchivan, Uzbekistan, Tajikistan, Turkmenistan, and Ukraine) in many state universities pay tuition as Turkish citizens.
Additional costs

Expenses
Average cost
Registration fees
120

USD

Visa
100

USD

Accommodation
2,400

USD

/year
Insurance
50

USD

/year
Meals
2,200

USD

/year
Public transportation
600

USD

/year
All prices and requirements must be specified on the websites of universities.
Options and schemes for admission to Turkey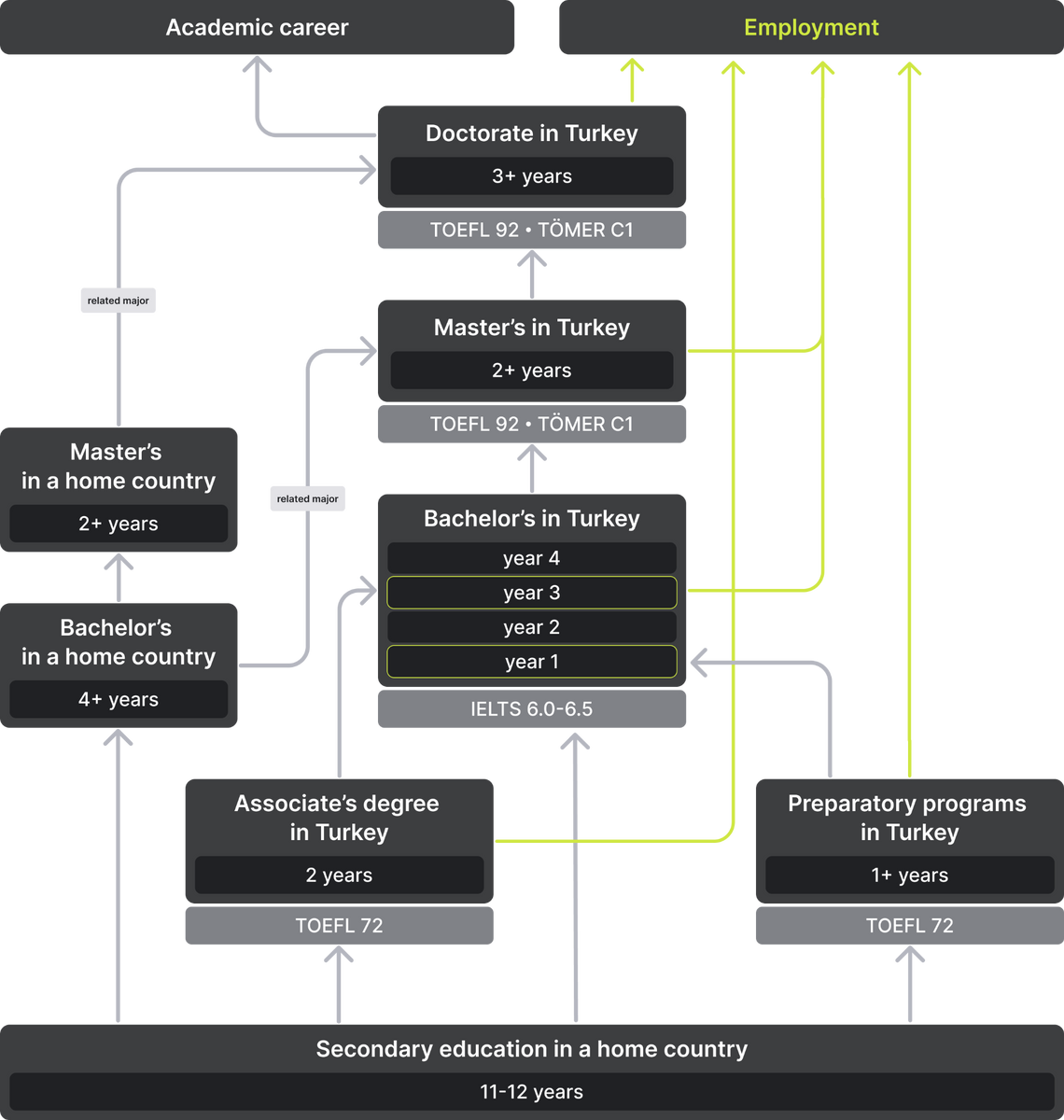 Need help with admission?

Admission and requirements at universities in Turkey
Turkish education system follows the Bologna process, therefore universities offer bachelor's, master's and doctoral programs. After graduating from secondary school, students enter universities and study for 4 years at bachelor's programs or go to vocational colleges for 2 years to obtain an associate degree. The master's program lasts for 2 years, doctoral studies — 3-5 years.
The academic year in universities is divided into two semesters and two-week winter vacation: the autumn semester most often begins in mid-September or early October and lasts until the end of December, and the spring semester — in February and lasts until May or early June. Some universities add an extra year for an in-depth study of English or Turkish.
For admission to Turkish universities, foreign students must receive a diploma of secondary education or a bachelor's/master's degree. Documents are submitted directly to universities.
Legalization and recognition of diplomas in Turkey
Turkey is a part of the Hague Convention, which established simplified legalization of documents. To enter a university, it is enough to translate a diploma or certificate into English and notarize the translation. However, for further registration at the university, the documents must have an apostille. For each country, the apostille procedure varies. Citizens of countries that are not members of the Hague Convention, may be required to undergo consular legalization, except for the cases when countries have a mutual agreement.
Recognition of foreign documents is done by the Higher Education Council[7] (Denklik Belgesi) either before arriving at the Turkish Embassy/Consulate in your country or after arriving in Turkey. Students are advised to go through the procedure in advance since in this case the process will take less time (up to several weeks) and the likelihood of approval is high. However, not every Turkish consulate issues a certificate of equivalence. If the applicant does this in Turkey, then he needs to contact the Directorate of National Education of his city of study. Recognition of a diploma is required for registration in Turkish universities. However, many universities allow students to start their studies without a certificate of equivalence while documents are being prepared. Diplomas of graduate and doctoral applicants received outside Turkey are recognized by the Higher Education Council (YÖK).
Enter a university abroad

Preparatory programs in Turkey
Preparatory programs can be both language and specialized. Language courses are intended for students who do not meet the language requirements for admission. And specialized ones are for students applying for a master's or doctoral degrees and wanting to enhance knowledge in certain areas. For example, pre-MBA programs, pre-Law, or pre-Medicine.
Knowledge of Turkish is required for training in Turkish-language programs, but not for admission. If the student does not know the language, he can take preparatory Turkish courses before bachelor's or master's programs. Classes last for 4-6 hours a day. To successfully complete the program, it is important to attend classes regularly, do homework, and successfully pass midterm exams. At the end of the course, students take the final exam and begin their studies at the university.
Many universities in Turkey also offer pre-university programs in English. Proficiency levels presented range from beginner to advanced. To move from one level to another, students must attend at least 90% of the classes and successfully pass the exams. Programs at universities are designed so that all students, regardless of the initial level of language proficiency, can complete the program in one academic year. After completing the course, applicants enter universities.
Colleges — Vocational education in Turkey
Vocational colleges (Meslek Yüksek Okulları) award associate degrees (On Lisans Diplomasi). They are mainly part of state universities. However, there are 8 schools attached to private universities (founded by large funds of wealthy Turkish families).
Meslek Yüksek Okulları put great emphasis on the conversion of theory into skills and experience. Higher vocational schools collaborate with leading enterprises and companies. Thus, students combine practice and study. Upon graduation, students have real experience in the specialty and an understanding of what the employer needs. Colleges implement the following disciplines: foreign trade, logistics and transport, computer technology and programming, graphic and fashion design, trade and administration, accounting and taxation, translation and interpretation, tourism, culinary arts.
For admission the following documents are required:
School certificate and transcript;
Passport size photographs;
Copies of a passport or birth certificate;
All documents must be translated into English or Turkish.
After higher vocational schools, graduates can enter the 3rd year of bachelor's studies or seek employment. To continue education, associates must pass the national DGS exam (Dikey Gecis Sinavi) and have a sufficient GPA for the bachelor's program of interest.
Need help with admission?

Bachelor's in Turkey — Undergraduate
To enter a bachelor's program in Turkey, an applicant must graduate from high school or a similar secondary educational institution. Universities accept applications online and post-admission requirements on the websites. Bachelor's programs usually require:
Despite the fact that at some universities the minimum IELTS scores are still indicated, from 2019 Turkish educational institutions can no longer take the results of this exam. Some universities allow applicants to present their results in an application for admission. However, in case of successful admission, the applicant will still need to pass TOEFL or an internal university exam. Nevertheless, information regarding IELTS must be confirmed with the admission committee of each university. Also, the results of the SAT or any other exam conducted in English are sufficient to confirm English proficiency. In this case, there is no need to provide a language exam.
If a student does not have an official confirmation of English proficiency, then universities are allowed to conduct an internal exam upon the applicant's arrival in Turkey. If the applicant fails to obtain the required score, he can take pre-university preparatory language courses.
To study in Turkish, you must have level C1 according to the results of the TÖMER or Yunus Emre Institute Turkish Proficiency Exam.
Candidates can also be interviewed via skype or phone, especially for medical programs that last for 6 years.
YÖS is a Turkish entrance exam for foreign students. It is held in many universities in both English or Turkish languages. Dome state universities require YÖS instead of SAT/ACT for admission to certain specialties, for example, medicine. As a rule, YÖS consists of 80 questions, half of which are general questions, and the rest are in mathematics.
Master's in Turkey — Graduate/Postgraduate
Master's in Turkey usually last for two years, but there are also shorter studies. For example, programs that do not require a defense of a thesis last only for a year and a half. In order to enroll in a master's program in Turkey, you must provide a bachelor's diploma. Among other things, most applicants must pass an entrance exam or interview. Full-time master's programs most often begin in October.
For admission you must provide:
ALES exam (Akademik Personel ve Lisansüstü Eğitim Giriş Sınavı), GMAT or GRE results. It is enough for a foreign student in almost all universities to pass the GRE or GMAT;
Motivational letter. On the websites of Turkish universities there are videos, tips and guidelines for writing them so that the applicant knows exactly what the admissions committee expects;
Bachelor's degree with transcripts. Universities do not put forward general requirements for GPA, therefore, it is necessary to check specific programs. On average, it is a minimum of 2.80 out of 4.00 or 70%;
Other documents depending on the program.
If you plan to study in Turkish, then as a foreigner you need to provide proof of language proficiency. Usually, the level required for higher education is C1 or 60 points according to TÖMER.
Certain master's programs are taught partially or entirely in English: a similar trend can be seen in new private universities and in some state universities that seek to attract more foreign students. The strongest master's programs in Turkey are biotechnology, IT, medicine, and the natural sciences.
Most Turkish master's programs include the writing of a dissertation, work on which begins in the second half of the second year of study. The defense of scientific work takes place orally. There are also master's programs that require a professional project instead of writing a dissertation.
Enter a university abroad

Doctoral studies in Turkey — Postgraduate
Obtaining a doctorate (PhD) will take a master's graduate from two to four years. Bachelor's graduates who want to fully immerse themselves in science can immediately go to doctoral studies. Then the training course can last for a total of up to seven years.
Doctoral students write term papers and pass intermediate qualification exams while studying. In Turkish universities, there is a system in which the student is supervised by several teachers at once: they help in writing a final work and carry out pre defense of dissertations in order to assess the student's progress.
To obtain a scientific title, a PhD candidate must defend a dissertation in front of the dissertation council. It consists of supervisors and experts from other universities. The candidate will be allowed to defend the dissertation only if the work passes the plagiarism check.
To enter the doctoral program, students must choose a suitable program, apply online, and pass all the necessary exams and interviews. Universities rarely require hard copies of documents and written statements, so you need to check the information on the sites. Documents and exams that are required for admission to doctoral studies are most often the same as for master's studies:
ALES exam (Akademik Personel ve Lisansüstü Eğitim Giriş Sınavı), GMAT or GRE results. It is enough for a foreign student in almost all universities to pass the GRE or GMAT;
Master's degree with a transcript. Universities do not put forward general requirements for GPA, therefore, it is necessary to check specific programs. On average, it is a minimum of 3.00 out of 4.00 or 75%;
Research proposal (not required in many programs).
Some programs recommend that applicants contact a research supervisor of a planned dissertation before entering a university. The student can independently contact the teacher of interest and discuss a research project. This is mainly recommended for candidates in science, engineering, and health.
College faculties evaluate the applications of each applicant. If necessary, universities can conduct interviews.
Academic career in Turkey

Universities compete with each other, attracting leading foreign researchers. Therefore, both in state and private universities, the staff consists of local and foreign teachers. Foreign specialists are needed in English-language programs and departments, and even in some research institutions where training takes place in French and German. In all these cases, employees do not need to know Turkish.

The state annually determines the number of academic positions for each university. However, universities independently appoint and promote academicians, in accordance with the requirements of the Council of Higher Education and a senate of a university. According to the Higher Education Act 1981, the following academic positions are defined in Turkey: Research assistant, Lecturer, Instructor, Assistant Professor, Associate Professor, Professor.
To obtain an academic position, you must have a PhD. Universities recruit staff themselves, so openings can be found on their websites. Associate Professor and Professor positions are awarded by UAK and YOK. To do this, the candidate must have a good grade/report, pass a specialized oral and/or practical exam in front of 3-5 experts (not for all disciplines) and make several articles for prestigious scientific publications.
At public universities, full-time teachers are state employees. The Assistant Professor is a temporary position, while Professor and Associate Professor work on the basis of a permanent employment contract.
Teaching, research and administrative responsibilities vary from one position to another. But basically, all professors conduct research, supervise scientific work and do paperwork. Higher education institutions independently determine the number of hours and teaching methods.
Terminations of academic staff are extremely rare, usually in cases of proven plagiarism[8]. The average salary of a Professor ranges from 3,388 USD to 6,013 USD[9].
Scholarships and grants in Turkey
Turkiye Burslari. State-funded scholarship program. It is awarded to outstanding foreign students who wish to obtain bachelor's, master's or doctoral degrees. The scholarship is also awarded for short-term PhD studies. A prerequisite for participation in the consent to a free one-year study of the Turkish language before the start of the main program. Scholarships are not awarded for a two-year associate degree and specialties in the field of medicine.
Turkiye Burslari covers:
Training costs;
Accommodation;
Monthly scholarship;
1 year of studying Turkish;
Medical insurance;
One way ticket to Turkey.
Scholarships are awarded on a competitive basis, and it is not easy to receive them. Each year, the commission receives more than 100000 applications and issues about 5000 scholarships[10]. The selected candidates are interviewed in their countries of residence, online or via phone.
Degree
Scholarship
Duration
Academic performance
Age
Bachelor
38

USD

1 year of Turkish + 4-6 years
70%
Under 21
Master
52

USD

1 year of Turkish + 2 years
75%
Under 30
Doctor
76

USD

1 year of Turkish + 4 years
75% (for medicine 90%)
Under 35
Detailed information and a list of universities can be found on the website scholarship.
Scholarship for winners of international scientific Olympiads. The Scientific and Technical Research Council of Turkey (TÜBİTAK) provides scholarships for foreign students, winners of international scientific olympiads in:
Financial assistance is given for bachelor's programs related to the subject of the Olympiad. The grant provides a monthly scholarship of 48 USD and covers the cost of training of up to 95 USD for 4-6 years. A nice bonus is the extension of the grant for the next step of education. This happens if the student successfully completes the bachelor's studies and enters the master's/doctoral program at a Turkish university. Here you can apply for a grant and find more detailed information.
Help from universities. Turkish universities receive financial support from large corporations, which allows them to provide scholarships to students. But it is rather difficult for foreigners to receive such grants.
Academic scholarships. Foundations and some public universities help outstanding students. Scholarships are usually awarded for five years (for those who study 1 year of English) or 4 years. Students are selected based on grades, scores, and ratings. The grant usually covers tuition and dormitory fees with an additional monthly allowance;
Partial scholarships. Universities also offer partial assistance, such as the Academic Success Scholarship (covers 30-50% of tuition fees). And almost all foundation universities cover 20-70% of the total cost of training for high-school applicants. For such partial coverage, there are quotas for international students. Candidates may be interviewed by phone or email.
Need help with admission?

Student visa in Turkey
Student visas are issued at the Turkish Embassy or Consulate in the country of residence. It usually takes about eight weeks from the moment of application to issuing a visa. Therefore, it is necessary to apply for a student visa as soon as the university sends an invitation. The earliest application is 60 days in advance. You can schedule an interview and a date for submitting documents on the website of consular services in Turkey.
The documents required when applying for a visa vary from country to country. The package usually consists of:
Application;
Passport and copy;
A printout of confirmation of the appointment date of the application from the site;
Booked or purchased tickets to the country;
Letter of admission;
Contract and tuition fees;
Bank statement (about 6,000

USD

);
Medical insurance;
Proof of residence in Turkey;
Passport size photo.
The questionnaire and detailed information can be found on the website of the Ministry of Foreign Affairs of Turkey. The cost of a visa depends on the country of the candidate, on average — 200 USD.
Upon arrival in Turkey, students must register at the nearest local police station and apply for a residence permit in the migration department within 30 days. To do this, fill out the form on the site.
After obtaining a residence permit (ikamet), you can live in Turkey, open a bank account, and use the ikamet card when entering or leaving Turkey. Six weeks before the expiration of the residence permit, you must apply for its extension.
Opportunity to work while studying
Foreign bachelor's students are not eligible for official employment in either public or private institutions. However, Turkish universities provide their students with the opportunity to work at the department, in libraries, or engage in scientific activities on campus. And foreign master's and doctoral students, in accordance with the new Law on the international workforce, can now obtain a work permit. The Turkish Ministry of Foreign Affairs regulates their employment.
Often, universities fully finance master's and doctoral studies. In return, foreign students help professors in teaching, conducting research, or preparing statistics. For this, students are not required to know the Turkish language, because many universities offer English-language programs. Examples of public universities with an international focus: Boğaziçi University (Istanbul) and Middle East Technical University (Ankara). Private universities include Sabanci University, Koç University, Istanbul Bilgi University (all in Istanbul), and Bilkent University (Ankara).
In addition, for students under thirty, there are many different paid internships, after which you can get a job in one of the Turkish companies. Detailed information on internship conditions can be found in educational institutions. For example, at Bosphorus University there is a Career Center, where any student or graduate can seek professional advice.
Opportunity to stay and immigration to Turkey
Graduates have the right to apply for a work permit. This should be done within one year after graduation. After applying, the decision will be made by the International Labor Policy Advisory Council. It is important to note that bachelor's students who have studied under a state scholarship in Turkey are not eligible for a work permit. This ban applies even after graduation or in the presence of a short-term residence permit.
Work permit (PermitsCalisma Izni) is issued by the Ministry of Labor. The contracting company must send the application. Most work permits are initially issued for one year, extended for three years, and then for six years. If you have lived in Turkey for eight years and you had a work permit for six of them, you will be able to obtain a permanent work permit.
Here is a list of documents that must be provided by the employer. The applicant will need to provide:
Application form for foreigners (with the signatures of the employer and employee) or a work contract;
Valid residence permit;
Notarized copy of the passport translated into Turkish.
Documents must be scanned and sent online.
Type of permit
Cost
Temporary (up to 1 year)
45

USD

Permanent
445

USD

Independent
445

USD
Criteria for obtaining a work permit

At the workplace that employs a foreigner, at least 5 employees must be Turkish citizens;
The paid-up capital of the establishment must be at least 4,772

USD

/the lowest gross sales figure must be equal to 38,177

USD

/last year's export amount must be at least 250,000

USD

;
Paragraph 2 does not apply to associations and foundations;
Paragraphs 1 and 2 do not apply to foreign airlines, companies in the field of education and home services;
If the foreigner is one of the partners of the company, he must own at least 20% of the company's shares (at least 1,909

USD

as a liability);
The amount of wages must correspond to the competence of a foreigner. Therefore, in accordance with the minimum wage (MW), the salary should be at least:

MW*6.5 for senior managers and pilots, as well as engineers and architects;
MW*4 for the head of a unit or branch, as well as engineers and architects;
MW*3 for qualified specialists and teachers;
MW*1.5 for workers at home and others;

For entertainment, tourism and animation, at least 10 employees of the institution must be citizens of the Republic of Turkey[11].
Enter a university abroad

Prospects and employment opportunities
Turkey has been a participant in the Bologna process since 2001, as well as a candidate for accession to the European Union. This means that, firstly, all students can continue their education in other countries using the credit system ECTS, and secondly, a Turkish diploma is recognized by European employers.
For non-Turkish graduates, there are not many job opportunities in the country. Much depends on qualifications. If you are a specialist in tourism and hotel business, then there are more chances to find a job. Some of the highest-paid and prestigious positions are located in embassies, consulates, and non-governmental organizations. There you can try to apply for an internship and subsequently gain a foothold in the workplace. Another possibility is teaching at a language school.
The youth unemployment rate in the country for 2020 is 24.4%, and the general level is 10.4% in 2019[12]. In the same year, the minimum employee salary per month was 122 USD[13]. The state economy has been actively developing since 2000: employment and wages are increasing. Thanks to government reforms and programs, poverty has more than halved in 2002–2015, and extreme poverty has declined even faster. However, inflation, reduced investment, the external situation, vulnerability in the financial sector, and the impact of the COVID-19 crisis can weaken the country's economy[14]. The main industries in Turkey are agricultural production, tourism, food, textile, chemical and pharmaceutical industries, mechanical engineering, electronics, mining and construction[15].
Studying abroad with UniPage
Want to study at a foreign university but don't know where to start? We can help!
Our specialists will find a university, arrange your documents, fill out the applications, and stay in touch until you receive an offer.