Briefly about the Master's degree in Germany
Master's programs in Germany are known to be the strongest in Medicine, Natural Sciences and Technology, as well as Philosophy and Philology. The country's education system is the world's third best after the USA and the UK[0].
Price. Public universities are technically free, students only need to pay administrative feesup to 588

USD

. An exception is the federal state of Baden-Württemberg: a semester there costs 1,765

USD

[1]. A semester at a private university costs, on a national average, 1,177

USD

.
Requirements. Students need to have a Bachelor's degree. Note that it is possible to enroll not only in a related field but also start studying a completely new one via a non-consecutive Master's program. For some specialties, candidates will need to pass specialized entrance exams (GRE / GMAT). A number of universities require medical insurance, and to apply for a visa, everyone needs proof of funds.
Language. Most universities teach in German, but there are many English-taught programs — more than a thousand. When applying for admission, one needs to provide a B2-C1 certificate for the appropriate language.
Visa. Non-EU applicants need a national category D visa. The list of documents is extensive, and the processing takes from several working days to several months. The consular fee starts from 88

USD

.
Work after school. After receiving a diploma, alumni have a year and a half to find a job. It will be easier to do this if they take an internship while studying or write a thesis for a company. The unemployment rate in the country is 4.5%, one of the lowest in Europe[2].
Free education. In public universities, students only need to pay semester submissions (up to 588

USD

/semester). The only exception is the federal state of Baden-Württemberg: there a semester costs 1,765

USD

[3].
There are many programs in English. If a candidate does not know German, this will not be an obstacle to getting an education. Mainly international English-language programs can be found in STEM

Science, Technology, Engineering and Mathematics

, MBA, and some humanities.
Employment opportunities. The first step to building a career can be taken while still studying. In German universities, it is possible to write a thesis in cooperation with a company, and then get a permanent job there. Even if a student wrote their scientific work at the university, after its defense they will have a year and a half to find a job. The unemployment rate in the country is 4.5%, one of the lowest in Europe[4].
Degree Requirements. For admission, a foreign Bachelor's degree must be recognized in Germany. If the university is not included in the list of accredited ones, a candidate will need to take a course at a Studienkolleg and take an additional exam.
Drop-out rates. In state universities, 29% of foreign students do not complete their studies. Among the reasons, they mention difficulties in studying in German, cultural differences, social isolation, and the high cost of living[5].
German bureaucracy. From applying to university to looking for a job after graduation, it all requires an understanding of regulatory documents. They are usually written in German and can be confusing. It is not acceptable to make even minor mistakes — the documents are checked with the utmost German care.
Cost of Master's degree in Germany
Information is exploratory. For accurate information, refer to the official website of the school.
Title
City
Master
1
1
Harvard University
Boston
66,900

USD

2
2
Massachusetts Institute of Technology
Boston
58,240

USD

3
3
Stanford University
Santa Clara
44,184

USD

4
1
University of Cambridge
Cambridge
24,831

USD

5
4
California Institute of Technology
Pasadena
48,111

USD

6
2
University of Oxford
Oxford
21,693

USD

7
5
Princeton University
Princeton
43,720

USD

8
6
University of Chicago
Chicago
45,000

USD

9
3
University College London
London
24,948

USD

10
7
Yale University
New Haven
44,800

USD
Exams
141

USD

average cost of a single language level confirmation exam

Registration fee
82

USD

Flight
106

USD

Rent
706

USD

/month

Food
176

USD

/month

Transport
82

USD

/month

travel pass

Visa
88

USD

Insurance
118

USD

/month

Study materials
24

USD

/month
How to enroll in a Master's program in Germany
There is no centralized submission system in Germany, but some universities are connected to the Uni-Assist system to collect applications from foreign students. Depending on the chosen university and program, Uni-Assist can:
Check the package of documents;
Confirm the qualifications of a Bachelor's degree;
Send documents to the university;
Generate a VPD (Vorprüfungsdokumentation) certificate, which the applicant can submit themselves.

There is no limit to the number of applications. Uni-Assist will charge 88 USD for the first submission and 35 USD for each subsequent submission within the same semester[6]. Some universities pay this fee for students, such as the Goethe University Frankfurt, Westphalian University of Applied Sciences, and the University of Potsdamexcept the Clinical Linguistics program.
If the selected university is connected to the Uni-assist service, one must:
Check the requirements and deadline on the university website;
Register on the Uni-Assist portal;
Upload scans of documents;
Pay the fee (88

USD

);
Send notarized copies to Uni-Assist by mail;
Wait for the status update on the site after 4-6 weeks[7].
If the university is not integrated with this system, then the application process should be clarified on its website.
List of documents
Approximate list of documents for admission:
The exact requirements need to be clarified on the website of the chosen university. Some universities set additional selection criteria — entrance tests and interviews. This usually applies to educational institutionsmedical, veterinary, dentistry and pharmaceuticals with an admission quota (Numerus clausus). They ask for the results of GMAT, GRE, and other additional exams, a course description, a research plan, and proof of work experience in the relevant field. Sometimes applicants are also interviewed.
Confirmation of the language level
Confirmation of the language level is a mandatory prerequisite for admission. If the candidate has chosen a program in German, any of the following certificates will work:
TestDaF

Deutsch als Fremdsprache

— TDN-4 and higher;
DSH

Deutsche Sprachprüfung für den Hochschulzugang ausländischer Studienbewerber

— DSH-2 and higher;
Goethe-Zertifikat — C2.
German universities also accept C1 telc Deutsch and some other exams that meet the criteria of the Ministry of Education[8]. If the language level is lower than required, some universities may still accept the student — on the condition that they fit the rest of the criteria and will go through a language course either before admission or at an early stage of the Master's studies. An important side note is that the university itself must provide such courses. Also, when placing an application, you must already state the intention to go through them.
English-language programs require one of the following certificates of proficiency in English at the B2-C1 level (depending on the program): C1 Advanced (CAE), IELTS or TOEFL.
Degree recognition
For admission to any Master's program, applicants go through a diploma recognition procedure. To do this, check the Anabin registry. It contains the list of German-accredited universities worldwide. There are three possible categories:
H + status (the diploma is recognized as equivalent);
H + / — status (the diploma is recognized as partially equivalent);
Status H - (diploma from a university without proper accreditation).
If a diploma is not recognized or only partially recognized, this does not mean that admission is not possible. Candidates can contact one of the qualification recognition centers ENIC-NARIC (European Network of Information Centers in the European Region and National Academic Recognition Information Centers in the European Union).
If the qualification has not been recognized, a training course at the Studienkolleg must be taken, followed by the Feststellungprüfung test in accordance with the program.
Deadlines for applications
In Germany, universities set their own deadlines for filing applications. The exact dates can be found on the website of a university. Typically, applications for the winter semester end in mid-July and for the summer semester — in mid-January.
Master's in English in Germany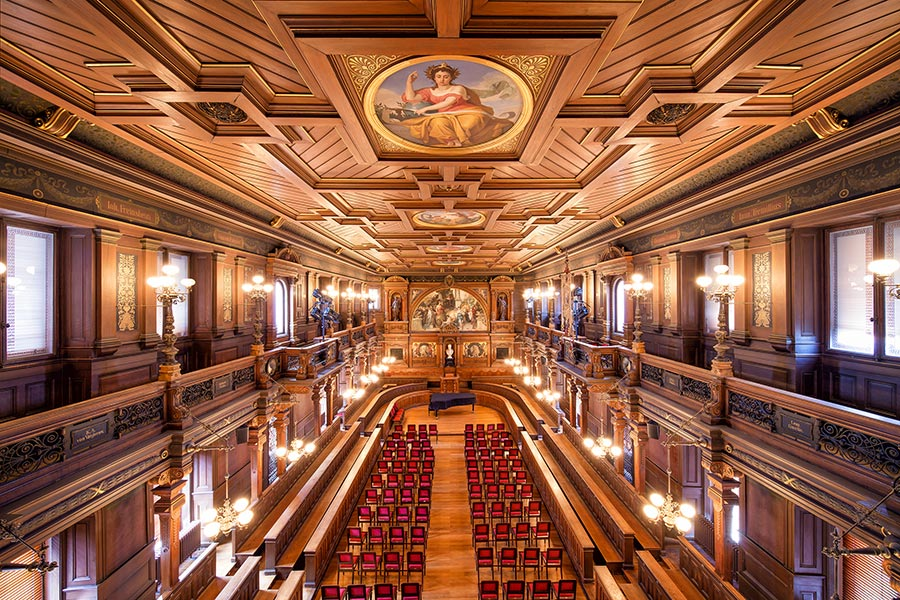 The number of international students in Germany is growing steadily: from 2014 to 2019 it increased by 30.9%[9]. The number of English-taught Master's programs is also large — more than a thousand[10]. These are mainly STEMScience, Technology, Engineering and Mathematics majors: Chemistry, Biology, Mathematics, Physics and Engineering. Various program options can be found in the DAAD catalog.
THE ranking
University
City
Program
Duration
Cost/year
32
Ludwig-Maximilians-Universität München (LMU)
Munich
Economic Management and Digital Technologies;
Software Engineering;
Neurosciences;
Psychology: Learning Sciences;
Molecular and Cellular Biology;
Theoretical and Mathematical Physics
2 years
338

USD

+ semester submissions up to 235

USD

, depending on the program
41
Technische Universität München
Munich
Aerospace Engineering;
Biomedical Engineering and Medical Physics;
Computational Science and Engineering (CSE);
ESPACE — Earth Oriented Space Science and Technology;
Informatics: Games Engineering;
Mathematics in Data Science
2 years
339

USD

[11]
42
Ruprecht-Karls-Universität Heidelberg
Heidelberg
Biomedical Engineering;
Economics;
International Health;
Matter to Life;
Molecular Biosciences;
Physics;
Transcultural Studies;
Translational Medical Research
1-2 years
3,530

USD

[12]
78
Eberhard Karls Universität Tübingen
Tuebingen
Advanced Quantum Physics;
Archaeological Sciences and Human Evolution;
Computational Linguistics;
Ethnologie / Social and Cultural Anthropology;
Machine Learning;
Peace Research and International Relations
2 years
3,530

USD

[13]
Popular Master's degree programs in Germany
High-ranking universities in Germany offer strong programs in Medicine, Engineering, Mathematics, and Biology. 35% of students choose the STEM direction[14]. Humanities are also popular, such as foreign languages, art history, literature, and economics.
University
City
Programs
Duration
Avg. cost per year
Ruprecht-Karls-Universität Heidelberg
Heidelberg
Molecular Biotechnology;
Medical Informatics;
Medical Biometry / Biostatistics;
Comparative German Studies;
Classical and Modern Literature;
Art History and Museology.
1-2 years
3,530

USD

[15]
Humboldt-Universität
Berlin
American and British Studies;
German Literature;
Gender Studies;
Psychology / Psychiatry;
Classical Archeology;
Political Science;
Computer Science;
Neuroscience and Behavior.
2 years
741

USD

[16]
Freie Universität
Berlin
Romance Studies;
Art History;
Bioinformatics;
Data Science;
Plant and Animal Science;
Biodiversity, Evolution, Ecology;
Culture and Media Management;
German as a Foreign Language.
2 years
706

USD

[17]
Rheinische Friedrich-Wilhelms-Universität Bonn
Bonn
Mathematics;
Social Sciences;
Geodesy and Geoinformation;
Medieval Studies;
Physics of the Earth and Atmosphere.
2 years
706

USD

[18]
Affordable Master's programs in Germany
Tuition is also free in public universities, students only need to pay semester fees — up to 1,177 USD per year. An exception is the state of Baden-Württemberg, where the academic year costs about 3,530 USD, and private universities. Programs there may be shorter — a year instead of two. However, the cost is high and can reach 41,181 USD for a full course. At the same time, private universities of applied sciences are usually more expensive, because the budget must cover the costs of maintaining laboratories. It is also expensive to train in specialties such as engineering and MBA.
However, there are private universities where cheaper programs can be found:
University
City
Avg. cost per year
The University of Europe for Applied Sciences (UE)
Hamburg
14,119

USD

[19]
SRH Hochschule Berlin
Berlin
11,766

USD

[20]
Berlin International University of Applied Sciences
Berlin
14,119

USD

[21]
MBA in Germany

As a rule, MBA programs are taught completely in English. Requirements for language proficiency are high — the minimal requirements are to provide a certificate of at least C1TOEFL 95+ / IELTS 7.0. Additionally, candidates must pass entrance exams. While not all universities set a specific benchmark, it is best to have GRE 150+ / GMAT 600+ scores. Some business schools have an "early bird" discount. There are usually several deadlines, each has a different discountable amount. Applicants who applied before the first deadline sometimes pay 3,530-5,883 USD lessdepending on the university.
Features of Master's programs
There are two main types of programs in Germany:
Consecutive / follow-on / carry-on programs — students continue to study the same specialty as their Bachelor's degree, but with a more interdisciplinary focus. These programs are usually free.
Non-consecutive / conversion programs — students change specialty or go deep into a specific narrow sphere. These programs are few and usually, they are given on a for-profit basis. In some cases, for admission one must provide proof of at least one year of work in the specialty.
As a rule, in Germany, the degrees are Master of Arts and Master of Science. There are also special degrees for some specialties — Master of Engineering, Master of Fine Arts, Master of Music.
Studying for a Master's degree in Germany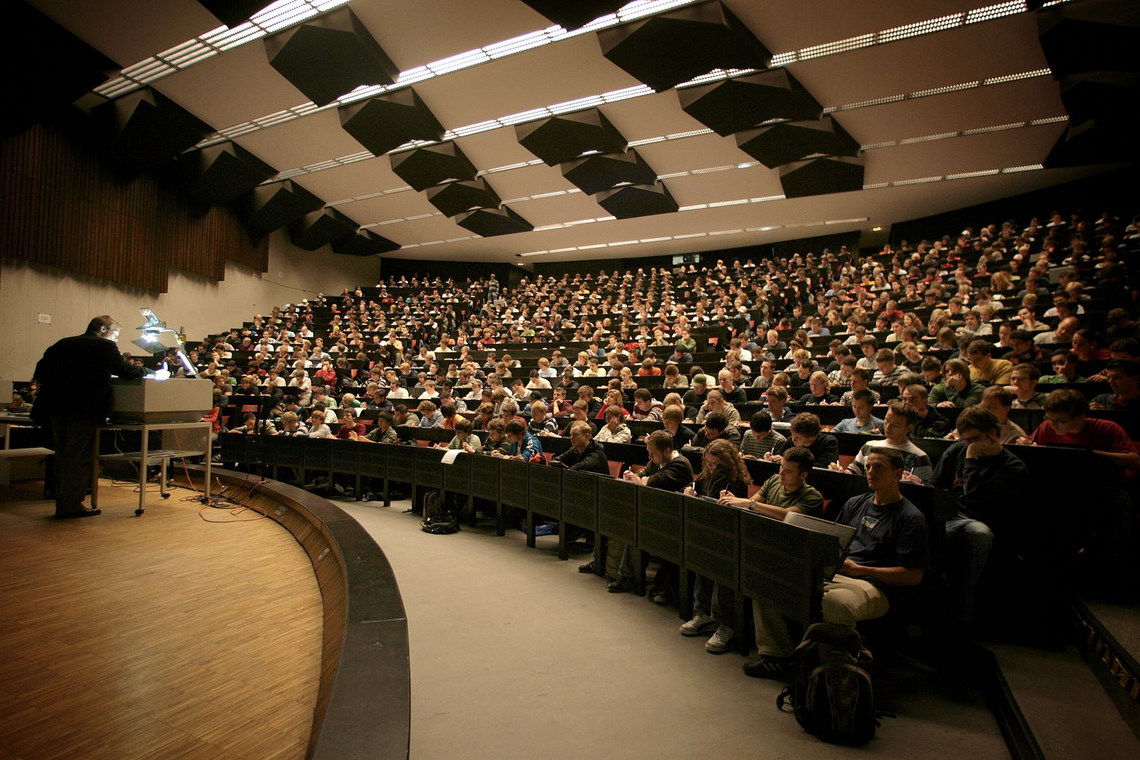 Germany has European credit system. To obtain a Master's degree, students need to get 120 credits — 90 over the course of study and 30 for scientific work or an individual projectfor crative specialties. The academic year consists of winter and summer semesters, vacations — in February and August, and the exact dates of the start of studies differ in the universities of specific federal states. The organization of the lessons and the types of assignments depend on the type of educational institution:
Research universities include a large number of lectures, seminars, and laboratory works, as well as self-study and bibliographic research in the program;
Universities of applied sciences are more practice-oriented, so many hours are devoted to acquiring applied skills and to classes organized by partner companies and industry representatives;
Colleges of Arts, Film, and Music focus on developing creative competencies.
Assignments are rated on a five-point scale, with 1.0 being the highest grade and 4.0 being the minimum threshold. The final grade is made up of ECTS credits.
Research work or a project — Abschlussarbeit — is done in the second year of study. At the beginning of the third semester, students choose a topic. Then they need to choose a supervisor — usually, they need to provide a plan to do so. After that, the main part of the work begins, for which the last semester is allocated: the academic analysis of the topic, the theoretical part, the research itself or the project, and the analysis of results. After finalizing their thesis, students present it to a commission. They need to show their proficiency in the material and knowledge of the topic and then answer the questions of the commission.
A distinctive feature of a Master's degree in Germany is the ability to write a Master's thesis in a company. Students are offered to work on a company project during an internship, or they find such an option on their own. This format has a number of advantages:
Financing is possible. The majority of companies pay for graduates' work;
More hands-on experience. Most research works are practical in nature. In addition, students will interact with colleagues, and networking is important for future business relations;
Chance of employment. Many companies offer students the topics on which they can continue to work after graduation. Moreover, if a candidate meets the criteria, they will be able to write a thesis and start a career even in a large international company, like Audi[26].
However, a corporate degree work is not the most popular choice:
The tedious approval process. It is necessary to coordinate with two parties: both with the university supervisor and with an industry specialist;
The large amount of work: in addition to writing the paper, an intern will have other responsibilities, that may not be related to research and consume a lot of time;
There is no freedom to choose a topic: although at times there will be several options available, in the end, the choice is narrow at best.
Working while studying in Germany
By law, international students have the right to work 120 full or 240 part-time days a year[27]. To find out if it is possible to work longer, applicants need to contact the Employment Center (Agentur für Arbeit) or the Foreigners' Registration Office (Ausländerbehörde). The decision will often depend on the unemployment rate in the particular federal state. An exception is academic positions such as Teaching Assistant. In addition, foreign students are prohibited from freelancing or working as self-employed[28].
In Germany, the minimum wage is set at 1,899 USD/month[29]. If the salary is less than 529 USD/month, it is not subject to taxes. If the salary is higher, a tax number (Steuernummer) is needed. The company will withhold certain amounts on a monthly basis, but a tax refund can be issued at the end of the year[30].
Students often find work on campus: they can help in archives or with administration, and also be a Teaching Assistant (wissenschaftliche Hilfskraft). These jobs are the best paid, while temporary off-campus jobs are unlikely to earn enough for a living.
Internships in Master's degrees in Germany
Internships can be paid or unpaid. Regardless of whether they are paid or not, they are counted as working hours. And students mustn't work more than 120 days a year in total. The exception is internships which are part of the compulsory program, as well as academic positions. The duration of the internship ranges from several weeks to several months and depends on the company.
Where to look for an internship:
International Department of the University;
Employment Center (Agentur für Arbeit);
Company websites;
DAAD;
The language of communication in many large companies is English, but knowledge of at least B1-B2 level German will be an advantage and will expand the opportunities. An employee's portfolio usually includes:
Resume (CV): personal details, skills, education;
Cover letter: description of strengths, motivation[31].
Applicants undergo an oral interview, where they show not only their professional qualities but also soft skills.
Internships are a good option to gain work experience in a German company, but they are not very suitable for making a living. Most of the contracts are not paid.
Scholarships and grants for graduate students in Germany
There are three sources of funding for graduate students: universities, the government, or foundations. The average amount is 824-1,177 USD/month, which more or less covers the living expenses. The most popular options are:
Masterstudium für alle wissenschaftlichen Fächer from the Foundation DAAD. This German Academic Exchange Service Scholarship is available to all Master's programs except creative specialties and Architecture

there are other grants for them

. In addition to payments of 1,013

USD

/month, the scholarship covers some additional costs: for example, insurance, German language courses before the start of studies, and partly — transportation costs. DAAD is also received for studying at a private university, but students still have to pay for tuition. When submitting documents, everyone can choose a maximum of three programs, and the process itself begins about a year before the start of training.
Germany National Scholarship — Deutschlandstipendium. Monthly payment is 299

USD

. The selection of scholarship winners is carried out by universities. High academic performance and other achievements, including volunteering or work experience, are important.
Scholarship of the Federal Chancellor of Germany. It is suitable for students who can offer a promising research project. A university will give a year for its implementation. The payment is 2,553-3,259

USD

/ month
Post-graduate work in Germany
After graduation, alumni can apply to the local Foreign Office for a residence permit, Aufenthaltstitel, which is valid for 18 months and allows them to look for work in the country during this period[32]. In case of successfully signing a contract, they must apply for the Temporary Residence Permit. Usually, it is valid for the same period as the contract with the company. More information about the procedures can be found on the website of the German government.
A diploma from a German state university will be recognized not only in Germany, but also in other countries of Europe and the world. In 2020, the Skilled Immigration Act was passed. It is part of the policy to attract professionalsthose who have studied in Germany for at least two years or persons with a recognized foreign qualification and a higher education diploma from non-EU countries. Thanks to it, those wishing to find a job in Germany have the following opportunities:
No priority check when applying for a job. Previously, the Federal Employment Agency used to first check whether there was a candidate for the position among the local population. But now Europeans no longer have advantages over the citizens of other countries.
No restriction on the choice of profession. Specialists can work both in their specialty and in another field. Previously, it was only possible to get a job where there was a shortage of professionals.
The ability to change the immigration status. The system has become more flexible: students can get a job before graduation and apply for a Temporary Residence Permit[33].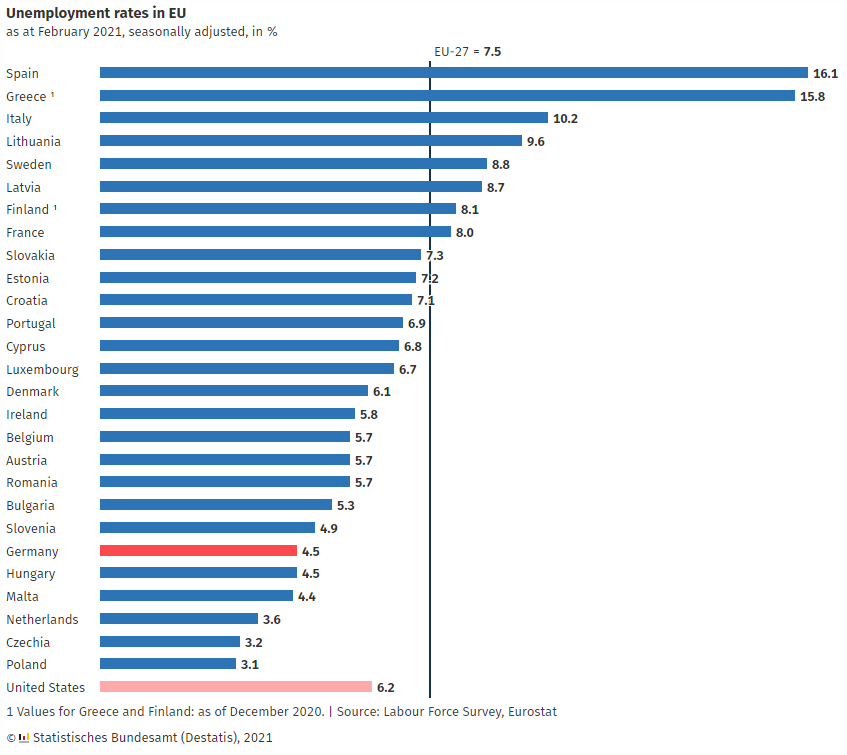 The unemployment rate in Germany is 4.5%. This is one of the lowest rates in Europe (average figure — 7.5%)[34]. Trading Economics predicts an improvement in the situation: 3.7% rate is expected in 2022, and 3.4% — in 2023[35]. Many large international companies are based in the country — Adidas, Allianz, BMW, Puma, Siemens and Volkswagen. Smaller state-owned enterprises also come to the overseas market. The reason for it is Germany's developed economy. Germany consistently2007-2021 ranks fourth among other countries in the world, with a GDP of 4.6 trillion dollars in 2020. By 2024, economists estimate that it will be worth 4.9 trillion[36]. All this makes Germany a promising career destination.
Specialties in demand[37]
Annual income

gross

Engineer
58,831

USD

[38]
Manager
52,948

USD

[39]
IT-specialist
60,007

USD

[40]
Sales Specialist
60,007

USD

[41]
PhD in Germany
The modern format of doctoral studies — independent research and a scientific work — is a German invention. Most universities adhere to this structure, but there are universities with more options. In general, there are two types of programs:
Traditional Doctorate — a research project led by an expert professor (Doktorvater/Doktomutter) at a university or company. There is usually no mandatory attendance, deadlines, or schedules. Its duration is 4 years.
Structured Doctorate — In addition to writing a research paper, PhDs will gain hands-on experience in research centers. Such programs are taught in English and, as a rule, are more demanding: there are obligatory seminars, lectures, assignments, and internships. Duration — 3 years. A distinctive feature: additional training modules need to be completed in order to gain 180-240 credits.
Although foreigners do not often teach at universities, it is still possible. There are several main ways of developing an academic career. In addition to the classic, similar to the American, career model — from a junior lecturer to professor — one can pass the "habilitation procedure" (Habilitationsschrift). It is similar to a second doctorate: within 4-6 years a PhD writes another scientific work, and also teaches and publishes in scientific journals. Regardless of the path chosen, they can become a professor only after passing the commission check — the procedure is called Berufungsverfahren.
Position
Type of contract
Average

depending on federal state, years of experience and weekly workload

salary / month[42]
Junior professor (Juniorprofessor)
Non-tenure
5,295-6,118

USD

Professor extraordinarius (außerordentlicher Professor)
Tenure
6,236-7,766

USD

Professor ordinarius (ordentlicher Professor)
Tenure
7,413-8,825

USD
Deadlines of application
January 15/July 15

approximate deadlines for summer and winter semesters correspondingly

Duration
1-2 years
Average cost
529

USD

/year

semester contribution

/ 17,649

USD

/year

in a private university

Min. language level
TOEFL 78+/IELTS 6.0+/CAE 190+/DSH-2 +/DSH-2 +/TestDaf TDN-4 +
"