Briefly about secondary education in Cyprus

Preschool education in Cyprus is compulsory and begins at the age of 4-5. At the age of 6, students move to primary school, which lasts 6 years and is formally divided into two stages: grades 1-3 — basic skills (counting, reading, writing), grades 4-6 — foreign languages, humanities, music. The last compulsory stage of secondary education is 3 years of secondary school (Gymnasio), where general education subjects are studied in-depth.

After the 9th grade, children can choose between two options:

Lyceums (Lykeio): studies are focused on specialization in certain subjects and university preparation;
Technical and vocational schools (Technika kai Epagelmatika Ekpaideftiria): 3 years of secondary specialized education and subsequent employment.

In addition to public and free, there are also private secondary schools in Cyprus. Among them are institutions with American, English, and other training programs. There you can also take a preparatory program for admission to US universities (Freshman). Studying at such schools will cost 10,000-15,000 USD per year on average.
Education in Cyprus receives large subsidies from the state: the country spends more than 6% of its GDP[1] on education, which is higher than the average in the European Union. Thanks to this, the quality of education improves and not only local but also foreign students from Europe and the USA are increasingly choosing to study in Cyprus. Moreover, here you can get education of the generally recognized British standard for much cheaper than in the UK itself while enjoying the mild Mediterranean climate.
Attention! The island of Cyprus is formally divided into two states: the Republic of Cyprus and the Turkish Republic of Northern Cyprus (TRNC). The latter is recognized only by Turkey, although several large universities successfully operate on its territory. This article will focus on education in the Republic of Cyprus unless otherwise indicated. Requirements and standards in TRNC universities may differ from those described in the article.
Advantages of education in Cyprus

Flexible higher education system. Students of Cypriot universities have the opportunity to completely customize the learning process according to their needs. It is not required to know Greek or Turkish for admission: universities offer many programs in English. You can submit documents 2-3 times a year, and start training in spring or autumn. Finally, a student chooses about 70% of courses during the year independently.
Straight forward admission process. In most universities, the main requirements for admission are a secondary education certificate and a certain level of English proficiency. At the same time, the presence of IELTS or TOEFL certificates is not always necessary: ​​often you can take a language test right at the university. If the applicant is fluent in Greek or Turkish, it is also possible to take an entrance exam in one of these languages.
Culture and climate. Cyprus has 340 sunny days a year. The island is one of the most popular destinations for expats from Europe and the United States. An hour by car away you can find clear azure beaches, and while on the way you can get acquainted with the architectural and religious monuments of the 12000-year history of Cyprus.
Disadvantages of education in Cyprus

Expensive dormitories. Most universities offer students comfortable accommodation on campus, but dorms are limited, and the rent can cost up to 530

USD

per month and is not covered by the scholarship. Many foreigners cannot afford this, so they often rent an apartment with other students outside of campus.
It is difficult to get a scholarship. Despite the fact that most Cypriot universities offer financial support to applicants, it is difficult to obtain it. Each application is considered individually: among other criteria, the commission assesses the student's financial situation in order to calculate the amount of future scholarships. Moreover, in most cases, payments cover no more than 50% of the tuition.
The problem of accreditation of universities in Northern Cyprus. The island of Cyprus is formally divided into two states: the Republic of Cyprus in the south and the Turkish Republic of Northern Cyprus (TRNC), recognized only by Turkey, in the north. Southerners consider TRNC universities illegal and do not recognize the degrees from them. However, all major universities in the TRNC are officially accredited by several international associations. Nevertheless, it is not uncommon for students from third countries to enter unlicenced universities and find themselves deceived.
Cost and structure of education in Cyprus
Type of study
Age
Duration
Min. cost
Avg. cost
Language requirements
Summer camp
6+
1-12 weeks.
424

USD

/week
1,060

USD

/week
A1
Language schools
6+
1-16 weeks
318

USD

/week
530

USD

/week
A1
Secondary education
6+
12 years
Free
12,716

USD

/year
B1
Foundation
16+
1 year
5,298

USD

/year
6,358

USD

/year
IELTS 4.0
Bachelor's
17+
4 years
6,358

USD

/year
9,537

USD

/year
IELTS 5.5
Master's
20+
1-2 years
6,358

USD

/year
8,478

USD

/year
IELTS 5.5
MBA
20+
1–2 years
7,418

USD

/year
12,716

USD

/year
IELTS 5.5
Doctoral
20+
3 years
4,239

USD

/year
7,418

USD

/year
IELTS 5.5
Additional expenses

Item
Average cost
Language examination (IELTS)
~212

USD

Student visa
149

USD

Registration fee
106

USD

Flight tickets
132-1,060

USD

Rent
318

USD

/month
Commute
21

USD

/month
Meals
191

USD

/month
Study materials
424

USD

/year
Insurance
180

USD

/year
Options and schemes for admission to universities in Cyprus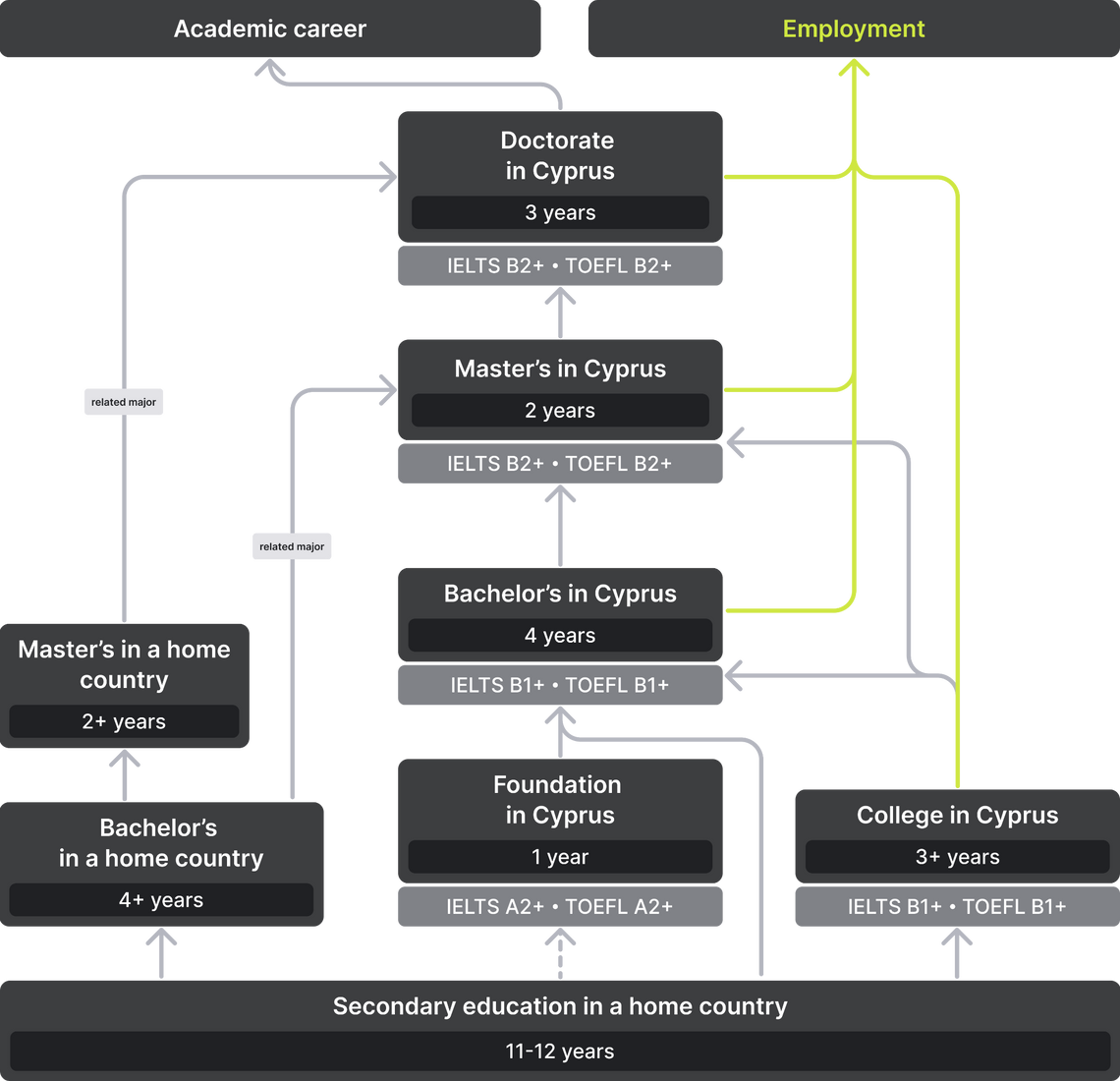 Admission and requirements in Cypriot universities
Until the middle of the 20th century, Cyprus was a colony of Great Britain, so the traditions of British education were preserved there. For admission to a university in the Republic of Cyprus or the Turkish Republic of Northern Cyprus (TRNC), it is not necessary to speak Greek or Turkish. Most universities and institutes offer English-language programs. At the same time, the requirements for the level of proficiency are low and start from B1. A certificate is also not always required. Many universities conduct their own language tests as a part of the admission process. If the applicant speaks Greek or Turkish, he can also take an entrance test.
In general, the process of admission to universities in Cyprus is not that difficult. Most universities divide the academic year into 2 or 3 semesters (A, B, and C). You can start training during any of them, not only in September.
At the first stage of the admission process, universities require you to fill out a digital application and attach the following documents to it:
Digital application on the university website;
Bachelor's or another diploma of previous education for Master's and Doctoral programs;
Language certificate IELTS, TOEFL, or Cambridge exam of at least B1 level (universities also conduct their own language exams);
CV;
Copy of an ID;
Registration fee ~ 106

USD

.
For diplomas issued by some countries, it is important to have an apostille or consular legalization. All documents must be translated into English. In the event of the admissions office having questions or additional requirements, a representative of the faculty will contact the student via email.
A characteristic requirement of the Republic of Cyprus is the mandatory testing for AIDS, syphilis, tuberculosis, and hepatitis B and C. All tests are done twice: once before applying for a visa and again upon arrival in the country.
Need help with admission?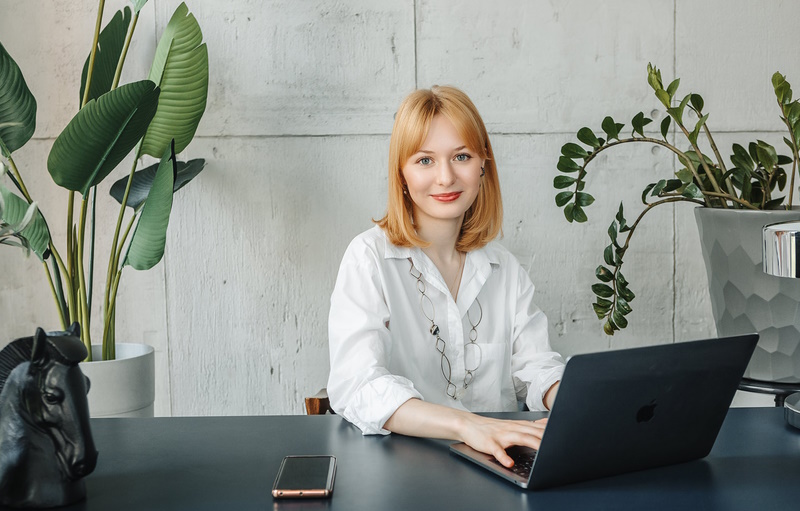 Legalization and recognition of diplomas in Cyprus
In general, applicants from countries outside the EU will need to apostille their diploma or undergo consular legalization. However, in case Cyprus and your home country have an agreement on mutual recognition of qualifications, you will just need to provide a certificate of previous education with a translation.
In some cases, it will be also necessary to go through the recognition procedure. Validating diplomas is especially common for graduates of medical universities who want to work in Cyprus. This is the responsibility of The Cyprus Council of Recognition of Higher Education Qualifications KYSATS. The equivalence of a diploma is established not according to the academic degree or specialty stated in the document, but according to the number of hours and the presence of certain disciplines in the training program. If there is a strong discrepancy with the standards of Cyprus, the future doctor will have to confirm his qualifications and pass specialized exams. Such a need may also arise if a student graduated from an unpopular university, with which KYSATS experts have not yet worked. Exams are held in Greece, Athens. An additional difficulty is that the testing is done in Greek only.
Documents required for the recognition of a diploma in Cyprus

Copy of a school certificate;
Diploma + appendix + transcript (copies);
Certified translations of documents into Greek or English;
Payment of the fee — 91

USD

.
Foundation — Preparatory programs in Cyprus
Normally foreigners go to Cyprus to receive a British-like education in English, therefore, the knowledge of English is required for admission. Entrance requirements in most universities are low and start at IELTS 5.5. Many universities also conduct their own language proficiency tests prior to the start of the academic year in order to assign applicants to groups. If the student's level of proficiency is too low, he can take a one-year language training program (Foundation English) at a university or a college, so that in the future it will be easier for him to study. However, this procedure is optional and also expensive. You can enroll in the first year and include English in your schedule to improve your language during your studies.
There are also Foundation programs in Cyprus for those who want to go to universities in the UK or their branches in Cyprus and other European countries. During the year, students of such programs study specialized English in their professional field and get acquainted with British teaching standards. Applicants must provide certificates IELTS (at least 4.0) and IGCSE (grade 6).
Colleges in Cyprus
Colleges in Cyprus can be independent educational institutions or affiliated with a university. There are both public and private colleges. The latter are more often available to foreigners: more courses are taught in English than in the official language of the country — Greek. You can enter a college after high school and receive one of the following degrees, depending on the length of study: Certificate (1 year), Diploma (2 years), Higher Diploma (3 years), or Bachelor (4 years). After the Bachelor's, the training continues at the master's cycle already at the university. The main condition for admission to college for a foreigner is English proficiency at a level not lower than B1. If the applicant does not have a language certificate (IELTS or TOEFL), colleges can offer admission testing. For 1–3 years, students receive secondary vocational education, and then they can immediately start working or enter the university for a bachelor's degree. The most in-demand specialties are hospitality, tourism, and culinary arts, which is not surprising, considering that Cyprus is a popular resort.
Cyprus and its northern part (Turkish Republic of Northern Cyprus) also have colleges of American standard, where a 2-year associate degree can be obtained — AA (Associate In Arts) or AS (Associate in Science).
Enter a university abroad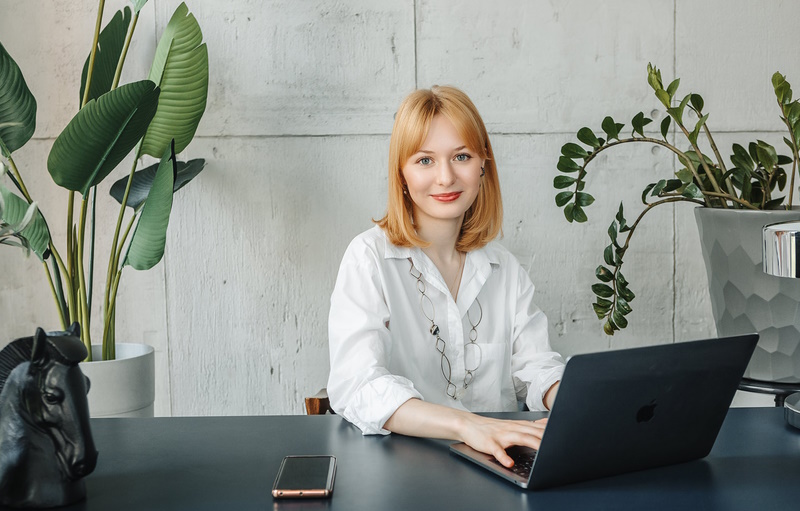 Bachelor's degree in Cyprus
Education in Cyprus is based on the Bologna system, where the first cycle is the Bachelor's degree. It lasts for 4 years, during which the student must earn 240 ECTS.
Cyprus universities follow the standards of the US and the UK, allowing students to choose most of the subjects themselves. However, each program has rules for the distribution of workload in ECTS: multiple compulsory subjects, elective courses from your department, and electives in any area. The percentage depends on the university and the specialty. Many universities require English courses and sports disciplines. Also, all students write their thesis and defend it in front of the commission at the end of the final year of studies.
Documents required for admission

Digital application;
Secondary education certificate with an apostille;
Language certificate IELTS, TOEFL, or Cambridge exam;
Portfolio;
Copy of ID;
Two photographs 3.5 x 4.5 cm;
Registration fee ~ 106

USD

.

All documents must be translated into English.
Master's in Cyprus
Master's programs in Cyprus last for 1-2 years, more often — 18 months. As in bachelor's programs, the workload is 30 ECTS per semester. Credits are distributed among different types of disciplines: compulsory courses, electives, and master's thesis. The latter is defended by students in front of the commission. Many faculties additionally organize practical training and internships for bachelor's students.
A prerequisite for admission to a master's is a bachelor's degree in the same or related specialty. The admissions committee usually takes the GPA of the applicant for the period of previous education into account. The strongest areas of master's studies in Cyprus are management, finance, international relations, and engineering.
Some universities may provide master's students with a discount if they successfully completed a bachelor's degree of the same institution. As far as MBA programs are concerned, in Cyprus, they compare favorably when it comes to the price and GMAT score requirements.
Documents required for admission

Digital application;
Secondary education certificate with an apostille;
Bachelor's degree with an apostille and transcript with grades;
Language certificate IELTS, TOEFL, or Cambridge exam;
Portfolio;
Copy of ID;
Two photographs 3.5 x 4.5 cm;
Registration fee ~ 106

USD

.

All documents must be translated into English.
Doctoral studies in Cyprus
Obtaining a PhD in Cyprus will take a minimum of 3 years. A student can extend the studies if extra time is needed to finish a doctoral dissertation, but the maximum duration of PhD studies cannot exceed 8 years. During the doctoral studies, you must gain 180 ECTS. The work on the dissertation has a major impact on credits, but in addition, the student must study several compulsory disciplines in his field, pass final exams on them and publish several articles related to the topic of the conducted research.
For admission, you must provide a Research proposal and a portfolio (scientific papers, publications, etc.). Grades from bachelor's and master's studies are taken into account. The second stage after reviewing the documents is the interview.
Doctoral programs are offered by all public universities and most private ones. There are also colleges that specialize in PhD programs in a specific field. At this stage, students wishing to build an academic career can already start teaching.
Documents required for admission

Digital application;
Bachelor's degree with an apostille and transcript with grades;
Master's degree with an apostille and transcript with grades;
Language certificate IELTS, TOEFL, or Cambridge exam;
Research proposal;
CV;
Portfolio;
Copy of ID;
Two photographs 3.5 x 4.5 cm;
Registration fee ~ 106

USD

.

All documents must be translated into English.
Academic career and teaching staff

Academic positions in Cyprus copy the American system. Traditionally, the academic career has the following steps:

Research Assistant / Teaching Assistant. At this stage, the young scientist gains teaching and research experience under the guidance of senior colleagues. The salary of junior researchers is not fixed and directly depends on the workload and the number of publications.
Lecturer. Proceeding to this stage requires evidence of competence in teaching and research. This can be a resume, portfolio, or publications of the candidate. The salary is around 3600–5,934

USD

per month.
Assistant Professor. The position can be obtained after 3 years of successful work as a lecturer. The salary is about 4200–6,570

USD

per month.
Associate Professor. The position requires at least three years of independent teaching and research experience. Articles in international publications are also required. The salary is about 4900–6,676

USD

per month.
Full Professor. This honorary position requires eleven-years of experience and a significant contribution to science. The salary is about 5200–7,206

USD

per month.
Need help with admission?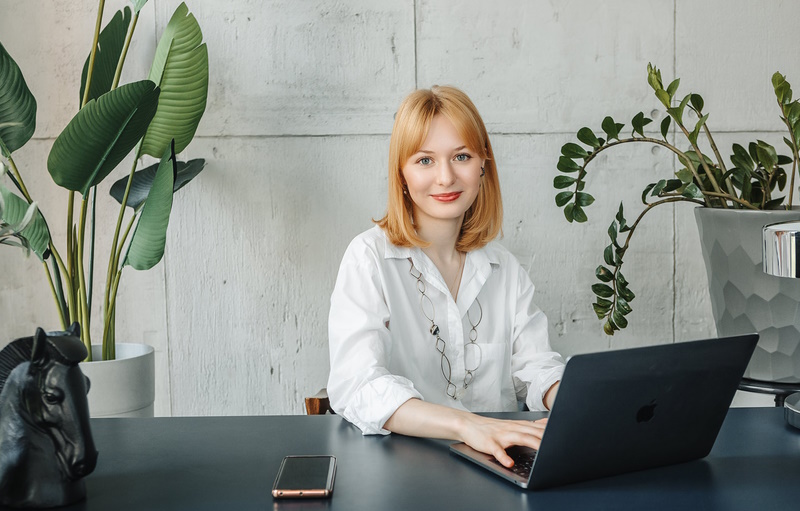 Scholarships and grants
All higher education in Cyprus is paid. Prices for third-country nationals are an order of magnitude higher than for Cypriots and immigrants from the EU. However, most universities, public and private, offer students financial support. More often this opportunity is offered to bachelor's students. In order to view detailed descriptions of grants and scholarships, go to the Scholarship and/or Financial Aid section on the website of the selected university. Applications for financial assistance are submitted along with other documents for admission, in March — for the fall semester and in November — for the spring semester accordingly.
As a rule, a foreign applicant in Cyprus has two reasons for receiving a scholarship:
Academic success. The main criterion is the GPA in a certificate of secondary education or a diploma of previous education. The higher the score, the greater part of the cost of education is covered by the university (from 10 to 50%). Publications of scientific papers, participation in conferences and a good academic CV will be an added advantage;
Complicated social and/or financial situation. Children of unemployed parents, large families, orphans, refugees from war zones, etc. can count on support. In this case, you must fill out a special electronic application on the university's website and attach supporting documents to it. Each application is considered individually: it assesses both the financial situation of a particular student and the economic situation in his home country as a whole. Most often, such a scholarship is received by citizens of developing countries.
Also, some universities provide scholarships for students who have distinguished themselves in sports. They can get a discount of up to 40% by becoming members of the sports team at their university.
Student visa to Cyprus
EU students don't need a visa to study in Cyprus. However, they should obtain a temporary residence permit by applying to the Civil Registry and Migration Department.
Foreign students from countries outside of the European Union must obtain a visa to enter Cyprus. It is issued only to those who plan to study full-time which means that they will have a training load of at least 12 ECTS per semester. You can apply for a visa if you have a letter of admission from the university. As a rule, the university asks the applicant to send the necessary documents via mail, and then the employee of the international office independently redirects them to the Migration Department. If there is no such service, you should contact the Cyprus Embassy in your country.
All documents must have a notarized translation into English. Applicants from third countries will additionally need to legalize documents of previous education with the help of apostille or consular legalization (except for the countries which have mutual agreements).
Documents required for a student visa

Copy of the certificate of secondary education (for a master's and PhD: bachelor's/master's diploma) and transcript with grades;
Copy of passport (valid for at least 2 years from the date of commencement of studies);
Police certificate (no older than 6 months);
Bank statement confirming the solvency of a student or sponsor (at least 7,418

USD

);
Test results for AIDS, syphilis, hepatitis B and C (not older than 4 months);
Photofluorography results (not older than 4 months);
Payment of application and visa review fees (58

USD

+ 91

USD

).
After approval of the documents, the Cyprus Migration Department sends the student an entry visa scan (blue slip) via email. In addition to a visa and passport, the following documents will be required at the airport:
Receipts for tuition and accommodation;
Confirmation of admission to a university in Cyprus;
2,119

USD

in cash;
Copies of all documents required to obtain the blue slip (see above);
Return ticket with an open date.
Within 10 days after arrival to Cyprus, you must change the entry visa for a Temporary Residence Permit Card. To do this, you must first retake the medical tests and do a photofluorography. It will cost about 53 USD. Then the student must contact the Department of Migration, prove their solvency and pay a fee of 37 USD. As a rule, a representative of the host university helps at all stages. A temporary residence permit is renewed once a year. Read more about this procedure here.
Important: if the university is located on the territory of the Turkish Republic of Northern Cyprus (TRNC), you might encounter a variety of issues. A student visa is issued upon arrival at the university. If your passport has stamps on entering the TRNC (they can be put on a separate form), entering the southern part of the island will be problematic even with a separate visa of the Republic of Cyprus. It is also possible to get into the stop list of the EU countries since the TRNC is an unrecognized territory for the whole world except Turkey.
The opportunity to work while studying
Students gain the right to work 6 months after arriving in the country, that is from the second semester. With a work permit, a student at a recognized university can work up to 20 hours a week for a semester and up to 38 hours a week during study breaks. If you are an EU student, you are allowed to work without a work permit. If you are a non-EU student you must apply for a work permit through the university or independently at the Ministry of Labor and Social Insurance.
In general, it is rather difficult for a foreign student to find work in Cyprus. Work is allowed only in certain sectors and positions. This is mainly hotel business and agriculture. A full list of permitted jobs can be found here. Traditionally, in the summer season, there is a huge demand for temporary workers in the tourism industry with the knowledge of the English language. On average, students can earn 530-636 USD per month for part-time work.
Enter a university abroad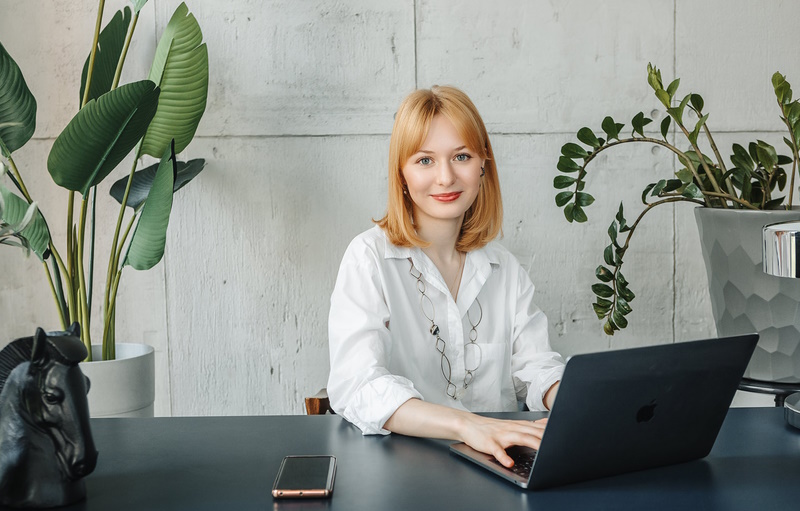 Opportunity to stay and immigration to Cyprus
None-EU foreign students must leave Cyprus within 60 days after the graduation ceremony and the conclusion of studies. However, if a graduate has received a job offer in an industry where there is no high competition among Cypriots, he can obtain a category E work visa. It must be renewed once a year throughout the duration of the work contract, but not longer than 5 years. The cost of a work visa is 530 USD, each renewal is about 21 USD. A list of required documents for all types of work visas can be found on the website of the Department of Migration.
Graduates from universities in Northern Cyprus can also get work permits if they are offered a contract. In most cases, the employer submits the visa documents on your behalf. Many TRNC universities have special career centers that select suitable vacancies for students and are interested in keeping students working in the northern part of the island. The competition is significantly lower than in the Republic of Cyprus, as local residents leave for Turkey, where they find full-time work on a par with citizens.
Prospects and employment opportunities
Finding a job in Cyprus is not easy not only for foreigners but also for locals. Most of the island's population is engaged in the competitive sphere of tourism and service. An important criterion for employment in other sectors is knowledge of the Greek or Turkish languages. Nevertheless, in 2020 the unemployment rate in the country is the lowest since 2013 and amounts to 13%[2]. However, by EU standards, this is still a lot. Moreover, there is a likelihood of the ratio getting worse due to the large influx of refugees in 2019[3].
In Europe. University diplomas of the Republic of Cyprus are recognized all over the world, therefore, graduates have career opportunities abroad, especially in the field of hotel business and tourism. In addition, universities in the UK and Cyprus often collaborate on double degree programs. This will greatly simplify the employment of graduates in the United Kingdom.
Academic career. PhD candidates can begin their research activities during doctoral studies. And when hiring a teacher at a Cypriot university, the main criteria will be scientific publications and research experience. Moreover, universities in Cyprus are open to international candidates. For example, according to the QS, the share of foreign lecturers in the country's largest university reaches 25%, while in most universities this figure is around 10%. There is potential for development in this area, and salaries are above the Cyprus average.
Studying abroad with UniPage
Want to study at a foreign university but don't know where to start? We can help!
Our specialists will find a university, arrange your documents, fill out the applications, and stay in touch until you receive an offer.