Under New Zealand's law, all children between the ages of 6 to 16 years old are required to attend school.
Secondary education consists of several stages:
Elementary school — ages 5 to 10 years old (grades 1 — 6);
High school — ages 11 to 12 years old (grades 7 — 8);
High school — ages 13 to 18 years old (grades 9 — 13).
All secondary schools fall into three types:
Public school is the most popular type of school in New Zealand. Education here is free for children aged 5 to 19. However, parents often have to pay for school uniforms and supplies, school trips, and examination fees.
Integrated state schools. About 10% of all students attend such schools. Most often they belong to religious or other non-profit organizations that use specialized teaching methods (for example of Steiner or Montessori). Integrated schools are funded by the state, but collect additional fees (about 1,044

USD

/year) as buildings and equipment upkeep fee.
Private schools educate about 5% of New Zealand's students. There are single-sex schools, but most private schools in New Zealand are mixed. Education here costs about 13,920

USD

/year.
The academic year begins in January and consists of quarters with two-week vacations between them. In addition, there are longer summer holidays that last for two months.
The curriculum consists of eight compulsory subjects (English, visual arts, physical education, foreign languages, mathematics and statistics, social and natural sciences) and electives, which children can choose on their own.
At the end of their studies, students take the NCEA exam (the National Certificate of Educational Achievement), which allows them to enroll in polytechnic institutes and universities.
Education in New Zealand has been popular among international students for many years. All eight New Zealand universities are in the top 3% of the world's best universities, which indicates the high quality and popularity of local education. In addition, it is cheaper to study here than in the USA, Canada or England, and, unlike many European countries, you do not need to learn complicated foreign languages ​​- the official language of New Zealand is English.
Short Programs. A bachelor's degree can be obtained in just 3 years instead of 4, unlike in the USA or Canada. This will allow students to save costs for the entire academic year.
The possibility of working part-time during training is an important factor when choosing a country of study, since not all countries allow students (at least legally) to earn extra money during their studies. Students may work part-time (up to 20 hours per week) during their studies and a full-time (40 hours per week) during holidays.
Comfortable climate. For example, in winter, in Auckland and Wellington, the temperature rarely drops below -3°C. In summer, the temperature is also comfortable and hardly rises above +30°C.
Special immigration program. Students who graduate from a New Zealand University are eligible to receive a special post-study visa. This will allow them to stay and work in New Zealand for a period of 1 to 3 years. After employment, the candidate may apply for an immigrant visa.
Quality of life. New Zealand ranks 3rd in terms of economic freedoms, and crime rates are lower than in the US, UK, and even neighboring Australia. New Zealand has taken top spots in the ranking of the most comfortable countries for life since 2009. Thus, in 2019, the country took 7th place out of 167[0].
Duration of secondary education. In New Zealand, it takes 13 years to complete secondary education. For this reason, for admission to a New Zealand university, international students, that have 11-12 year secondary education system in their home country, must complete 1-2 years at a university in their specialty or take preparatory courses for foreign students (Foundation year).
Location. With all the advantages of its climate, strong economy and security, it is undeniable that getting to New Zealand is quite hard. Almost all flights from Europe to the capital of New Zealand — Auckland — will take at least 30 hours with a minimum of two transfers.
Cost of living. New Zealand is one of the most expensive countries for life: it is 21st in the world cost of living index-]. Renting a one-room apartment will cost about 522

USD

per month.
Cost and structure of education in New Zealand
Program
Min. age
Duration
Min. cost
Avg. cost
Min. Language level
Exams
Summer camp
6+
1-10 weeks
766

USD

/week

Food and accommodations included

1,044

USD

/week

Food and accommodations included

A1
-
Language schools
6+
1-12 weeks
397

USD

/week
800

USD

/week
A1
-
Secondary education
11+
7 years
Free
16,008

USD

/year
B1
-
Foundation
16+
6-18 months
12,528

USD

/year
17,400

USD

/year
B2
IELTS/TOEFL
College
16+
1-2 years
6,960

USD

/year
11,832

USD

/year
B2
IELTS/TOEFL
Bachelor's
18+
3-4 years
12,667

USD

/year
18,792

USD

/year
B2
IELTS/TOEFL
Master's
21+
1-2 years
13,502

USD

/year
21,924

USD

/year
C1
IELTS/TOEFL
MBA
21+
1 year
25,647

USD

/year
32,711

USD

/year
C1
IELTS/TOEFL
Doctoral
22+
3-4 years
4,524

USD

/year
5,394

USD

/year
C1
IELTS/TOEFL
Postsecondary education is divided into levels from 1 to 10. Each level corresponds to certain academic degrees or programs, has a certain list of skills and qualifications studied, and also gives the opportunity to apply for certain vacancies. More information about each level can be found on the official website of NZQA (New Zealand Qualification Authority).
| Degree/Program | Level | Duration | Number of credits |
| --- | --- | --- | --- |
| Certificates | 1-4 | 3-24 months. | 40-240 |
| Diploma | 5-6 | 1-2 years | 120-240 |
| Bachelor's Degree | 7 | 3-4 years | 360-480 |
| Graduate Diplomas | 7 | 6-12 months | 60-120 |
| Postgraduate Diplomas, Bachelor's Degree with honors | 8 | 6-12 months | 60-120 |
| Master's Degree | 9 | 1-2 years | 120-240 |
| Doctoral Degree | 10 | 3-4 years | 360-480 |
Expenses
Average cost

Exams

Language certificate: IELTS, TOEFL

278

USD

Registration fee
35

USD

Flight
974

USD

Rent
348

USD

/month

Food
139

USD

/month

Insurance
63

USD

/month

Learning materials
104

USD

/year
The options for admission to universities in New Zealand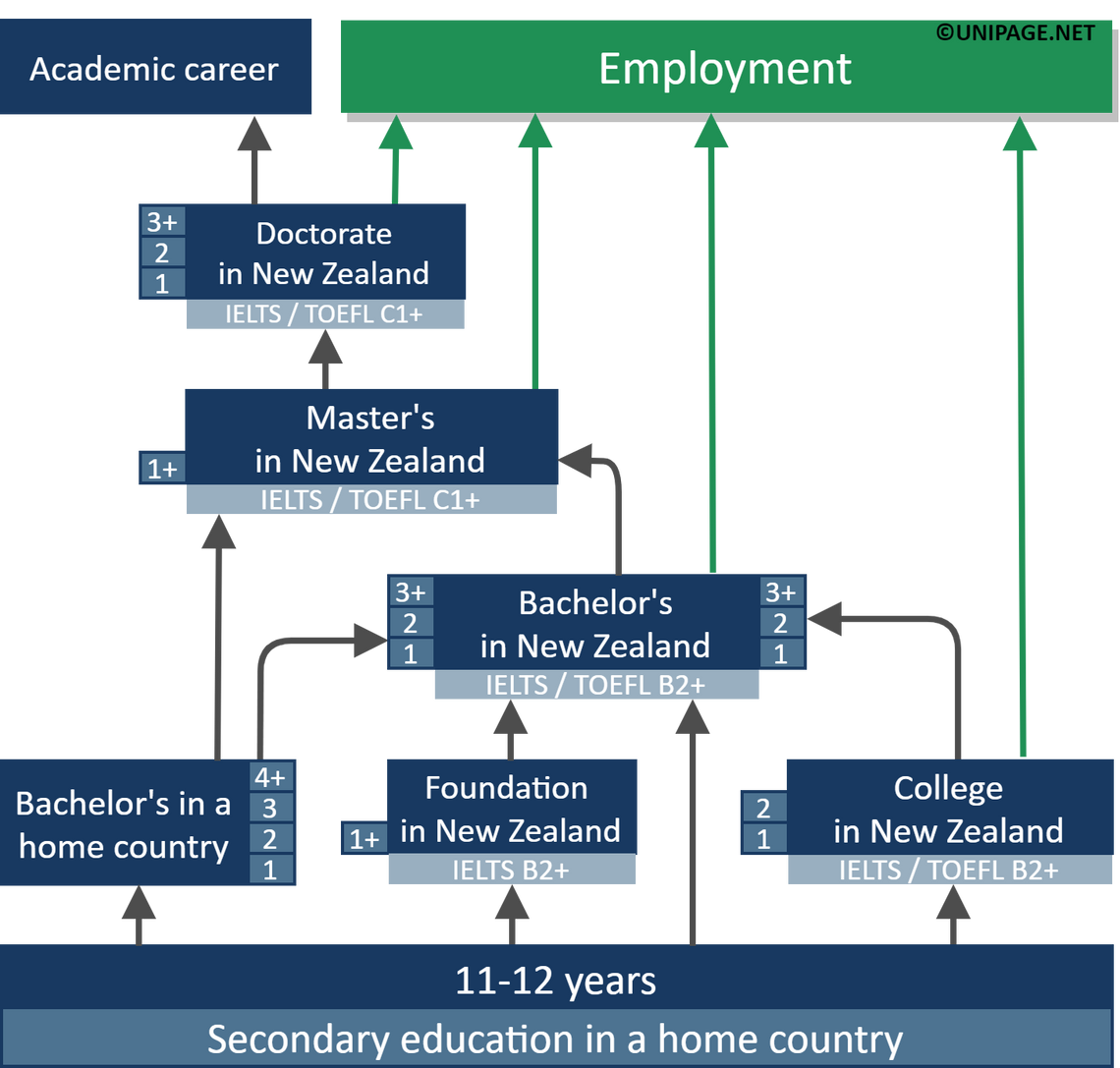 Foundation — Preparatory programs in New Zealand
For International students, special training programs similar to the British Foundation were developed. Typically, such courses last from 6 to 18 months. The curriculum consists of classes in English and subjects in chosen by the student fields. Many universities have their own preparatory programs, which offer their graduates various advantages: for example, transfer of credits or even guaranteed admission. Since classes are all in English, students entering the program must have a language certificate that proves English proficiency of at least B2 level. Applicants who do not meet this criterion can take additional pre-foundation courses, which usually last for about 6 extra months and are aimed exclusively at learning the language.
Application;
Copy of the passport;
Language certificate;
A notarized translation into English of a certificate of completed secondary education.
College — Vocational education in New Zealand
Vocational education is supervised by Industry Training Organizations (ITOs). They establish qualification levels and the requirements for obtaining them. Currently, there are about 30 such organizations. In connection with the planned education reform, the New Zealand government announced its intention to replace the existing ITOs with several advisory boards that will decide on professional qualifications and selection criteria for a specific industry.
As of today, in order to get a professional education in New Zealand students have the following options:
Youth Guarantee - is a program initiated by the European Union. It is a course that allows local students aged 16-19 to receive certificates of 1-3 levels for free. Such certificates open up employment opportunities.
Institutes of Technology and Polytechnics. ITPs provide students with the opportunity to undergo technical or vocational training. Basically, the diplomas of such institutes correspond to levels 1-6, but some educational institutions also have bachelor's programs, and sometimes even master's and doctoral programs. The curriculum and topics studied are based on general knowledge and skills that students will need when they are employed. Training takes place in classrooms, simulation centers, and workplaces. The Government of New Zealand announced that starting April 1, 2020, all technology and polytechnics institutes will be merged into one educational organization for better management and distribution of public funding[1].
Private Training Establishments. PTE provides training in fairly narrow areas, such as tourism, hospitality management, and the hotel business. The teaching staff more often consists of working professionals rather than academics. The main purpose of training is the quick employment of graduates. Most private colleges have government accreditation from NZQA (New Zealand Qualifications Authority), which allows them to issue certificates and diplomas (level 1-6) recognized at the state level.
Adult and community education. ACE is a large number of different courses and training programs in all areas ranging from English and ending with IT. Universities, colleges, and polytechnics are involved in adult education.
Bachelor's in New Zealand
In order to apply for Bachelor's programs at New Zealand universities, applicants must meet one of the following criteria:
Have a diploma certifying the completion of the international baccalaureate (IB);
Have a certificate of complete secondary education;
Complete one university year in the country of residence;
Have a certificate of completion of preparatory courses in New Zealand.
Each university has the right to set its own restrictions on the above criteria: some universities accept foreign students immediately after they received secondary education in their native country, and some require foundation programs. The exact information must be found in the selection committee of a particular university.
In addition, an important factor is a sufficient English proficiency level (B2+). Previously, as an alternative to a language certificate, applicants could pass the internal tests arranged by the university. However, since January 2019, these exams have been abolished. Now, for assessing language skills, only certificates approved by NZQA (New Zealand Qualifications Authority) are used, including:
If students do not meet the minimum requirements, they can enroll in special language programs.
There are no direct entrance exams at universities in New Zealand. Sometimes an interview with a member of the selection committee is arranged, especially if the student is applying for a scholarship.
Admission to a university is a rather lengthy process. It is recommended to start six months prior to the beginning of training. The longest stages are document review (a month) and obtaining a student visa (two months).
Most undergraduate programs last three years, less often four. Bachelor with honours degree is awarded after another year of study, during which students are engaged in research work. In exceptional cases, for example, to graduate from a medical university, students will need 6 years.
The academic year begins in February and ends in November of the following year. The program consists of practical courses and lectures. A bachelor's degree gives a student the opportunity to enroll in a master's or continuing education programs.
Application;
Copy of the passport;
Language certificate

IELTS, TOEFL B2+

;
Notarized translation into English of a certificate of completed secondary education and transcripts with grades;
Master's — Graduate / Postgraduate in New Zealand
Students who want to receive more advanced knowledge and are interested in research activities in their field usually choose to enter the second stage of higher education.
In New Zealand, there are several types of master's programs:
Traditional Master's programs are a continuation of education after a Bachelor's in a relevant field.
Change of direction Master's degrees. Such programs are designed specifically for students who want to get an education in a previously unstudied area. Such courses can be used to change a specialty or choose a professional direction instead of an academic one (and vice versa).
Graduate entry professional qualifications. These programs allow students to deepen professional skills and knowledge or to obtain the qualifications required to work as a teacher or social worker.
Professional development qualifications are created, unlike the previous ones, for students who have prior work experience. During the training, students can acquire additional skills or secondary specializations to advance their careers.
A Master's course takes an average of two years. The first year includes theoretical and practical classes, and the second is tied to research.
To enter the academic master's programs, you need to complete a bachelor's degree (the field of study may or may not matter). For a professional master's degree, work experience in the relevant field is usually required.
Application;
Copy of the passport;
Language certificate

IELTS, TOEFL C1+

;
Notarized translation into English of a Bachelor's degree and transcripts with grades;
Doctoral studies — Postgraduate in New Zealand
PhD in New Zealand takes three to four years and allows you to get a doctoral degree. Before officially submitting documents to the doctoral program, students must contact their future supervisors to approve the research proposal. After this, an interview is scheduled, during which the student has the opportunity to discuss his work with the academic council of the university.
Application;
Copy of the passport;
Language certificate

IELTS, TOEFL C1+

;
Notarized translation into English of a master's degree and transcripts with grades;
Scientific publications (if any);
Research proposal;
A letter from the academic supervisor;
During the training, students are engaged in research activities in order to write a thesis. At the end of the program, students defend their works in front of the examination board and pass an oral exam assessing the knowledge acquired during the course of study.
The academic ranking system in New Zealand consists of five levels:
Level A — Tutor / Associate Lecturer / Research Associate. This is the first position that new academics get. In some universities, it is possible to take a teaching position without a doctorate, but with extensive knowledge and significant work experience. The average salary at this level is 4,176

USD

/month.
Level B — Lecturer / Research Fellow. Level B is considered the first serious academic work. The post of lecturer and scientific employee can be occupied only by students with a corresponding postgraduate degree. The average salary is 6,264

USD

/month.
Level C — Senior Lecturer / Senior Research Fellow. Academicians usually occupy these positions after 4-6 years of working at level B. The senior lecturer combines teaching with research activities, and the senior researcher is engaged exclusively in scientific work. The average salary is 7,308

USD

/month.
Level D — Associate Professor / Reader. The position of Associate Professor in New Zealand is equivalent to the position of professor in Asia and North America. At this level, international recognition is considered the most important: academics should participate in scientific conferences, collaborate with researchers from other countries, and also publish papers in large international journals. Reader is an honorary position created to highlight researchers with a particularly distinguished history of scientific work. The average salary is 9,744

USD

/month.
Level E — Professor. The title of professor is awarded only to outstanding academicians who have demonstrated leadership qualities and competence in the field of teaching and research. In order to occupy this position, the candidate must meet the requirements established by the university. Three parameters are usually evaluated: recognition, outstanding achievement, and work experience as a supervisor. The average salary is 11,832

USD

/month.
Scholarships and grants
New Zealand offers students a wide range of scholarships, grants, and academic mobility programs. Scholarships to foreign students are provided not only by the state but also by the universities themselves, as well as some private companies. A full list of scholarships, depending on the nationality of the future student, can be seen on the official website of New Zealand's state educational programs — New Zealand Education.
Student visa
To study in undergraduate, graduate and doctoral programs in New Zealand, students need to obtain a student visa, which will be valid for the entire period of study (maximum four years).
The following documents will be required:
Passport;
International passport;
Letter of acceptance from the university;
Certificate of no criminal record;
Confirmation of financial viability

Employment contract, Bank Statement or Sponsorship form, filled in by a sponsor

;
Medical evaluation certificate

No more then 3 months old

;
Health Insurance.
The visa fee is about 258 USD.
Also, if a student leaves for studies for more than 3 years, he must provide a bank statement confirming the availability of funding in the amount of 10,440 USD for each year of stay in the country.
Working while studying in New Zealand
New Zealand's law allows student visa holders to work part-time (up to 20 hours a week) during their studies and full-time (up to 40 hours a week) during their summer and winter breaksOnly during the summer break, If the study program has less then 120 credits. Master's by research and doctoral students have the right to work without restrictions.
The minimum rate set by the state is 17.49 USD/hour, although the actual salary is usually higher than the minimum. It is also worth considering that in New Zealand the tax of 10.5% is introduced for wages less than 9,744 USD[2].
Some universities have their own employment centers and help students find jobs.
Before applying for a job, students must obtain a work permit and an IRD numberNew Zealand's tax department, Inland Revenue. You can apply for it online.
The most common types of part-time jobs for international students in New Zealand are a sales consultant, seasonal worker (eg, gardener), supermarket assistant, waiter, kitchen assistant, bartender, call center employee[3].
Immigration opportunities
After graduating, one can legally remain in the country in order to search for employment. To do this, first of all, it is necessary to apply for a Post-study work visa, which is issued for a period of 1, 2 or 3 years, depending on the level of education and place of study[4]. The minimum requirement is level 4 qualifications. The NZQA duration of the program must be at least 30 weeks for level 7 and at least 60 weeks for levels 4-6).
It is important to apply at least 3 months prior6 months for doctoral to the visa expiration date. The applicant must have at least 2,923 USD of funds. Registration fee — 345 USD. The review period is about 50 days.
A post-study work visa can only be renewed if a new qualification of a higher level is obtained in an educational institution of New Zealand. Another way is to obtain a residence permit and citizenship. It is worth noting that the chances of employment and immigration are higher if the profession is on the skill shortage list.
Employment prospects
According to statistics, only 36% of foreign students remain in New Zealand 10 years after graduation. Having received qualifications, most go to seek work in other countries. One of the reasons, perhaps, is that foreigners in New Zealand receive on average 6,960 USD/year less than local students with the same qualifications (excluding medicine)[5].
Master's graduates have the highest rate of employment (67%) during the first year after graduation. Then come the owners of PhD or other postgraduate qualifications — 44%, specialists with diplomas or certificates of 5-7 levels — 41%, and bachelor's degree holders — only 32%. Graduates of professional institutions with level 1-4 certificates in 95% of cases continue to study. The statistics given can be somewhat underestimated, since it does not take into account those who combine work and study, as well as some other categories[6].
Five years after the end of the program, the average salary of foreign graduates with a PhD degree is a record 53,452 USD/year. For qualifications of the remaining levels, the earnings vary from 23,176 USD/year (levels 1-4) to 38,627 USD/year for postgraduate. However, it is worth considering that these are only average wages. The specific figures are largely dependent on the specialty. Medical specialists (qualifications of 5-7 levels) have the highest salaries that are up to 52,199 USD/year, other specialties on average can count on a salary of about 24,360 USD/year. The least paid specialties are in creative fields[7].
Last updated:
New Zealand - General information
| | |
| --- | --- |
| Region | Oceania |
| Capital | Wellington |
| Language | English, Maori |
| Currency | New Zealand Dollar |
| Population | 4,479,250 |
Statistics - Universities
| | |
| --- | --- |
| Universities in top 200 | 2 |
| Universities in top 500 | 7 |
| Universities in top 1000 | 8 |
| Universities in top 5000 | 11 |
Cost of living in New Zealand
| Expenses - USD/Month | Min. | Med. |
| --- | --- | --- |
| Accommodation | 358 | 445 |
| Food | 240 | 458 |
| Transportation | 80 | 211 |
| Communications and utilities | 110 | 117 |
| Clothing | 26 | 97 |
| Sports and leisure | 26 | 89 |
| Total | 841 | 1,417 |
| Accommodation in New Zealand | USD/Month |
| --- | --- |
| Shared room outside of centre | 362 |
| Shared room in city centre | 450 |
| 1 bedroom apartment outside of centre | 621 |
| 1 bedroom apartment in city centre | 796 |